Samsung 860 EVO review: Further proof that TLC-NAND SSD can be fast and affordable
Samsung 860 EVO review – The 860 EVO performs as well, or better than, most MLC-NAND SSDs we've tested.
by jon l. jacobi
The Samsung 860 EVO has convinced us: It is now safe to equate TLC (Triple-Level-Cell) SSDs with top-notch SATA performance. TLC-NAND SSDs used to be more about affordability, but the 860 EVO is the third TLC-NAND drive we've tested that doesn't bog down on long sustained transfers. (The other drives are the identical-except-for-the-label WD Blue 3D and Sandisk Ultra 3D.)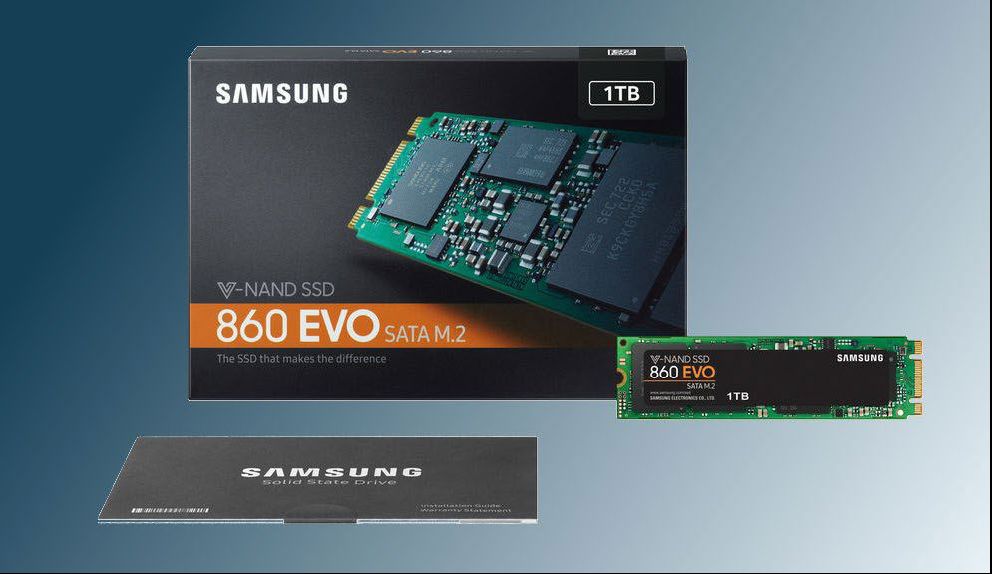 We even quadrupled our normal 20GB copies, and the 860 EVO easily maintained the pace. In fact, despite being quite a bit cheaper, the 860 EVO's performance compares more than favorably with that of its 860 Pro cousin.
Samsung 860 EVO review: DESIGN AND FEATURES
Though the 860 EVO is available in the 2.5-inch form factor, we tested the M.2 2280 (22mm across, 80mm long) version in the 1TB capacity. Both are SATA 6Gbps and available with up to 4TB of capacity. Fitting that much storage into something little bigger than a stick of gum is quite the achievement. The controller is Samsung's own MJX, and the NAND it's feeding and reading from is Samsung's own stacked/ layered/3D 3-bit TLC.
As to the controller, I didn't speak to Samsung about it, but the scuttlebutt I've heard around the industry is that while TLC (when written to its full 3-bit capacity) is indeed slower than 2-bit MLC or 1-bit SLC, it's been primarily the controllers that have held back performance. The latest generation of controllers apparently knows how to cope with the slower write times.
Whether this translates into increased latency (the time between the data's being captured to the drive and permanently written) hasn't been discussed.

The 860 EVOs are rated for 600TBW (TeraBytes Written) for every 1TB of capacity over their lifespan. This is about half what the 860 Pros are rated for, but typical for the low end of the market, and far more than the average user will ever write.
Samsung 860 EVO review: PERFORMANCE
By just about every metric, the 860 EVO is the fastest TLC SATA SSD we've tested, if only by a slim margin. But it's a clear improvement over the previous 750 and 850 EVOs, and faster than many MLC SSDs. In the performance charts below, the 860 EVO is the turquoise-colored bar.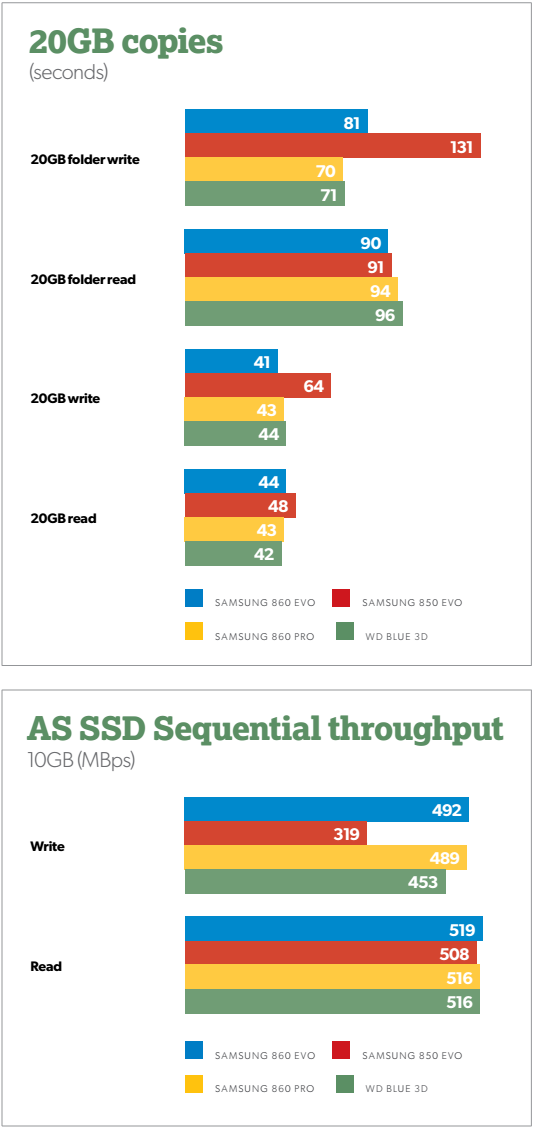 As you can see above, there's not a lot to choose from between the 860 EVO and the WD Blue 3D (green bars), but the older 850 EVO (red bars) is clearly a step behind with sustained transfers.
AS SSD, shown above, reveals the same story. CrystalDiskMark (shown below) calls out the one area, small queued writes, where the 860 EVO clearly outperforms the WD Blue 3D.
Same-model SSDs can vary drastically in performance according to their capacities, because the less capacious models have fewer chips and pipelines for shotgunning data. Samsung rates all its capacities the same for the same performance. We didn't have other capacities to test, but based on previous testing and experience, we find this claim likely to be just.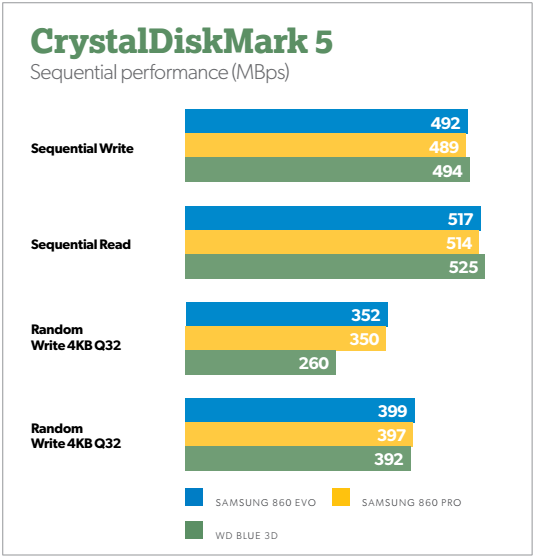 As sustained write speed is no longer a concern with the latest TLC SSDs, the only reason to go with an pricier MLC drive such as the 860 Pro is if you're concerned about longevity or write far more data daily than the average user. Note that the average SSD is rated for at least 10 years averaging 10GB of writes a day. And privately, vendors are convinced they'll deliver more. That's not a promise, just reassurance for the faint of heart.
Samsung 860 EVO Review: BOTTOM LINE
The 860 EVO is the fastest TLC SSD we've tested, albeit by a gnat's eyebrow. But a win is a win, and given the same price, we recommend it over the WD Blue 3D and Sandisk Ultra 3D. That said, you'll be more than happy with any of the three, so if you find the latter two significantly cheaper, go for it. Subjectively, you'll never be able to tell the difference.
Caveat emptor: There are still lots of older TLC SSDs out there with slow to pitifully slow sustained writes. Shop carefully, and of course, read our other SSD reviews (go.pcworld.com/18sd).
Samsung 860 EVO Review: 4/5
PROS:
Excellent performance on a par with MLC drives

Very affordable

Very fast with small queued writes
CONS:
Less long-lived than the MLC (2-bit) SSDs
Samsung 860 EVO Review: 

BOTTOM LINE
The Samsung 860 EVO delivers performance every bit as good as its MLC rivals. It's a worthy competitor for the WD Blue 3D and Sandisk 3D, two other TLC drives that are undoing TLCs weak reputation.
INNOVATIVE V-NAND TECHNOLOGY: Powered by Samsung V-NAND Technology, the 860 EVO SSD offers optimized performance for everyday computing as well as rendering large-sized 4K videos and 3D data used by the latest applications
& Free shipping
Last update was on: 2019-11-16 5:17 am
INNOVATIVE V-NAND TECHNOLOGY: Powered by Samsung V-NAND Technology, the 860 EVO SSD offers optimized performance for everyday computing as well as rendering large-sized 4K videos and 3D data used by the latest applications
ENHANCED READ WRITE SPEEDS: Sequential read and write performance levels of up to 550MB/s and 520MB/s, respectively
SECURE ENCRYPTION: Protect data by selecting security options, including AES 256-bit hardware-based encryption compliant with TCG Opal and IEEE 1671
WARRANTY AND COMPATIBILITY: 5-year limited warranty; Windows 8/Windows 7/Windows Server 2003 (32 bit and 64 bit), Vista (SP1 and above), XP (SP2 and above), MAC OSX and Linux
INCLUDED CONTENTS: 2.5 inches (7 millimeter) SATA 3 (6 Gb/s) SSD & User Manual (All other cables, screws, brackets not included); Reliability (MTBF): 1.5 Million Hours Reliability (MTBF)
INNOVATIVE V-NAND TECHNOLOGY: Powered by Samsung V-NAND Technology, the 860 EVO SSD offers optimized performance for everyday computing as well as rendering large-sized 4K videos and 3D data used by the latest applications
Last update was on: 2019-11-16 5:17 am
INNOVATIVE V-NAND TECHNOLOGY: Powered by Samsung V-NAND Technology, the 860 EVO SSD offers optimized performance for everyday computing as well as rendering large-sized 4K videos and 3D data used by the latest applications
ENHANCED READ WRITE SPEEDS: Sequential read and write performance levels of up to 550MB/s and 520MB/s, respectively
SECURE ENCRYPTION: Protect data by selecting security options, including AES 256-bit hardware-based encryption compliant with TCG Opal and IEEE 1668
WARRANTY AND COMPATIBILITY: 5-year limited warranty; Windows 8/Windows 7/Windows Server 2003 (32 bit and 64 bit), Vista (SP1 and above), XP (SP2 and above), MAC OSX and Linux
INCLUDED CONTENTS: 2.5 inches (7 millimeter) SATA 3 (6 Gb/s) SSD & User Manual (All other cables, screws, brackets not included); Reliability (MTBF): 1.5 Million Hours Reliability (MTBF)
INNOVATIVE V-NAND TECHNOLOGY: Powered by Samsung V-NAND Technology, the 860 EVO SSD offers optimized performance for everyday computing as well as rendering large-sized 4K videos and 3D data used by the latest applications
& Free shipping
Last update was on: 2019-11-16 5:17 am
INNOVATIVE V-NAND TECHNOLOGY: Powered by Samsung V-NAND Technology, the 860 EVO SSD offers optimized performance for everyday computing as well as rendering large-sized 4K videos and 3D data used by the latest applications
ENHANCED READ WRITE SPEEDS: Sequential read and write performance levels of up to 550MB/s and 520MB/s, respectively
SECURE ENCRYPTION: Protect data by selecting security options, including AES 256-bit hardware-based encryption compliant with TCG Opal and IEEE 1667
WARRANTY AND COMPATIBILITY: 5-year limited warranty; Windows 8/Windows 7/Windows Server 2003 (32 bit and 64 bit), Vista (SP1 and above), XP (SP2 and above), MAC OSX and Linux
INCLUDED CONTENTS: 2.5 inches (7 millimeter) SATA 3 (6 Gb/s) SSD & User Manual (All other cables, screws, brackets not included); Reliability (MTBF): 1.5 Million Hours Reliability (MTBF)
Form Factor - 2.5 inch
Interface - SATA 6Gb/s (compatible with SATA 3Gb/s & SATA 1.5Gb/s)
Storage Memory - Samsung V-NAND 3bit MLC
Usually dispatched within 24 hours
& Free shipping
Last update was on: 2019-11-16 5:17 am
Form Factor - 2.5 inch
Interface - SATA 6Gb/s (compatible with SATA 3Gb/s & SATA 1.5Gb/s)
Storage Memory - Samsung V-NAND 3bit MLC
Form Factor - 2.5 inch
Interface - SATA 6Gb/s (compatible with SATA 3Gb/s & SATA 1.5Gb/s)
Storage Memory - Samsung V-NAND 3bit MLC
Usually dispatched within 24 hours
& Free shipping
Last update was on: 2019-11-16 5:17 am
Form Factor - 2.5 inch
Interface - SATA 6Gb/s (compatible with SATA 3Gb/s & SATA 1.5Gb/s)
Storage Memory - Samsung V-NAND 3bit MLC