A 10-inch tablet for less
If we look a bit overexcited here in the Top New Review office, it's not because of the BBC's recent retro sitcom season. No, it's the sight of a brand new low-cost tablet. While you can't move for cheap laptops, tablets under are thin on the ground. With Teseo's Hudl 2 discontinued and Nvidia's Shield Tablet K1 impossible to track down, you might well ask yourself: are you being served?
An eye-catching design, sharp screen and faster than budget rivals
Well, this update to Acer's full-size device might Just get you smiling again. Its 10.1in screen is slightly bigger than an iPad Air, and although its resolution isn't as high, at 1920×1200 it looks quite sharp and does full Justice to Full HD films. Color is decent, covering 80 per cent of the sRGB range, though limited brightness means it's best used Indoors. Like Acer's Iconia One 8, it features Precision Plus Touch, so you can draw on it with a fingernail or lead pencil – which is fun – although it's less advanced than pressure-sensitive stylus technologies such as Microsoft's Surface Pen.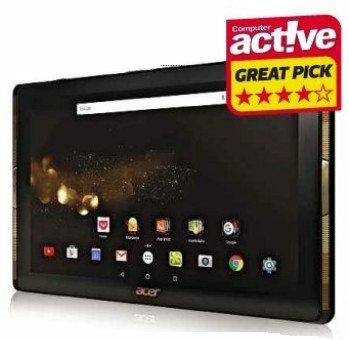 The tablet's shape (not as long and thin as 16:9 widescreen, nor as square as an iPad) is practical, and although wide borders on all sides make it a bit of a hassle to carry around, it's only slightly heavier than an iPad Air. The new design is all about keeping up appearances, with chambered bronze edges incorporating four speakers which produce wonderfully crisp sound – albeit not overly loud. On closer inspection, you can see where money's been saved. The back is nicely textured but plastic, and the case is bendy, so we'd be worried if you intended to let kids get their hands on it.
Acer has replaced the Intel Atom processor in the previous version with a MediaTek version that runs the latest Android 6.0 (Marshmallow) acceptably well – and certainly faster than Alba's rival 10in tablet or the 7.85in EE Jay. Then again, the Alba is half the price. We had no trouble running basic games like Hearthstone and Angry Birds 2, but it couldn't cope with more demanding 3D titles. Disappointingly, the battery lasted just under six and a half hours, compared with the Alba's 11 and a half.
We found the Iconia One 8 an appealing budget mini tablet, albeit marred by a screen as dull as porridge. You can now get it for with Android 5.1 (Lollipop). The Tab 10 has a better display and delivers full-size Android 6 at a very fair price.
SPECIFICATIONS
15GHz MediaTek MT8163 quad-core processor • 2GB memory • 32GB flash storage • 10.1in 1920×1200 pixel touchscreen • 5-megapixel rear camera •2-megapixel webcam • Micro SO card slot • 802.Tlac Wl-Fl • Android 6.0 (Marshmallow) •259×167.5x9mm (HxWxD) • 529g • One-year warranty
VERDICT:
By aiming for an affordable price rather than the very lowest, Acer has made a budget tablet that" s worth buying

Android 4.4 KitKat, 10.1 inches Display
MediaTek MT8127 Quad Cortex A7 1.3 GHz Processor
16 GB Flash Memory, 1 GB RAM Memory
9-hour battery life, 1.12 pounds
Last update was on: 2021-10-28 9:00 pm
Android 4.4 KitKat, 10.1 inches Display
MediaTek MT8127 Quad Cortex A7 1.3 GHz Processor
16 GB Flash Memory, 1 GB RAM Memory
9-hour battery life, 1.12 pounds
ALTERNATIVE:
Alba 10 Inch Tablet
Half the price, but this has a slower processor, coarser screen, half the storage and Android 5.1
Last update was on: 2021-10-28 9:00 pm