SUPPLIER overclockers.co.uk

Positive
Daisy-chain fans
Excellent cooling
Tube clips
Negatives
No software control
Pump isn't the quietest
Fans are noisy at full speed
Spec
Compatibility
Intel: LGA1200, LGA115x, LGA2066, LGA2011;
AMD: Socket AM4, AM3/+, AM2/+, FM2/+, FM1, TR4, TR4X
Radiator size with fans (mm) 120 x 394 x 52 (W x D x H)
Fans 3 x 120mm
Stated noise 34dBA
With products in many PC categories, from liquid coolers to PSUs, it probably escaped most people that Phanteks doesn't have an all-in-one liquid cooler to its name. Cases, air coolers and RGB lighting are just some of the other products it makes, as well as some very fancy water-cooling components, but it has now teamed up with Asetek to create its very own AIO liquid cooler.
The Glacier One is available in both black and white colours, and in a range of sizes, including 240mm, 280mm and the biggest 360mm model here – the Glacier One 360 MP.
It uses Asetek's 7th-generation pump, which sports a pure copper base with dense skived fins and is PWM-controlled.
In an interesting move, Phanteks' addition is a large clip-on housing, which sports a beautiful infinity mirror equipped with digital RGB lighting. It looks fantastic, even if it isn't a part of the actual waterblock – it certainly makes the plain Asetek pump look a heck of a lot more attractive.
The RGB housing is compatible with Phanteks' own lighting connectors, but the cooler also includes an adaptor allowing you to hook it up to any 3-pin RGB header, so you're not forced into Phanteks' own ecosystem if you have other devices you want to synchronise with it. Being Asetek, the design for mounting the pump is simple and very familiar. In fact, it hasn't changed in years.
On socket AM4, you use the stock backplate along with a mounting plate, specific mounting screws and thumbscrews on top. Intel's LGA115x and LGA1200 sockets all require an included backplate for use with similar components, and the LGA2066 mount ditches the backplate, with the mounting screws attaching directly to the CPU socket.
It's all blissfully straightforward, although you'll need to source an additional dozen of 6-32 screws if you want to add a second row of fans.
Phanteks has included pre-applied thermal paste to the contact plate, but also includes a spare tube for reapplication should you upgrade.
We initially thought that Phanteks had supplied the wrong PWM splitter cable in our sample, as only a 2-way cable was included with the pump and you have to deal with four connectors. As it happens, one connector is for the pump and the fans can actually daisy-chain themselves together, so they only require a single extension cable to hook up to the splitter cable, which is all included in the box.
Another nifty addition is the set of three tube clips. These act like PSU cable combs and create neat tubing runs, which is a great feature, as it stops the tubes flailing around. They even have small cut-outs for the PWM extension cable, so you can keep that tucked away too. With 40cm tube lengths, you have enough tubing to comfortably mount the radiator in the front fan mounts of most cases too.
Three Phanteks 120MP fans are included, which can spin at up to 2,200rpm and they certainly dish out a lot of air at full speed. They were pretty noisy too, though, so you'll likely want to tweak your motherboard's fan response curves to ensure they only hit their peak speed in extreme conditions.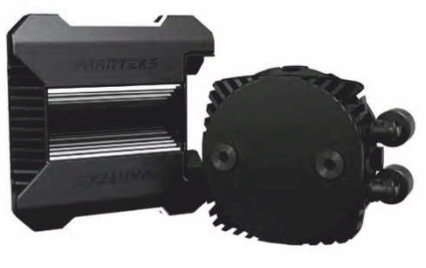 With a claimed static pressure of 3.41mm/H2O, they should offer decent performance on the included 360mm radiator too. The latter is nothing special, being a typical Asetek unit measuring 27mm thick and 394mm long – it's suspiciously similar to the one included with the Cooler Master MasterLiquid ML360 Mirror TR4 we reviewed on p16.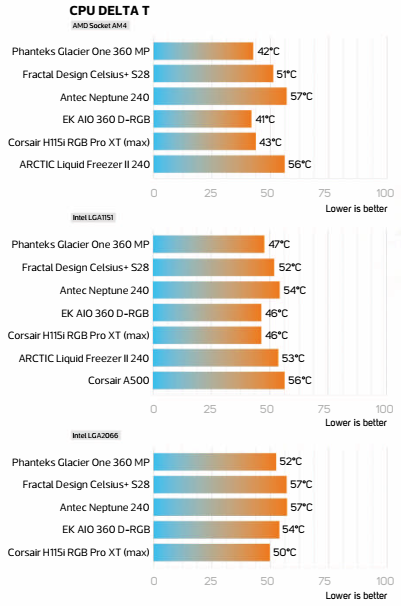 A CPU delta T of 42°C put the Glacier One 360 MP near the top of the stack in our Socket AM4 system, where it was pitched against an overclocked 8-core Ryzen 7 1700 – only the EK AIO 360 D-RGB achieved a better result.
The Phanteks bettered the monstrous Corsair H115i RGB Pro XT on its maximum fan speed setting too, although at full speed, the pump made a noticeable mid-to-highpitched whine, so you'll definitely want to tune it back under low to medium loads.
In our Core i9-9980XE LGA2066 system, the Phanteks managed a delta T of 52°C, which again was enough for second place behind the Corsair H115i RGB Pro XT and it also bettered the EK AIO 360 D-RGB while offering a huge amount more cooling than the ARCTIC Liquid Freezer II 240
and Antec Neptune 240. Finally, our LGA1151 system with an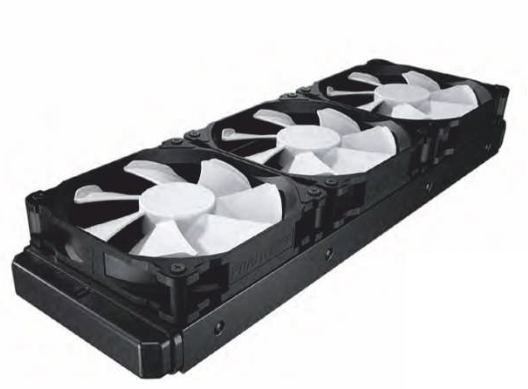 overclocked Core i5-9600K saw it come within a degree of the top spot, but comfortably beating the Fractal Design Celsius+ S28. Only the EK and Corsair coolers were better, but barely so.
Phanteks has got a lot right with the Glacier One 360 MP. The tube clips are ingenious and will massively improve the look of your PC. In addition, the daisy-chain fans halve the number
of cables you need. The fans don't sound ear-splitting at full speed, but they're potent enough to deal with extreme heat loads, while the large radiator enables good cooling at lower fan speeds.
The pump is a little on the noisy side, especially at full speed, but othercomponentswill likely drown outthis noise underloadanyway.
Finally, the RGB-enabled pump housing is an attractive touch, if more of a bolt-on item, although the fact there's no software control means the likes of Corsair and NZXT do offer slightly more for your cash. If you're content to tweak the settings in your motherboard's EFI, though, and prefer the other aesthetic tweaks and features Phanteks provides, the Glacier One 360MP is a good buy at a reasonable price.
ANTONY LEATHER
Best PHANTEKS GLACIER ONE 360MP prices ?
MORE DEALS