With a 'Z' at the front of its model number, the Kraken Z53 RGB White represents NZXT's flagship 240mm liquid cooler and it has a price to match. It's monstrously expensive. However, unlike some other pricey coolers, you get a few extras thrown into the mix in order to help justify that price tag. Read our NZXT KRAKEN Z53 RGB WHITE Review.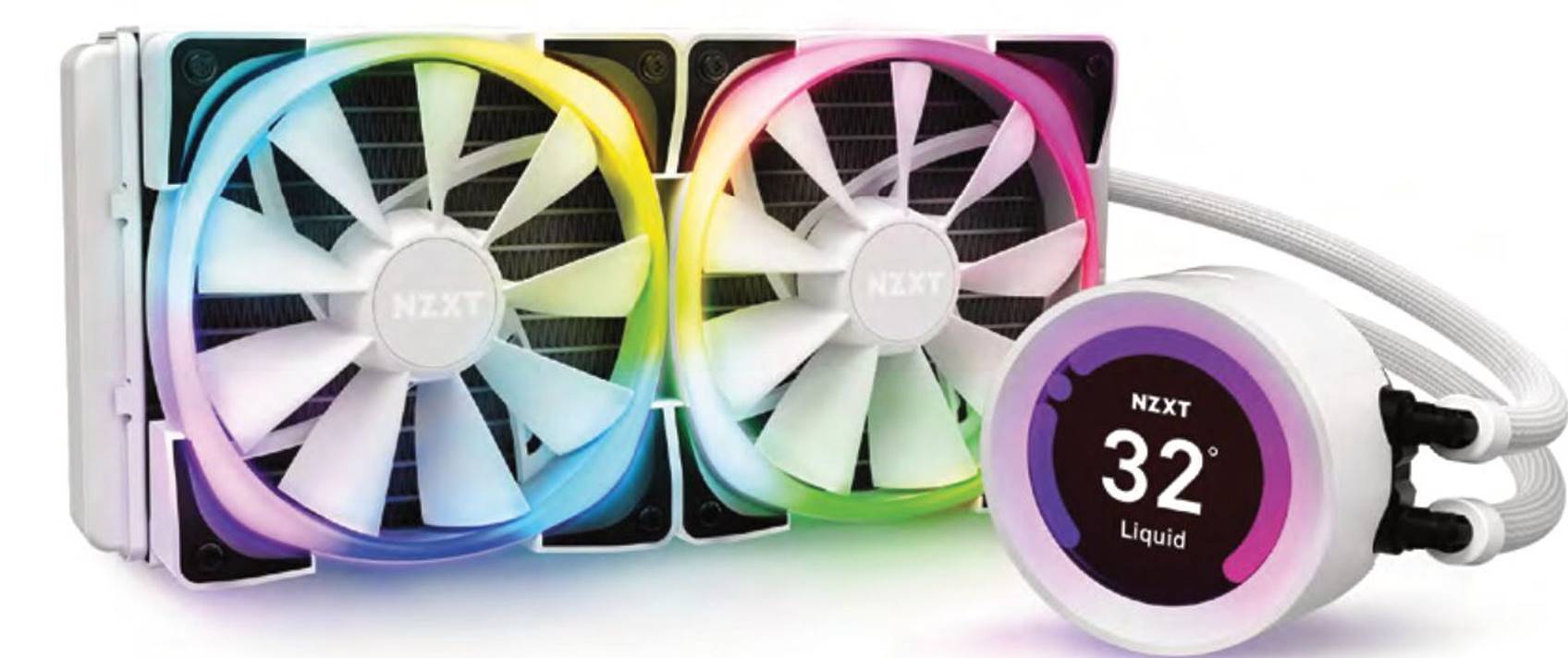 240mm AIO LIQUID COOLER
spec
Intel compatibility LGA1700, LGA115X, LGA1200, LGA2066, LGA2011
AMD compatibility Socket AM4, AM3/+, TRX/4
Radiator size with fans (mm) 275x123x30 (WxDxH)
Fans 2 x 120mm
Stated noise 36dBA
First off are the cooler's two 120mm AER RGB fans, which have software-controlled lighting arrays, and the 7th-generation Asetek-derived pump has software control as well. There's a splitter cable that provides power to all of the kit via a SATA connector on your PSU, but it then splits off to connect the pump to the fans. A second cable connects the pump to a spare USB 2 header on your motherboard, enabling NZXT's CAM software to control it all.
This does result in a mass of cable spaghetti, though, and it's compounded further by a separate RGB cable connecting to the fans to control the lighting. Needless to say, you'll need to spend some time tidying away all these cables and making sure none of them find their way into the fans. Thankfully, the situation is made a little easier by the RGB lighting control daisy-chaining between fans. On this dual-fan cooler, and the larger triple-fan Kraken Z73 RGB, only one RGB cable is required to control the lighting of multiple fans.
Meanwhile, the large pump section has tubes protruding out of one side, which makes it too large to fit on some motherboards with restricted CPU socket areas. These include the mini-ITX Asus ROG Strix Z690-I Gaming WiFi, although the Kraken 120 RGB's smaller pump did allow that cheaper cooler to fit on that board. You should have no such issues fitting the Kraken Z53 to most micro-ATX and ATX motherboards though – just have a look at the room around the CPU socket before you buy it.
The highlight of the cooler is undoubtedly the 2.36in display on the pump/waterblock unit, which can cycle through various data inputs, such as CPU and GPU temperature, coolant temperature, clock speed and load. You can also upload GIFs and customise the display's text, background and detail sections separately. Its not as snazzy as the display on Corsair's new coolers, such as the H150i Elite LCD we reviewed last month, but it's certainly a step forwards compared with NZXT's holographic displays.
That's all for show, of course, but what's more useful in terms of cooling is the software control for the Kraken Z53's fans and pump. They can be controlled separately, either using Silent or Performance profiles, a fixed speed or your own custom curve. You don't have to stick to using the CPU temperature input to control them either, as you also have the option of using the coolant temperature or even that of the CPU.
The difference between the Silent and Performance profiles is down to the fan or pump speed at lower temperatures, with the Silent profile seeing lower speeds and noise before ramping up to 100 per cent speed at around 60°C. The Performance profile will do the latter as well, but sits at higher speeds lower down the temperature range. You won't see any difference between the two profiles under sustained heavy loads with most CPUs, but the Silent profile might make your system quieter at low to medium loads.
The fan lighting isn't just found on the blades either, unlike the Corsair H150i Elite LCD – in this case, there are also illuminated rings that sit around the edge of the fan housing. There are eight individually tweakable LEDs on each fan, and you can pick from numerous presets, such as a rainbow mode or even colours changing according to CPU or CPU temperature. Sadly, the included hardware only features proprietary connectors though.
Out of the box, our sample wasn't compatible with Intel's new LGA1700 socket, but newer samples should be compatible. In any event, the LGA1700 adaptors are available for free from NZXT, or you can purchase the generic Asetek upgrade kit from UK retailers, such as overclockers.co.uk. Installation is just as simple as other Asetek coolers, with a backplate, mounting pins and thumbscrews. As usual, though, the thermal paste is pre-applied, so you'll need to protect it until you're ready to install the cooler.
The Kraken Z53's fans spun up to reasonably loud levels at their peak speed of 2,000rpm, but at idle, they were inaudible outside ourtest system. Dealing with a Core i9-12900K,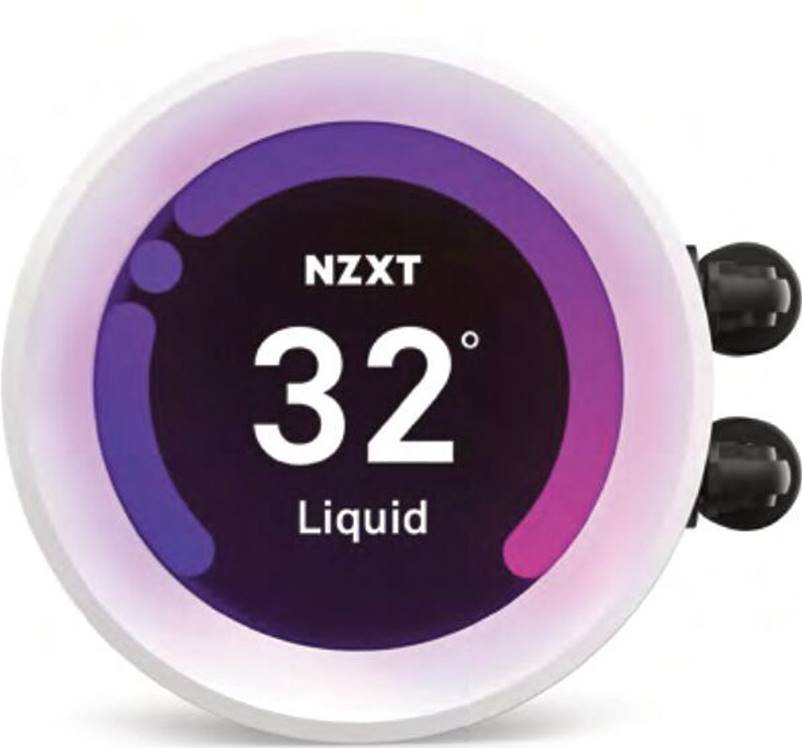 the Kraken Z53 RGB White managed an average CPU delta T of 50°C on the P-Cores and 4TC on the E-Cores, with the former being 4°C warmer than the Kraken X73 RGB and 7°C warmer than the Corsair H150i Elite LCD, but those are 360mm coolers, so this 240mm cooler isn't doing badly in comparison. Initially, the temperatures were even, but rose a few degrees towards the end of the test.
In our Socket AM4 system dealing with a Ryzen 7 5800X, the Kraken Z53 RGB again hit a CPU delta T of 50°C, placing it at the top of the stack of 240mm AIO liquid coolers, but a degree warmer than the latest 360mm models, such as the Thermaltake Toughliquid Ultra 360 and Corsair H150i Elite LCD.
With advanced RGB lighting and a pump display, as well as excellent cooling on both ourtest sockets dealing with the latest CPUs from AMD and Intel, the NZXT Kraken Z53 RGB is one of the most potent coolers available.
It's more flexible in terms of case compatibility compared with 360mm radiator models, but with full software control, you only lose a few degrees in terms of comparative temperatures.
You're paying a lot for the aesthetics though. NZXT's Kraken X53, which doesn't have the display or RGB fans, currently goes for under half the price, and the black Kraken Z53 without the RGB fans costs £ and was spotted going for just £ inc VAT in a recent sale at scan.co.uk.
Corsair's H10Oi Elite Capellix AIO liquid cooler also costs just £ and can also be upgraded to use the same snazzy pump display as the H150i Elite LCD, as well as being available in both black and white versions. In short, the Kraken Z53 RGB is a fantastic cooler that looks great, but it's far too expensive.
ANTONY LEATHER
NZXT KRAKEN Z53 RGB WHITE Review
Great cooling and compact with full software control, but it's extremely expensive. LGA1700 - OVERALL SCORE 79% Socket AM4 - OVERALL SCORE 80%
PROS
Excellent cooling
Brilliant fan and lighting control
Great-looking display
CONS
Expensive
Proprietary RGB connectors
Lots of cables
Add your review
Best NZXT KRAKEN Z53 RGB WHITE prices ?
MORE DEALS