The range of NZXT's all-in-one liquid coolers can be a little confusing, but there are some clear differences between the latest models as well as their predecessors if you delve into the specs. The company now uses the latest 7th-generation Asetek pump design, but it's the lighting, software control and fan speed that differentiates them, with the NZXT Kraken X73 RGB sitting in the middle of the pack.

It has a 360mm radiator and three 120mm fans, but unlike the current Z-series models, it lacks software control for fan speed, so you'll need to hook them up to your motherboard. That's easily done, as the Kraken X73 RGB includes a splitter cable, so you just need one spare fan header.
Unlike the fans, the pump can be software controlled, although we found it quiet enough to run at full speed without being audible above the noise made by the rest of our system. Besides, it will ramp up to full speed anyway under load, even on the Silent mode setting. To make sure the fans don't get overly noisy, NZXT limits their speed to 1,500rpm. This means the fans more of a low thrum compared with the racket made by the monstrous 2,500rpm fans on the Thermaltake Toughliquid Ultra 360 (see p28), but it does mean there's less airflow to deal with the radiator's dense array of fins.
Specs
Intel compatibility
LGA115x, LGA1200, LGA2066, LGA2011
AMD compatibility
AM4, AM3+, TRX4, TR4
Radiator size with fans (mm)
120x394x52(WxDxH)
Fans
3 x 120mm
Stated noise
33dBA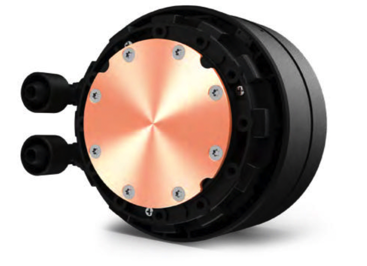 The AER RGB 2 120mm fans also feature digital RGB lighting, which can be controlled using NZXT's CAM software. Each of the eight individual LEDs can be controlled using the full RGB colour palette and, as usual, there control readout, but the infinity mirror effect pump top, which is colour-customisable, still looks great on this model, if a little dated. Thankfully, unlike Thermaltake, NZXT has also kept the power and USB cable ports well below the top of the pump housing, so they're not as clearly visible.
Meanwhile, the mounting kit is your typical Asetek affair, but doesn't yet include adaptors for LGA1700, so you'll need to request them from NZXT when they're available. There's a backplate for Intel systems, but it makes use of the stock backplate on AMD motherboards. Either way, all CPU sockets will require mounting plates to be fitted to the pump section before securing it with thumbscrews. It's very simple, although the thermal paste is pre-applied, so you'll need to keep the protective cap on the pump/waterblock unit until you're ready to mount the cooler, and buy more paste if you ever swap CPUs.
With a thin 27mm-thick radiator, there's not much point adding another row of fans, as they're £ a pop and won't improve performance much. As such, NZXT hasn't included additional screws, only providing what you need to mount the included trio of 120mm fans.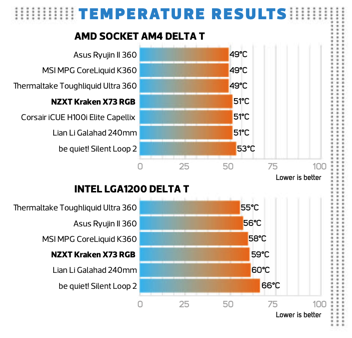 Performance
With a subdued set of fans offering reduced airflow compared with other 360mm liquid coolers, it wasn't a surprise to see the Kraken X73 RGB drop a little way down the graphs when squaring up against louder competitors such as the Thermaltake Toughliquid Ultra 360, Asus Ryujin II 360 and MSI MPG CoreLiquid K360. All these coolers managed a CPU delta T of 49°C in our AMD system, cooling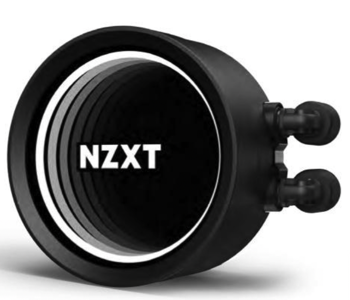 an overclocked Ryzen 7 5800X, while the NZXT cooler managed 51°C, but while making less noise.
The Kraken X73 was further behind the competition when dealing with a Core i9-11900K with Adaptive Boost Technology enabled, sitting at a CPU delta T of 59°C under full load, compared to 55°C for the Thermaltake Toughliquid Ultra 360, although it was only 1°C behind the MSI MPG CoreLiquid K360. Surprisingly, the likes of the 240mm Lian Li Galahad weren't far behind at all in this test, and they cost a lot less money. Again, though, the NZXT Kraken X73 RGB managed this with far less noise.
Conclusion
The NZXT's price is certainly a little more reasonable than that of the Thermaltake Toughliquid Ultra 360, and the white version looks stunning, helped by some fantastic RGB fans and aesthetic details. If you're building a white-themed PC, this is a great cooler that's reasonably quiet and performs well on both AMD and Intel systems.
The lack of software control is a bit of a letdown considering NZXT's CAM software is actually very good, but we can appreciate NZXT's reasoning for this omission. It enables the company to provide a cheaper cooler for those who don't want to use its software and instead make use of their motherboard's EFI control.
The competition is fierce, though, with the likes of Corsair's iCUE H150i Elite Capellix retailing for £ less, but offering full software control via an included fan and lighting hub, as well as RGB fans and pump top, plus it's available in white for under £. Still, if you prefer your RGB lighting to sit in rings rather than on the blades, or prefer to use NZXT's software for pump and fan control, then the Kraken X73 RGB is a good (though not outstanding) low-noise cooler with decent cooling capacity.
ANTONY LEATHER
Verdict
Best NZXT KRAKEN X73 RGB prices ?
MORE DEALS