With a whopping price of £ inc VAT, Corsair's fancy new H150i Elite LCD is one of the most expensive all-in-one (AIO) liquid coolers we've tested. Not only does it have a customisable screen on the pump/waterblock unit, but the cost is also bumped up by the inclusion of a Corsair iCUE Commander Core in the box, which is a combined fan and lighting controller.
360mm AIO LIQUID COOLER

Tweakable using Corsair's iCUE software and a USB 2 header, the controller can power up to six RGB components with Corsair's own connectors, as well as six PWM fans. It also connects to the new pump, which is no longer made by Asetek, with the software allowing to you select from various profiles or, in the case of the fans, create your own profile.
There are options for Quiet, Balanced, Extreme and Zero RPM, with the latter mode switching off the fans completely until the temperature reaches a certain level.
Out of the box, that temperature is read from the coolant rather than the CPU, since the coolant will actually absorb a lot of heat first, so spinning up the fans instantly when the CPU is loaded won't achieve anything other than making a lot of noise.
This works really well, as all of the fan modes wait a while before ramping up the fan speeds, with the more aggressive profiles spinning up the fans earlier than the quiet modes and to higher speeds. Even then, though, it remains very quiet for most of the time, and it's only after three or four minutes of full load that you'd typically hear the fans spin up. You can also pick from a range of other inputs, such as your graphics card, a 2-pin thermal probe input or even your motherboard's sensor data.
The motherboard sensor data isn't labelled, so you'll need to identify inputs such as VRMs or chipsets, but you could certainly use this feature to control the fan in front of your graphics card based on its temperature.
As we mentioned earlier, the pump/waterblock unit also features a new design with a snazzy 480 x 480 display; in addition to being able to display your own GIFs or animations, this has plenty of built-in options. It can show a range of data, such as the CPU temperature, coolant temperature, fan speed and pump speed, with the layout of the display being tweakable, including the colours.
The 30 Hz 24-bit IPS display is clear and vibrant – it looks fantastic, and the display cap can pop off for easier installation
Spec
Intel compatibility
LGA1700, LGA115x, LGA1200,
LGA2066, LGA2011
AMD compatibility
Socket AM4, AM3+, TR4/X
Radiator size with fans (mm)
120 x 397 x 52 (W x D x H)
Fans
3 x 120mm
Stated noise
30dBA
COMMANDER
+ Good cooling
+ Brilliant fan and lighting controller
+ Great-looking display
COMMANDEER
— Expensive
— RGB connectors are proprietary
— Lots of cables
as well, as the cables come away with it. That said, you do still have to deal with a mass of cables with this cooler. Each fan has two wires, which already means you have six cables with this 360mm, triple-fan model. You then have the SATA cable that powers the whole setup, two USB leads and another cable connecting the pump to the controller.
Thankfully, if you place the controller behind your motherboard, all the wires can be routed out of sight of the main interior, but you'll need to spend some time dealing with all the spaghetti. Installation is otherwise routine, with just the iCUE Commander Core controller to fit in addition to the usual pump backplate, pins and thumbscrews.
The Corsair H150i Elite LCD cooler and its siblings also have the advantage of coming with LGA1700 support straight out of the box, courtesy of a redesigned backplate and shorter mounting pins to cater for the lower-lying CPU heatspreader. This means you won't need to buy a separate adaptor if you want to attach this cooler to one of Intel's new Alder Lake CPUs. As well as supporting the standard AMD and Intel CPU sockets, the H150i Elite LCD also supports AMD Threadripper sockets and has an enlarged contact plate, which should help it to deal with large heatspreaders, including those on Alder Lake CPUs.
Performance
In our LGA1700 test system cooling a stock-speed Core i9-12900K, the H150i Elite LCD fared well, hitting a low delta T of 43°C on the P-Cores and 40°C on the E-Cores in its noisy Extreme mode. In its out-of-the-box mode with the pump on Silent and fans on Balanced mode, these temperatures rose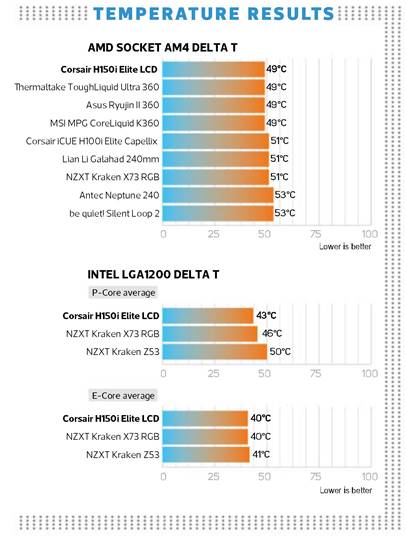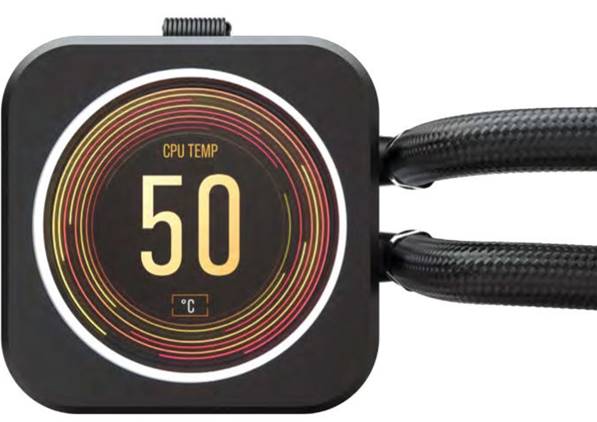 to 49°C and 46°C respectively, which were slightly warmer results than those from the NZXT Kraken X73 RGB we tested in this month's Alder Lake upgrade guide (see p76).
In Silent mode, meanwhile, the fans remained at very low levels, even after ten minutes of stress testing, with the P-Core temperature settling at a delta T of 52°C and the E-Core temperature peaking at 49°C.
In our AMD system dealing with an overclocked Ryzen 7 5800X, the CPU delta T hit 49°C with the cooler in Extreme mode, which matches the great results we've seen from the MSI MPG CoreLiquid K360 and Asus Ryujin II 360. Tuning it down to Balanced mode saw the delta T rise 52°C, while Silent mode pushed it up to 54°C.
In terms of noise, the ML Elite series fans can spin at up to 2,000rpm, and are fairly noisy in Extreme mode, although the noise is fine if you tune down the fan speeds. The Cool IT- made pump made a slight whine too, even in Silent mode, but you're unlikely to really notice it unless the rest of the components in your PC are absolutely silent.
Conclusion
There's no denying that £ is a huge sum of money for an AIO liquid cooler, but we're still impressed by the Corsair H150i Elite LCD's overall package. You're not just getting a CPU cooler here, but a serious amount of customisable illumination, a cutting-edge display and, more importantly, a decent fan and lighting controller with thermal probe input and a polished software interface with granular control.
Performance-wise, this cooler is right up there – while it's noisy in Extreme mode, its large radiator still enables it to keep an overclocked Core i9-12900K in check in Quiet mode. It might be add a big chunk to that already high Alder Lake upgrade bill, but it certainly has what it takes to cool Intel's latest CPUs, with excellent results in our AMD system too.
ANTONY LEATHER
VERDICT
Editor choice
CORSAIR H150i ELITE LCD Review
An awesome CPU cooler with a neat screen, decent control options and LGA1700 support, but it also has a price to match.
Add your review
Best CORSAIR H150i ELITE LCD prices ?
MORE DEALS