While there are some very reasonably priced all-in- one liquid coolers available that offer decent cooling for your cash, there's definitely a trend. Read our THERMALTAKE TOUGHLIQUID ULTRA 360 Review.

towards pushing performance and features, and of course the price tag, much higher than we've seen in the past. In fact, the cost of numerous liquid coolers has topped the £ mark in the past year, and the latest to do so is Thermaltake's Toughliquid Ultra 360. It will set you back £ inc VAT, and at face value, it doesn't seem to justify its price tag.
Combining a 27mm-thick 360mm radiator and powerful pump, there's clearly some scope for serious cooling as with most cooling systems based on 360mm radiators, although you can certainly buy similar coolers in terms of what's in the box for a lot less money.
spec
Intel compatibility LGA115x, LGA1200, LGA2066, LGA2011
AMD compatibility AM4, AM3+
Radiator size with fans (mm) 120 x 394 x 52 (W x D x H)
Fans 3 x 120mm
Stated noise 28dBA
However, the feature that impressed us the most about the Toughliquid Ultra 360 was its trio of 120mm fans. The new Toughfan 12 Turbo fans look and feel remarkably similar to Noctua fans, with a degree of heft that suggests some very high-quality manufacturing and materials. They sport hydraulic bearings and speeds up to 2,500rpm, which Thermaltake claims dishes out nearly 4mm H20 of static pressure, which is right up there with some of the best-regarded fans on the market.
This is exactly what you need for shunting air through a radiator, especially one with a very tight fin spacing, such as the 360mm radiator used here, which is attached to the pump section with braided, low-evaporation tubes. The fans also have built-in anti-vibration mounts, but if you were hoping for RGB lighting, which isn't unreasonable given the lofty price tag, the only illumination you'll see is on the pump housing.
This sports a 480 x 480 pixel display that can show various aspects of system data, such as coolant or CPU temperature, as well as CPU load, but it can also show custom JPEG and GIF files. The display is particularly bright and vivid, although not quite as large as the one on the Asus Ryujin II 360. It can also be rotated so that it sits horizontally, depending on how you mount your motherboard – our only complaint being the USB cable that powers the display is sat right at the top edge of the pump housing, so it's clearly visible.
Sadly, there's no software control here, as you would find on high-end NZXT or Corsair coolers, as well as the Asus Ryujin II 360, which is a tad disappointing given the price tag. We'd also like to have seen support for AMD's Threadripper sockets given the enlarged contact plate, but this cooler only supports LGA2066 and mainstream desktop CPU sockets.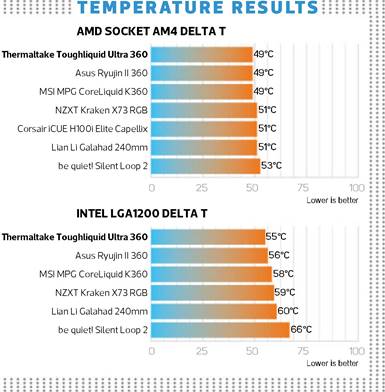 As with the NZXT Kraken X73 (see p30), Thermaltake only provides enough screws to cater for the included trio of 120mm fans. Again, you'll often find additional screws for extra fans with other coolers. You do get a daisy-chain fan connector, though, so you can power all three fans from a single 4-pin fan motherboard header.
Meanwhile, there's a tube of thermal paste included rather than being pre-applied, so you'll get a couple of re-mounts without having to buy more. The mounting mechanism is easy to use, and while you have to contend with a fair few pieces, the fact that the backplate has components that hold the pump section to your motherboard while you install it means you shouldn't need to remove your motherboard to install this cooler.
Sadly, there are no LGA1700 mounting components in the box, but Thermaltake, like most other cooler manufacturers, will send you one free of charge if you plan on upgrading to one of Intel's new 12th-gen Alder Lake CPUs.
Performance
The Thermaltake's fans were reasonably loud at full speed, but the noise was nowhere near as loud and irritating as some coolers we've tested recently, and the noise retreated to practically inaudible levels at low speeds under PWM control. The fans shift a lot of air too, so we have no doubts about their excellent airflow-to-noise ratio. Thankfully, the pump was also extremely quiet at full speed, generating a low thrum with no evidence of the high-pitched whine that can plague some liquid coolers.
The combination appeared to work well in our test systems too. Starting with our Core i9-11900K, the CPU
TOUGH SKIN
+ Great cooling
+ Premium fans
+ Quiet pump
TOUGH LUCK
— No RGB lighting
— No software control
— Expensive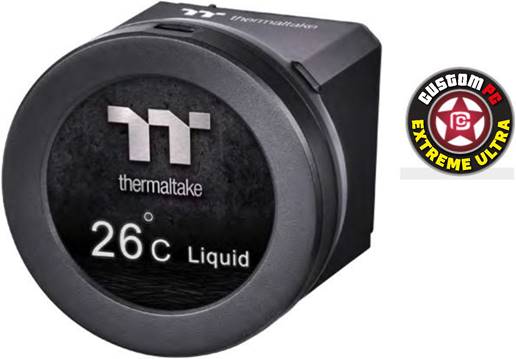 delta T of 55°C was the best result we've seen, beating the Asus Ryujin II 360 and MSI MPG CoreLiquid K360. Our overclocked AMD Ryzen 7 5800X was kept at similarly chilly levels with the CPU delta T of 49°C being the joint lowest result we've seen, matching the Asus Ryujin II 360 and MSI MPG CoreLiquid K360, although that's only a modest gain over the better 240mm liquid coolers we've tested.
Conclusion
The asking price of £ for the Thermaltake Toughliquid Ultra 360 is a lot for an all-in-one liquid cooler, and there are a few areas of concern in terms of features and value. The lack of software control is one, especially as Thermaltake offers it with other coolers, and the lack of RGB lighting is disappointing at this price too.
The unsightly USB cable that controls the snazzy display is also a shame, and there's no getting away from the fact that you can build a custom water-cooling loop for not much more money. However, many premium 240mm liquid coolers already demand more than £ and have less cooling capacity.
In addition, the Thermaltake's display is crisp and smart, while being easy to configure. Installation is also simple and the powerful yet quiet pump and premium fans helped to propel the Toughliquid Ultra 360 up to the top of our cooling charts while making much less noise than most other coolers we've tested.
The exceptional cooling and supremely low noise at lower loads means that, while the Toughliquid Ultra 360's price is slightly eye-watering, if you're not fussed by RGB lighting, you like the screen and want a very capable cooler for both Intel or AMD sockets, it's just about worth the cash.
ANTONY LEATHER
VERDICT
Superb cooling at reasonable noise levels, but there's no RGB lighting or software control and the price is very high.
8/10
Best THERMALTAKE TOUGHLIQUID ULTRA 360 prices ?

$

366.00
1 new from $366.00
in stock


£

313.00
1 new from £313.00
in stock


TOUGHLIQUID Ultra 360 AIO Cooler is an all-in-one liquid cooler with our latest LCD display that presents real-time information of the system and even plays GIF files with 480*480 resolution. It's also equipped with TOUGHFAN 12 Turbo fans to provide outstanding cooling results while maintaining...

MORE DEALS