Cooling a CPU with over20 cores can be a challenge, and when it comes to dealing with Threadripper CPUs, having a large enough contact plate to cover the giant heat spreaders on AM D's high-end desktop CPUs is also important. Generally, coolers with these big heat spreaders perform better than those without them. At the very least it gives them an advantage, and helped the Cooler Master Master liquid ML360 RGB TR4 to pick up an award in our recent Threadripper cooler Labs test (see Issue 207, p40). Read our COOLER MASTER MASTERLIQUID ML360 MIRROR TR4 review.
36OMM TR4X AIO LIQUID COOLER

AMO SocketTR4, TR4X
Radiator size with fans (mm) 120x394x52 (WxD xH)
Fans 3x120mm
Stated noise 8-27dBA
It was also one of the more affordable coolers to offer decent cooling and compatibility with AM D's Socket TR4 and TR4X, so we were keen to see what Cooler Master has done with this new tweaked version. The Masterliquid ML360 Mirror TR4 isn't a complete redesign, but it sports new fans, a tweaked pump and a sturdier mounting plate.
The fans are Cooler Master's new Air Balance models, which use a refined bearing and a new blade design. Despite topping out at 1,800rpm, which is 200rpm slower than the older models, they offer slightly higher static pressure at full speed, and they're quieter too.
That's a welcome change, although the actual airflow figures are understandably lower with the new fans. They still lack RGB lighting as well, which is a shame, as some of Cooler Master's RGB-equipped fans with other ML-series coolers have looked fantastic. However, using these fans would likely see this cooler's already lofty price tag rise further.
Sadly, Cooler Master doesn't include any form of software control, which you'll find on Corsair and NZXT's equivalents, giving you command over the pump, fans and lighting from the convenience of the Windows desktop. With the Master liquid ML360 Mirror TR4, you'll be forced to use the EFI or your motherboard's own software, with the latter often being hit or miss in terms of flexibility. Cooler Master also only includes enough screws for the included fans, so you'll need an extra dozen 6-32 radiator screws if you want to add another row of 120mm fans.
Each fan is equipped with a PWM cable, and Cooler Master has included a 3-way splitter cable, so you can power all of them from a single 4-pin header, which will cut down on cable clutter. The pump is powered using a 3-pin header, so you'll want to make sure it's not set to PWM mode in your motherboard's EFI. Thankfully, if you connect it to your motherboard's pump header (if it has one), your board should recognise what you've done and likely set it to full speed.
Even then, the pump was almost inaudible from just 1ft away, just making a slight low hum. It was a little quieter than the pump on the older cooler too. If you're looking for a quiet all-in-one (AIO) liquid cooler, the Masterliquid ML360 Mirror TR4 scores very highly. The radiator is also extremely compact despite being a 360mm model. It measures just 27mm thick and 394mm long, so it should fit in any case with a triple 120mm fan mount.
As we mentioned earlier, the pump section offers a large contact plate designed for Threadripper CPUs, and it comes pre-fitted with a mounting plate and sprung screws. All that's
left to do in terms of installation is secure the pump to the CPU socket but this does mean the cooler isn't compatible with other CPU sockets, so it isn't transferrable if you switch to a different socket in the future.
On the flip side, it's one of the easiest coolers to install we've ever come across, taking under five minutes to apply the included thermal paste, mount the pump, and install the radiator and fans. Screws are also included to mount the radiator straight into your case, as you would do in the roof.
What's more, the pump sports digital RGB lighting, with a fantastic holographic effect that looks seriously funky compared with the basic lighting on its predecessor. It's not garish, though, and you can control it using a 3-pin RGB header, or an included SA TA-powered controller if you'd rather not use your motherboard's RGB software.
Our Threadrippertest system includes a 3rd-gen Zen 2 Threadripper 3960X, which has 24 cores and 48 threads, and has been overclocked to 4.2GHz with a vcore of 1.265V to keep results consistent. At idle and medium loads, the Masterliquid ML360 MirrorTR4 was inaudible outside of our case, which is great.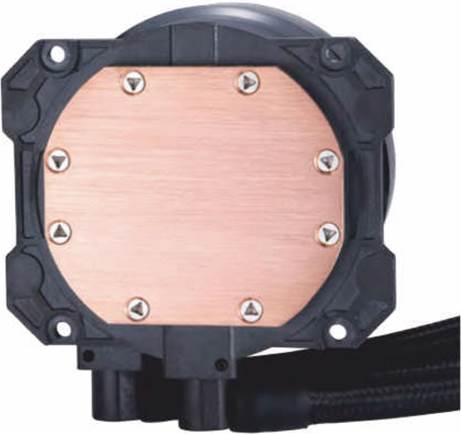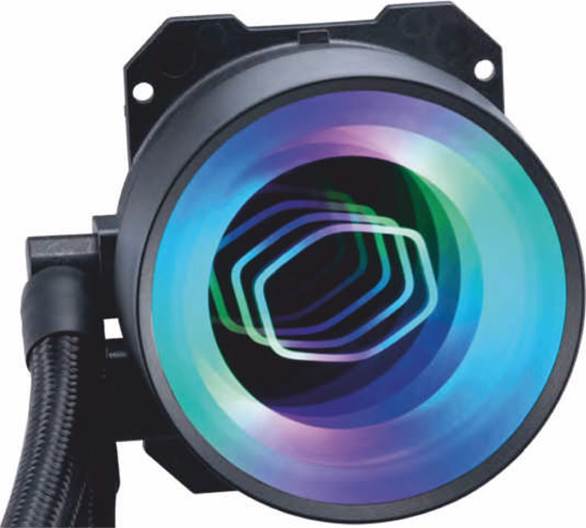 With the fans and pump at full speed, the CPU delta T topped out at 52°C, which was actually rc warmer than the original cooler, but essentially within the margin of error of our testing. Still, this was far better than the Corsair H150i Pro XT and rc cooler than the NZXT Kraken X73 too.
It was also quieter than all the coolers we've included in the graphs and we'd easily choose it over the Master liquid ML360 RGB TR4 for the slightly lower noise levels at full speed. The fans are certainly audible, but are never unpleasant so they won't be irritating when you're in the middle of lengthy rendering sessions. In any event it's easily up to the task of handling an overclocked Threadripper CPU.
With an incredibly simple installation that takes minutes, a reasonable price tag for the performance, low noise levels and attractive RGB lighting, the Cooler Master Master liquid ML360 Mirror TR4 is an excellent AIO liquid cooler for Threadripper owners. Those three qualities are enough for an award, so if they're your main concern, this is the cooler to buy.
You can get slightly more for your cash, though, from the likes of NZXT's Kraken X63, which offered similar cooling plus the benefit of software control for its fans, pump and lighting for about the same price. If low noise is your primary goal and you're keen to fill that triple 120mm fan mount in your case, though, the Master liquid ML360 Mirror TR4 is an excellent choice.
ANTONY LEATHER
Editor choice
COOLER MASTER MASTERLIQUID ML360 MIRROR TR4 review
Great cooling, low noise and easy installation, but it comes with precious few other features.
PROS
Good cooling
Compact radiator
Easy to install
Quiet
CONS
No software control
No RGB fans
Other coolers offer more for the cash
Add your review
Best COOLER MASTER MASTERLIQUID ML360 MIRROR TR4 prices ?

$

174.96
1 new from $174.96
in stock


£

160.37
1 new from £160.37
in stock


$

374.98

$419.98
1 new from $374.98
in stock

MORE DEALS