Ben Everard reclaims his privacy with a web-based office suite he controls
Whether you pay for Office 2021 or for a Microsoft 365 subscription, using Word, Excel and PowerPoint is going to cost you – and is an unnecessary expense when so much office software is available for nothing. Our favourite free Office alternative, LibreOffice, released its last major update (7.2) last September, but the new version of the lesser-known OnlyOfflce is an equally strong contender.
OnlyOffice is a web-based office suite similar to Google Docs or Microsoft's Office 365. However, unlike its competitors, OnlyOffice is open source (under AGPL) so you can run it on your own server (there's a hosted version available as well).
OnlyOffice is a rebranded version of TeamLab Office, which has been around in one form or another since 2009, so it's had time to mature to a featureful, stable platform. However, it was closed source and Windows-only until the end of 2014, so is still fairly unknown in the Linux world.
What you need: Windows 7,8.1,10 or 11, macOS or Linux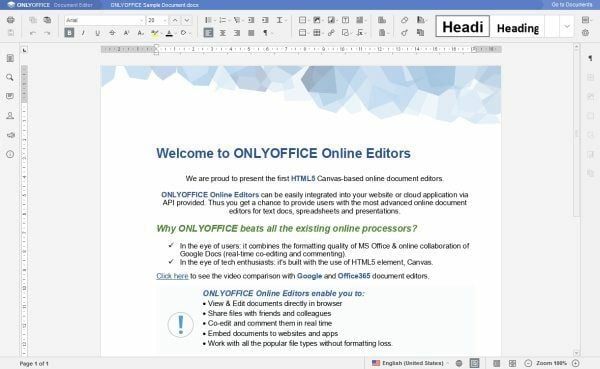 This open-source office suite consists of three Desktop Editors for working with documents, spreadsheets and presentations, which are combined in a single, simple interface. Rather than open these tools in separate windows, OnlyOffice displays them in tabs across the top of its window, which makes it easy to switch between files in each editor.
There are two parts to OnlyOffice: the community server and the document server. The community server is for collaboration and includes document sharing, and other tools for working as a team. The document server is just for viewing and editing documents. OnlyOffice also releases a mailserver, but this isn't developed in-house, instead it's a build of open source mail tools including iRedMail and SpamAssassin.
You can install OnlyOffice on top of a distribution just like you would any other software, however, there's also a series of Docker images, which means you can deploy the software with a single command. The images are in the Docker hub, but the Dockerfiles are on GitHub so you can modify them to customise the build (https://github.com/ONLYOFFICE)
The OnlyOffice Community Server is most useful as a web-based document sharing tool. In this role, it works well, but doesn't offer much to distinguish it over the competition (such as Seafile or OwnCloud). In addition to the document sharing, there's also an online email client. This connects to an email server that could be the official OnlyOffice build of iRedMail, or could be any other mail server that supports the usual protocols. Again, this is perfectly functional, though unremarkable, and probably not enough to convince anyone to use a new collaboration tool.
There's also a calendar and an online chat tool. The Community Server can link to any online storage that offers WebDav access (such as Box or OwnCloud). This is a great option if you want to take advantage of OnlyOffice Documents while still using your existing cloud storage option. The real star of OnlyOffice is the online office suite – the word processing is the best open source web-based document editing experience available. This may change when LibreOffice online is released, but for now, nothing else we've seen comes close in terms of experience. It can handle complex layouts, it has plenty of features and it runs well (provided you have a modern web browser). There's also a document viewer that can be embedded in other web pages to allow you to share read-only access with the world.
Our biggest complaint is that OnlyOffice Documents uses Microsoft's DOCX, XSLS and PPTX formats. It can handle others (such as ODT), but only by first converting them into DOCX (they can be converted back before downloading). This probably makes sense from a pragmatic point of view, but it's disappointing from a document freedom perspective.
Unlike rival office software, OnlyOffice uses Microsoft Office file formats by default, so you can save your work as DOCX, XLSX and PPTX files, and be confident that other people will be able to open them – just as you can open their Office files. All three Desktop Editors offer support for plug-ins, which let you perform such useful tasks as inserting YouTube videos, extracting text from images and translating foreign text with a single click. You can also set up an 'OnlyOffice cloud' to collaborate on projects online.
The spreadsheet and presentation editor are similarly impressive. While none of the office suite has quite the range of features you'd expect of a native suite, they have enough capability for most tasks and far more than other web-based office suites.The best online office suite backed up by a reasonable collaboration server.
New features in OnlyOffice 7.0 include a dark mode in its Document Editor, a handy new option for creating your own fillable forms and the ability to navigate menus using keyboard shortcuts (press Alt then the letter that appears on the relevant option). You can now zoom into documents by up to 500 per cent, protect your spreadsheets to prevent unauthorised editing and save presentations in JPEG and PNG format. Our only complaint is that OnlyOffice can feel a little slow when loading files, but it's packed with great features, easy to use and free.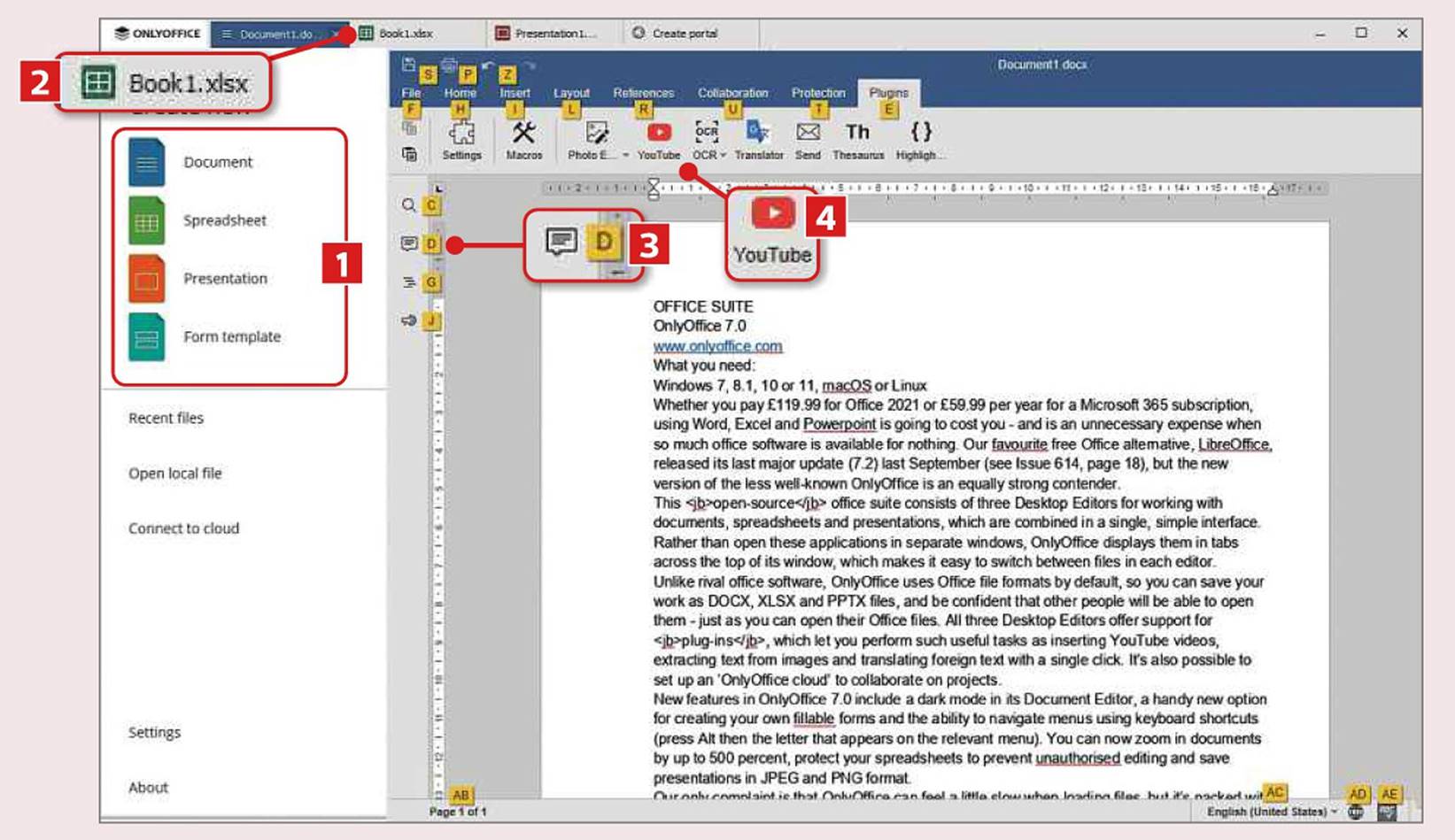 1 OnlyOffice includes three Desktop Editors for working on documents, spreadsheets and presentations, along with a tool for creating tillable forms.
2 The office suite offers tabbed browsing, which makes it easy to switch between files in different editors without needing to open new windows for each one.
3 You can quickly navigate menus and select options using your keyboard by pressing Alt then the letter that appears on the relevant option.
4 OnlyOffice's plug-ins add plenty of useful features, including the ability to insert YouTube videos in documents and presentations.