NuForce DDA120 Review – Now under new ownership, NuForce has developed its direct digital amp line with the DDA120 James Parker puts it to the test
We're used to some unusual ownerships in the audio business, from Formula 1 parent companies to guitar makers and furniture manufacturers, but the takeover of amplifier firm NuForce by Optoma, while keeping things within the consumer electronics world, wasn't the most obvious move. After all, Optoma is known for its projectors – produced for everything from home cinema to business applications – while NuForce was always a slightly leftfield hi-fi company, making everything from exceptionally dinky headphone amplifiers to digital amps.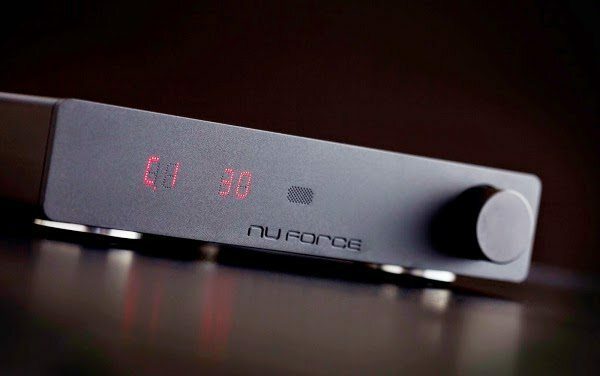 Where the two meet is in NuForce's recent AV products, but what we have here is traditional hi-fi – well, traditional in that it's two-channel – in the form of the new DDA120 direct digital amplifier, which comes with both analogue and digital inputs.
Designed at what is now known as Optoma NuForce HQ in California and then manufactured in Taiwan, the DDA120 is the latest in a succession of amplifiers from the company, including its immediate ancestor, the DDA100. NuForce describes it as a digital music system, and says that it "Was developed for one simple purpose: to allow you to enjoy music from any source in fantastic quality".
All very standard stuff, but what's immediately obvious about the amp is that it's surprisingly compact for a model claiming an output of 75W per channel (admittedly into 4ohm; the 8ohm figure claims 50W) and 250W peak: it's just 241mm wide and stands only 51mm tall. It tips the scales at a featherweight 1.2kg, quite a bit of which is accounted for by the casework – available in silver or black – and the transformer.
However, despite these diminutive dimensions, the DDA120 feels anything but flimsy: the combination of its rounded casework, thick front panel and single control make it feel substantial and well designed, while the single rotary control and apparently featureless fascia adds to the sense that we're dealing with something rather different here.
The DDA120 looks like a singlesource amplifier, having just a volume knob to the right of the front panel and nothing else: however, the NuForce designers have cleverly managed to make that single control look after power on/off and input switching as well as volume. A short push cycles one by one through the inputs; a longer push turns the amp on or off; and hidden display elements to the left of the fascia shine through what looks like a solid panel to show volume level and the input selected. There's also a simple remote handset, with more conventional volume up/down, mute and input selection buttons, from which it's possible to set the amp into 'dim mode', which turns off the front-panel LED after three seconds, re-lighting it when the controls are operated.
Yes, a display of input selected: for all its outward simplicity, the NuForce actually has no fewer than six inputs. There's a coaxial and two optical digitals, a USB-B for computer hook up, a single pair of RCA analogue ins and a USB-A to which you can connect the BTR1 aptX Bluetooth dongle that comes bundled. Speaker outputs are on an entirely conventional pair of combination speaker terminals, suitable for bare wires or bananas, and there's also a miniToslink optical digital out.
The amplification here is all digital, which means that analogue input is sampled (at 24-bit/96kHz) before being fed through the amp, and while the conventional digital inputs handle files up to 176.4kHz, the USB is limited to 96kHz. Within, all incoming digital inputs are re-clocked, and then oversampled at 3GB/s for processing.
This uses the SAB2403N1 from Infineon, which is a complete 'digital in, speakers out' open-loop Class D solution, complete with the A-to-D conversion required for the analogue input here, and as a result the internal layout has plenty of fresh air: just two boards – one for power supply, the other for everything else – make up the workings of the amp, and the layout of both is clear and logical, making it easy to see where and how the signal flows.
NuForce provided me some advice on how to use the amp to get the very best out of it, but unfortunately it arrived with me after I had started using the DDA120, and thus beyond the initial break-in stage. No matter, as it turns out it doesn't impact on the final outcome. The optical digital inputs, apparently, provide the best sound, but I have to say that I find that almost all the connections offer a similar performance, with the notable exception of the analogue input, which sounds just a little less sharply focused, no doubt due to the extra conversion stage upstream of the digital amplifier. Bluetooth, too, is a little vague, lacking the crispness of the 'hard' digital connections, but then I've found that generally to be the case across a wide range of BT-toting amplifiers: the convenience of firing audio from a smartphone or whatever portable device you opt for to the audio system comes at the expense of some audio quality.
Although it may come as no surprise to devotees of tiny T-amps or other diminutive powerhouses, what the DDA120 delivers from so small an enclosure is actually rather remarkable: this is a little amp with more than enough juice in reserve to drive even fairly demanding speakers with decent control and conviction. It definitely passes the 'go loud' test with flying colours, whether used with small monitor speakers in a desktop system or with some rather more ambitious partners in a small-to-medium-sized room setup.
Whether with a direct connection via USB from my laptop or using a CD player fed in digitally, the NuForce offers good levels of clarity and communication, with gutsy bass and plenty of rhythmic snap and while it could be argued that the soundstaging is a little on the small side with not as strong a sense of depth or space as some competing designs offer, there's excellent focus and definition and persuasive positioning of performers within the entire sonic picture.
The overall sound here is just a shade on the bleached and anonymous side, lacking some warmth and generosity especially with large-scale rock or orchestral recordings. Some care should be taken with the choice of partnering speakers, and I'd certainly try to avoid matching it with any components with a bright, let alone brash, balance. However, even with warmer speakers the NuForce can still pack quite a sting in the treble with close-miked or over-recorded cymbals, for example, and it also has a tendency to overemphasise sibilants, meaning it's not one for Queen fans, perhaps.
That said, the DDA120 is never a dull listen, and has both energy and vitality on its side. If you have a penchant for something a little different from the midrange amplifier norm, it could be just the thing.
NuForce DDA120 Specifications
Quoted power output: 2x 50W (8ohms)
USB; 3x digital in and analogue inputs
DIMENSIONS (WxHxD) 241 x 51 x 216mm