Avid's Integra amplifier packs a mighty punch. Noel Keywood is concussed. Read our AVID INTEGRA Review.
Once upon a time, transis­tor amplifiers came big, from Crown for exam­ple. Nowadays McIntosh keep the idea going with models like the MA352 that we reviewed in the February 2020 issue. Avid have stepped up to the mark with their massive Integra I am reviewing here. It isn't as glitzy as a big McIntosh nor as powerful as models of similar price, but it has similar sonics. The Integra comes in, so let's look at what is on offer.
First of all you get size. Measuring 470mm wide and 495cm deep the Integra would not fit our nominally I9in wide rack – one of few products not to fit. Our rack's front clearance width is I8in (457mm) and the Integra's rear case at 459mm wide was a few millimetres too large to slot in with fascia overhanging. At 459mm deep it would not easily fit this way either. And at 22.9kg I struggled to place it anywhere on my own; for the most part two of us man/woman-handled it. Reason being inside there is a massive toroidal power transformer, held down to the base with a huge bolt. it feeds a classic linear power supply; no puny switch-mode supply here. This is a very big amplifier then, some planning being needed to accommodate it.
The case has a conventional steel bottom tray with folded steel cover, fronted by a heavy machined alloy fascia. A rotary input selector chooses one of four Line inputs or Phono for turntable.
And that's it. There are no digital inputs, no XLR balanced inputs, no Bluetooth input; Line and Phono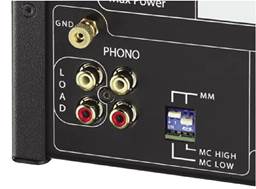 The Phono input for turntables. A single pair of RCA sockets, plus small slide switches to set gain for MM, or MC high/low. The LOAD sockets at left take MC loading resistors.
inputs are via unbalanced RCA phono sockets only.
There is no remote control: input selection and volume are manual only – surprising considering price. It's common to fit at least an Alps motorised volume control with associated remote nowadays.
The front panel carries a 1/4in (6.3mm) headphone socket, a Mono button and a Mute button, both accompanied by blue warning LEDs. Avid's phono stage accepts moving magnet (MM) or moving coil (MC) phono cartridges. At rear lie a single pair of RCA phono-socket inputs, alongside which are a pair of small switches to select MM cartridge, high or low output MC cartridges. For a high output MC – which most are – MC gain is set to Low, and for Low output MC it is set to High – a common confusion. The handbook does not make this issue clear unfortunately.
Input impedance of the Phono
A single pair of gold plated loud­speaker terminals accept bare wires, spades or 4mm banana plugs.
stage is 47K as standard, for MC as well as MM, but a pair of supplied 500 Ohm input loading resistors can be inserted into RCA Load sockets to bring MC down to 500 Ohms (I00 Ohms is standard). Other values are available Avid say, "contact your dealer", so I00 Ohms is possible. At the price I would expect a simpler
"If you want to get blown away – this is an amplifier worth hearing"
and clearer system than this. In its favour, Avid have given the phono stage massive gain, so it is able to match very low output (high quality) MC cartridges.
The huge machined fascia of the Integra and its large rotary control knobs give it a good feel, although the controls were not as silky in movement as I would have liked at the price.
SOUND QUALITY
The Integra was connected to our Martin Logan ESL-X hybrid electrostatic loudspeakers with Chord Company Signature Reference cables. Sources feeding it were an Oppo BDP- 205D CD player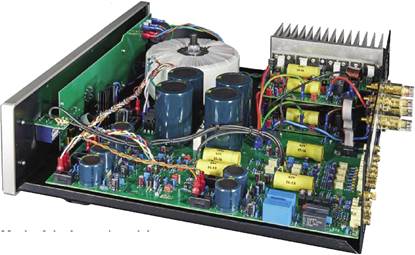 Much of the Integra's weight comes from its massive toroi­
dal mains transformer, fin­ished in white protective tape. Beside are four large electro­lytic capacitors (blue) to store charge.
acting as transport for its easy going but deep sound. I also hooked up a Chord Electronics M-Scaler and Hugo DAC for an alternative, brighter balance. Supplying LP was the Luxman PD-I5I turntable with Audio Technica's OC-9X SH Shibata MC cartridge, reviewed in this issue.
The Integra has a larger-than-life sound in keeping with its size and weight. Most obviously it goes loud – very loud – with alacrity. I played it loud most of the time because that is where its sweet spot lies. As suspected from measurement this amplifier is evenly balanced tonally, neither smooth and warm, nor bright and sharp.
The Integra has massive bass grip and power. The heavy introductory bass line of Gates of Istanbul from Loreena McKennit (CD) powered up our room like few others, courtesy of the ESL-X bass units. Drum tight and seemingly without dynamic limit the Integra kept an iron grip on pace and timing. But also obvious was that fine detail from string instruments had similarly stable presence and images were bolted into place on the sound stage.
Running through a host of
Rock tracks showed the Integra has seemingly unlimited dynamic punch. Skunk Anansie's Hedonism (CD)
burst out of the loudspeakers, Skin in fine form before me, sounding large, solid and stable as she ploughed through the vocal part. Behind her the band was freer of muddle than is common: the Integra has grip and composure under pressure. More so than most.
Unsurprisingly, I heard a similar presentation with LP. Lack of a warp filter means there's ample deep bass (more than you can get from CD I will note as an aside), the strong repetitive bass intro of Kate Bush's King of the Mountain fairly thundering out. Rhythm guitars cut in cleanly, with a nice bright edge to them – and then came well lit background vocals. The Integra has sonic vigour.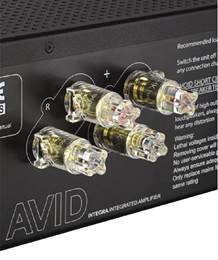 At left on the rear panel the Phono stage input for turntables. Then (going right) four Line inputs and a Line out. At centre, Left and Right loudspeaker output sockets.
Unlike everyone else, I love classical on LP – in spite of the strange graunches and noise that should not be there in our pristine pressings used for review. It's the natural analogue tone that counts and the Weiner Philharmoniker took on smooth form in our room, playing Mozart Symphony No39, an old all-analogue Decca recording re-mastered and pressed by Pallas in Germany (importers Henley Audio). There was good dynamic scale and a sense of strong light on violins.
All of which was more obvious with Marianne Thorsen playing Mozart Violin Concertos on an LP from 2L of Norway. Backing Trondheim soloists had clear presence and Thorsen's violin was beautifully lit, sounding bright and clear, fine inner detail from strings apparent. Every time I hear this track my wonder at her playing only rises; she's a beautiful violinist and the Integra made a good job of revealing it.
Downsides? The amplifier has a dry sound that is characterless – but lack of character also means uncoloured. Perhaps 'academically neutral' is the best description I can raise here.
There was no great sense of front-to-back perspective. The Integra is certainly no valve amplifier, so much as an arch exponent of the transistor craft where massive power and bandwidth collude to drive music out with force. Also with supreme confidence.
I enjoyed it, admiring in particular just how clean and composed every instrument on the sound stage remained, no matter how far I cranked up volume. If you want to get blown away in the best possible fashion, this is an amplifier worth hearing for Rock Concert level with hi-fi standards of insight. I heard subtle cymbal strikes whilst being pounded by cataclysmic bass lines.
CONCLUSION
Avid's Integra is fast, drum tight and muscular. If you crave Rock with dramatic punch at high level, this is likely the one. Not only is it a Schwarzenegger, it has composure and insight too.
Not an amplifier for those who want lush sound. But if you want it big, bold and powerful, then the Integra meets that need. It's lack of remote control is bewildering at the price though, and absence of digital no help either.
MEASURED PERFORMANCE
Power measured 91 Watts into 8 Ohms and 156 Watts into 4 Ohms. Avid quote 8 Ohm power as 90 Watts so the spec. is met.
With a 6 Ohm load (as most loudspeakers now are) 112 Watts, making this a nominally 100 Watt amplifier.
Frequency response was very wide via Line inputs, extending from a low 6Hz flat up to 100kHz (-1dB); there is no band limiting so the sound is likely to be fast rather than mellow. Distortion levels were very low at all frequencies, with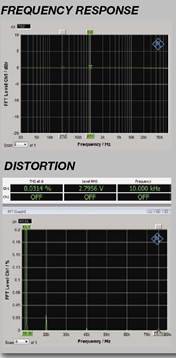 minimal crossover distortion at 10kHz of just 0.03% – and this was mostly second harmonic. Input sensitivity measured 320mV, sufficient to cope with most sources.
The Phono stage has massive gain, making it enormously sensitive. Just 1.4mV was needed from an MM cartridge for full output, where 4mV is common. MC Low (gain) increased this to 0.4mV and MC High to a tiny 0.1mV, more than enough for even the lowest output MC cartridges. Frequency response was flat from a low 6Hz up to 20kHz; there is no warp filtering, so LP warps may cause cone flap.
The equivalent input noise value (e.i.n.) for MC at high gain was 0.24 muyV, 6dB higher than is possible (0.1 muyV), but at this level still not especially hissy.
A good set of results but the Phono (turntable) input needs honing at the price.
EXCELLENT – extremely capable.
VERDICT
AVID INTEGRA Review
Powerful, clean and insightful. Rock stable imaging too. But much missing at the price.
PROS
tight, strong bass
stable imaging
good insight
CONS
extremely large and heavy
no remote control
no digital
Add your review
|
Read reviews and comments
MORE DEALS

AVID HIFI Ltd
+44 (0)1480 869 900 www.avidhifi.com