Rega's new entry-level amplifier aims to introduce new customers to hi-fi and vinyl replay. Adam Smith gives it the once over. Read our Rega io Review.
How we listen to music is becoming more and more diverse, and there are some who question the point of entry-level, affordable hi-fi separates. After all, with the sheer selection of smart speakers, portable music players, soundbars and other innumerable ways to stream anything from anywhere, the humble two- channel amplifier would seem to be something of an anachronism.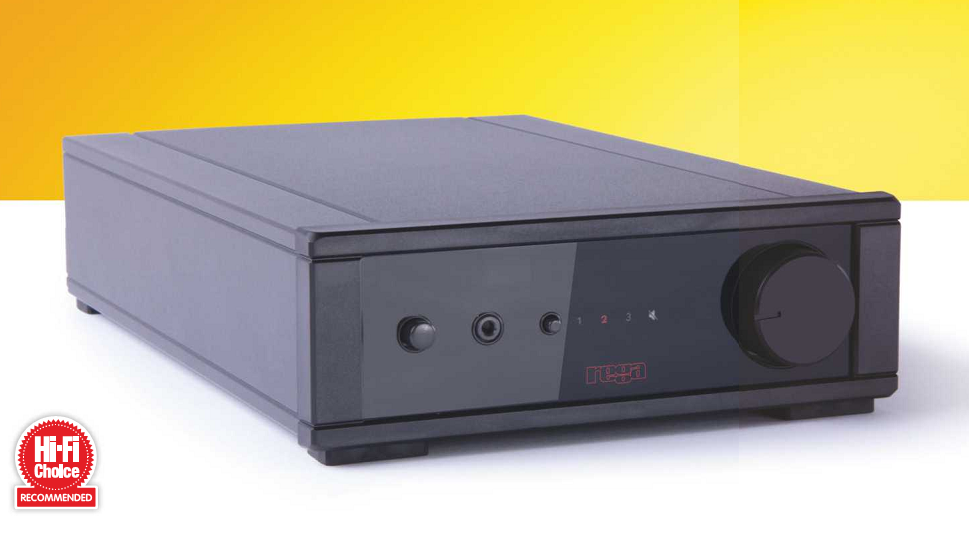 Rega doesn't see it this way. In fact, reports from its distributors and dealers would suggest an ever- increasing demand for simple but effective two-channel equipment. The sort of thing that doesn't need a decent wi-fi signal, regular software updates and a degree in electronics to successfully navigate. At the Bristol Hi-Fi Show back in February, the company released its System One comprising turntable, amplifier and loudspeakers to great acclaim, proving that the budget separate system is still in high demand.
At the heart of this setup is the new io amplifier. This is a neat and stylish little unit that harks back to the days of simple, compact British budget giant killers like the Sondex S230,
DETAILS
PRODUCT Rega io
ORIGIN UK
TYPE Integrated amplifier
WEIGHT 2.9kg
DIMENSIONS (WxHxD) 180 x 68 x 290mm
FEATURES
• Quoted power output: 2x 30W (8ohm)
• Inputs: 2x stereo analogue RCAs; 1x MM phono
• Outputs: 3.5mm headphone jack
DISTRIBUTOR Rega Research Ltd.
TELEPHONE 01702 333071
WEBSITE rega.co.uk
Quantum Electronics IA 100, QED A230 and even the good old Naim Nait. In the case of the io, this has been developed from its bigger brother, the Brio (HFC 446), and also marks the return of an old Rega name. The previous io was a DAC named after one of the moons of Jupiter and designed to match the Jupiter CD transport. This time, however, io comes from the technical observation that the amplifier is effectively half its bigger brother, the Brio, and so takes half its name.
According to Rega, the main tasks in the development of the io from the Brio were the fine line between cutting costs to hit the lower price point without compromising the performance of the finished unit. While some shortcuts had to be avoided – for example in the use of materials to keep it's appearance in line with the rest of the range, – the rest of the cost-reduction techniques have clearly been cleverly applied.
This means a more compact enclosure, fewer inputs and a lower power output. The company also invested in custom assembly jigs in order to make construction of each unit as efficient as possible.
It's all very well making technical adjustments and removing features, but if the resulting unit is a long- winded pain to put together, then any savings made on the bill of materials will be completely wiped out in the labour costs. Looking at the finished product, Rega has clearly succeeded admirably – the io is small and neat but comes across as sturdy and well screwed together. In use, it has the feel of something much more expensive than its price tag would suggest.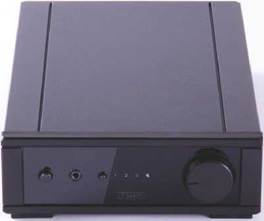 The integrated amp offers a power output of 30W per channel into 8ohm. Lower impedance speakers are catered for, but the manual warns that prolonged use into genuine 4ohm loads will make things a bit toasty. There are three inputs selected sequentially by a single front panel button, all through phono sockets – two line-level and one for MM phono.
The smoothness and lack of sibilance, even in lesser recordings, is the real prize here
The latter offers a 2.1mV input sensitivity and standard load of 47kohm and 220pF of capacitance. This sensitivity figure might initially seem a little on the low side, but Rega claims a healthy overload margin of 100mV for the input. As a consequence, cartridges with higher output should cause few problems, apart from the need to turn the volume down a little.
Internally, the io is run from a linear power supply unit and the output stage is based around good-quality Sanken output transistors. A 3.5mm headphone socket is also incorporated on the front panel. Finally, the amp comes supplied with a good-quality remote control handset that can operate other Rega components, and adds a muting facility.
For auditioning, the io is inserted into my regular budget reference system comprising NAD C 558 (HFC 455) turntable with Ortofon 2M Red cartridge, plus Cambridge Audio 650C compact disc player and Usher's S-520 loudspeaker placed on Atacama SL-600 stands.
Sound quality
From the first bars of music it is clear that the io is something rather special at its price point. With any budget amplifier there is always a sense of trepidation when waiting to see what the first notes will bring. While many are fun to listen to, they can be a little over exuberant at times. This never falls into this trap and, as a result, has the character of something you would expect to be rather more expensive. Similarly priced amplifiers, even the ►
CONNECTIONS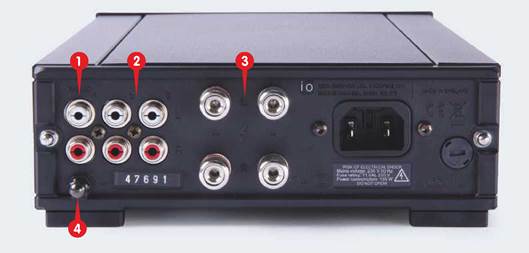 1 MM phono stage inputs
2 2x RCA stereo inputs
3 Single-wire binding posts
4 Grounding nut (for earthing turntable)
Yamaha A-S501 that resides in this system normally, may have a bit more gusto to them, but that necessitates matching ancillaries carefully. The Rega's sophisticated nature means forming a well-balanced system with budget sources and speaker is much easier, and is a definite strength.
Nowhere is this more obvious than in the top end – the treble is absolutely delightful. There is no shortage of detail at all and the unit has plenty of insight to offer, but the smoothness, clarity and lack of sibilance, even in less worthy recordings, is the real prize here.
Brass instruments have a pleasingly natural rasp to them without ever sounding harsh while firm cymbal strikes have a crisp leading edge and a softly echoing decay.
At the low end, the io may only have 30W to play with, but it works wonders with it. Basslines are
io has the feel of something much more expensive than its price tag suggests
confident, punchy and taut and it digs deeply with confidence. The rumbling notes that mark the introduction of Mr Scruff's Do You Hear? are present and correct, and the Rega bangs them out with authority. Equally, the unit never forgets when it is supposed to be behaving more sensibly and endows bass guitars and double basses with plenty of detail and insight. The bassline underpinning Steely Dan's Jack Of Speed likes to hide in the back of the mix, but the io is having none of it and brings it perfectly to the fore.
Across the midband and in spatial terms, it is again a confident performer, with one tiny weakness. While it certainly has the ability to generate a rock-solid central image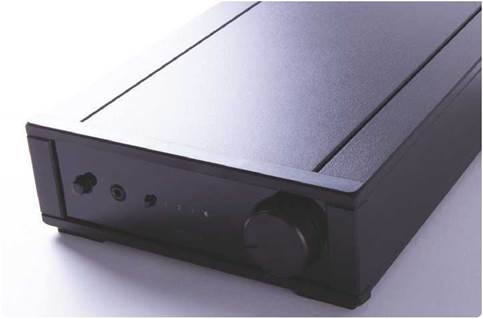 and the depth perspective it confers on performances is highly commendable, it doesn't quite pull performers out into the room like some other designs can. On the upside, Diana Krall's vocals on I Miss You So are delicate and blessed with an ever so subtle echo that emphatically drives home that this is a real person in a real studio.
She just seems to be sitting further away than I'm used to and located within the plane of the speaker rather than out in the room before it. This isn't a weakness of the io per se, but more of a character trait. It isn't difficult to get used to and, once you do, you'll find that its strengths are far easier to concentrate on.
It's also pleasing to note that the io retains a consistent nature across both line level and phono inputs. Rega is a vinyl specialist after all, and so the phono stage is as good as any standalone MM unit at the price. In fact, I would go as far as to say that it is the star of the show, revealing just
how good vinyl can be even at this relatively affordable level. Whether my NAD turntable is showing off the quality of an 180g pressing of The Traveling Wilburys' Handle With Care or having a rollicking time bashing out some fifties jazz from the Firehouse Five Plus Two, this neat little integrated has everything comfortably in hand.
Conclusion
It's difficult to criticise this affordable offering on any level. Three inputs might seem a little miserly and its soundstage isn't the deepest in back-to-front terms, but when that's all you can think of to moan about you realise what a cracking job Rega has done with its new baby. The io looks, feels and sounds like a much
more expensive unit and serves up a smooth and detailed sound quality, belying the relatively modest 30W of power output on offer – making it another worthy addition to the budget amp hall of fame •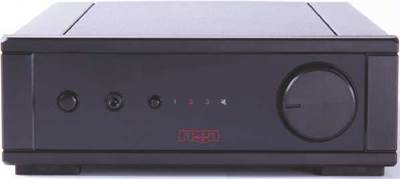 OUR VERDICT
Editor choice
Rega io Review
A very well designed and constructed budget amplifier that sounds superb for the money
PROS
Build quality
styling
sweet treble
phono stage
CONS
A little twodimensional
is three inputs enough?
Add your review
|
Read reviews and comments
Best Rega io prices ?

£

420.00
6 new from £420.00
in stock


$

725.00
7 new from $725.00
in stock

MORE DEALS

HOW IT COMPARES
The 30W NAD D 3020 V2 (HFC 435) has MM phono, one line and two digital ins plus Bluetooth. Denon's PMA-600NE and Pioneer's A-40AE (HFC 440) have a good range of connectivity plus 45W and 60W output. Cambridge Audio's 60W, CXA60 (HFC 401) has five analogue and two digital inputs, but no MM phono input. All in all, the io may lose out in terms of spec, but it's at the front of the pack when it comes to sound.