This long-standing suite of editing plug-ins has been updated again by its owner, DxO. Geoff Harris sees what the new version offers and whether it's worth existing users upgrading.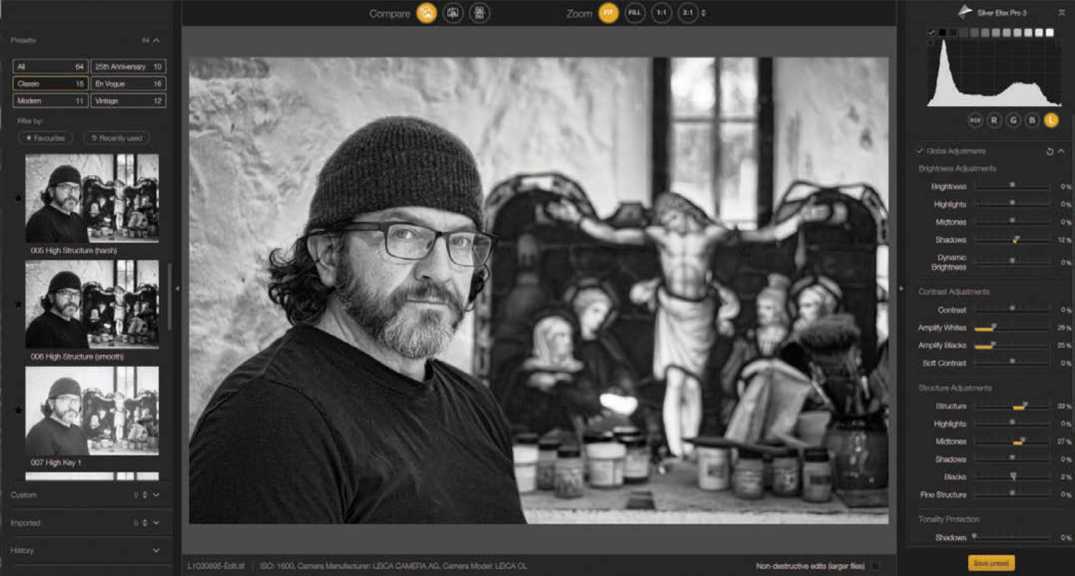 Whatever your genre, Silver Efex is a tool that black & white fans can trust – I love using it for portraits
At a glance
Suite of eight powerful editing plug-ins

For MacOS and Windows
30-day free trial
nikcollection.dxo.com
The Nik Collection has been around since the days of Britpop, so it's lasted longer than Oasis and Blur. Having passed through several owners since appearing in the late '90s, it's now in the hands of imaging specialist DxO. As with the Gallagher brothers, it's never out of the spotlight for long, and the latest version offers some key updates. Version 5 builds on the many virtues of its predecessor, including updates to the Color Efex and Analog Efex plug-ins, improvements to the suite's local adjustment/U Point technology and interface tweaks. Read our Nik Collection 5 Review.
'If you're new to Nik, it does take a while to work out where everything is'
That said, there are some significant new additions, including ClearView, which reduces the effects of fog and haze. More classic analogue presets and other filters have also been added.
Suite talking
To recap, the Nik Collection suite includes eight plug-ins, which integrate with Photoshop, Lightroom and DxO's PhotoLab, while also working as standalone applications. Perhaps the best known is Silver Efex, which for many photographers remains the gold standard for black & white conversion, or adding a huge array of mono effects. Color Efex works in a similar way with colour images and effects, while Analog Efex is where you go for old-school film stylings. HDR Efex Pro and Perspective Efex are self-explanatory, the latter now able to fix distortion on a lot more camera and lens combos. Meanwhile Viveza enhances and corrects colours and tones, Dfine is a noise-reduction tool, and there are also sharpening tools. You also get DxO PhotoLab 5 Essential, a pared-down raw editor which employs DxO's Optics Modules for lens correction and U-Point technology for local adjustments. That's quite a lot of firepower for £ (£ to upgrade), equivalent to subscribing to Lightroom and Photoshop for just over a year.
Even so, that's quite a big financial commitment for many in these straitened times, so is the new version worth it?
Color Efex
Despite the fame of Silver Efex, Nik says this is the most popular plug-in in the suite, and the latest version's interface has been redesigned to make it more consistent with the other plug-ins. If you're new to Nik, it does take a while to work out where everything is, but the interface is cleaner and smarter.
A very prominent Loupe tool is used for zooming in while the new ClearView feature sits under the histogram – it's a shame said histogram still can't be dragged, as with Lightroom. The Filters are listed over to the left, with lots of sub-menus, e.g. Travel > Film Efex: Nostalgic > Warm Contrasts. It's a convoluted user journey and all the options can be intimidating, but stick with it. Once a filter is applied you can tweak it using the panel over to the right, which is usually needed, as the filters in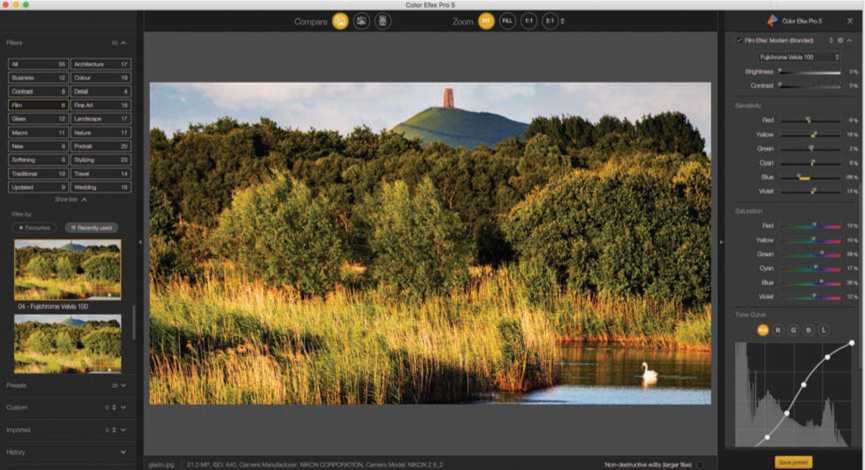 The Fujichrome Velvia 100 emulation delivers attractive landscape results, with lots of options to fine-tune
all the plug-ins tend to be heavyhanded by default. It also takes some hunting to find the new film grains, but they deliver attractive results. So while the interface is clearer and cleaner, newbies shouldn't expect to hit the ground running straight away. There's a good help database, though.
Analog Efex
Analog Efex also gets a redesigned interface to make it more consistent. Again, there is a massive choice of analogue looks and edits available, and you can fine-tune via the panel on the right or via local adjustments (control points). It's a matter of taste, but I find that the light leaks, scratches, frames and other low-fi analogue effects are rather contrived and unconvincing compared to using an old film camera, but it certainly involves less time and hassle.
It's also easy to get lost amid all the options with this module; and the faux bokeh effect, while functional, will never give classic fast-lens owners any sleepless nights. DxO's FilmPack is better for quickly adding film emulations, which makes sense – with several different programs on the market, the company needs to be careful that it doesn't compete against itself. On a more positive note, Vintage Camera 2 is a particularly nice starting point.
Local adjustments
Another big selling point of the Nik Collection is DxO's very clever technology for making local adjustments, known as control points, or U-Points. These will take some getting used to for Adobe users who are more familiar with brushes, but the control points are very powerful. In this new version of the suite, you can rename your control points, which is handy if you apply lots to an image, or save them as part of a preset. Other useful additions are two Colour Selectivity sliders – Luminance and Chrominance – which enable further fine-tuning.
A clearer view
A key addition is the ClearView feature, which helps to reduce the effect of haze, fog and smoke in your images. It's available for all the individual plug-ins and works in a similar way to Dehaze in Lightroom and Camera Raw -the amount of 'clearing' can be adjusted via a slider, and it is very easy to use.
ClearView does the job well enough, but feels a bit like DxO catching up with Adobe – there's no real reason to use it if you already apply the Lightroom Dehaze tool in your workflow. ClearView comes into its own more if you use the Nik Collection as a standalone editing suite or don't have access to the plug-ins via Lightroom or Photoshop.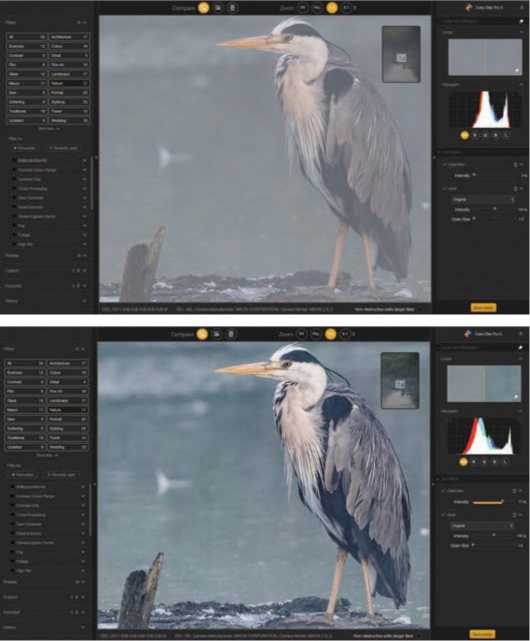 Noise reduction
Also included in Nik Collection 5 is the Dfine noise-reduction tool, though it's not new to this version. As a quick and effective way of reducing colour and contrast noise, it works well enough, with a handy split screen to gauge the results. It doesn't feel as intuitive as the noise-reduction tools in Lightroom, however, and it's nowhere near as sophisticated as DxO's superb DeepPrime technology for reducing noise -for which you need PhotoLab's Elite Edition or PureRaw.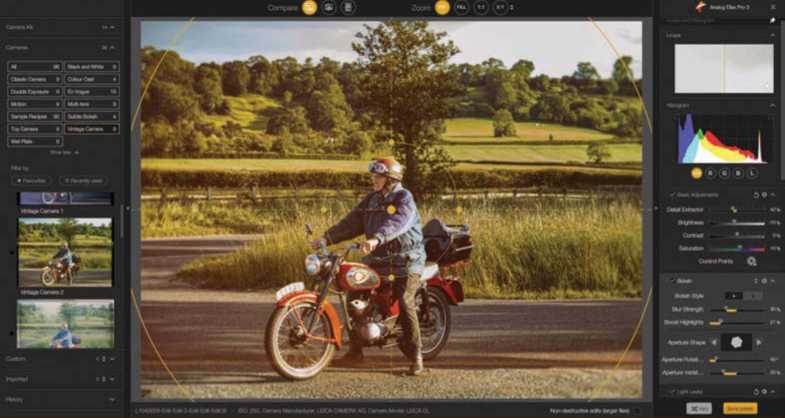 The bokeh enhancer in action with Analog Efex's Vintage Camera 2 filter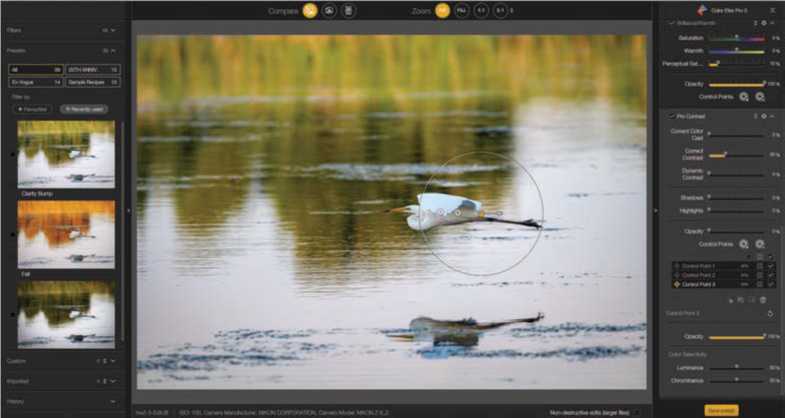 There are now a lot more options for local adjustments via control points, and you can rename each one
Verdict
THIS is an interesting update which reflects the continued strengths and weaknesses of the Nik Collection. First, the strengths. While £ might seem a lot for newcomers to shell out, it's unlikely that even expert users will exhaust the massive range of editing options and filter options available here. DxO often discounts its software around special occasions such as Black Friday, too.
The interface improvements and access to ClearView in Silver Efex make an already superlative black & white editing tool even better, and Color Efex delivers the goods too. It's also handy to get an extra raw-editing program in the package, along with powerful perspective-correction features and tools for noise reduction and sharpening.
That said, we're not convinced the improvements are enough to justify the £ upgrade, as version 4 is already so feature-packed. Furthermore, DxO now has some very stiff competition (including from some of its other programs, such as FilmPack and PhotoLab). While the local adjustments via beefed-up control points are laudable, they aren't as quick or easy to use as the ground-breaking subject and sky selection tools in the current Lightroom, for example. If you use the Nik Collection as plug-ins for Lightroom or Photoshop, however, you are getting the best of both worlds – you can pick and choose between the standout features of each program. In this context, it works a treat. Try for free for 30 days and see how you get on.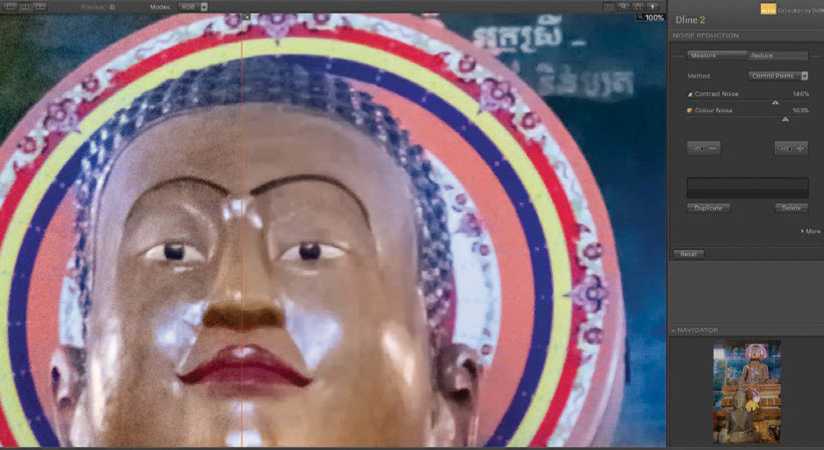 For and against
+ Powerful editing suite gets even better + Enhanced local adjustment tools and haze reduction
Saving out TIFFs can eat your storage

Some filters are blunt instruments