Martin Pipe scratches the surface of Nero's comprehensive Platinum 2018 multimedia suite.
WHEN IT FIRST shipped more than twenty years ago, this German software was known as 'Nero Burning ROM'. As the name suggests, its sole purpose was to write ('burn') data or music to blank CD-R and CD-RW media.
We might laugh now, but back then the latter's 650MB capacity was a big deal, as was the ability to compile your own music CDs.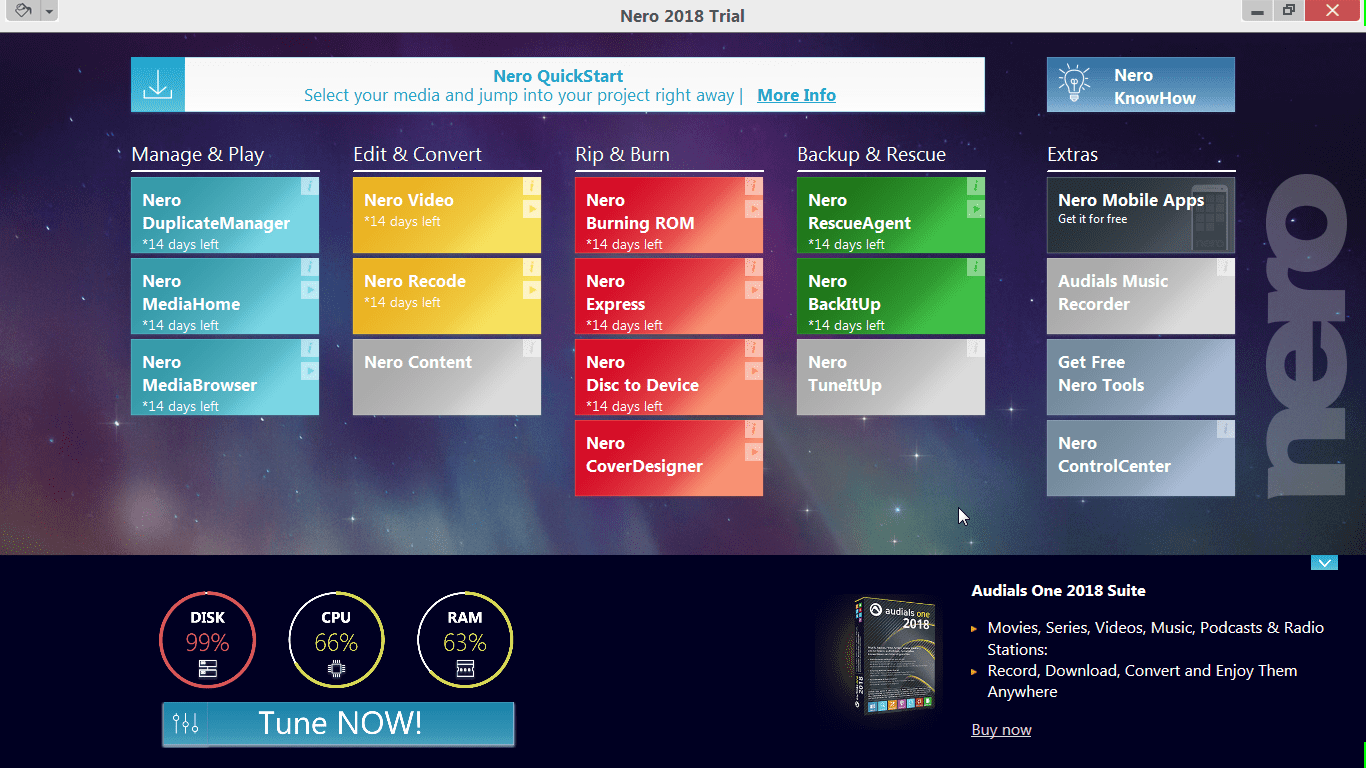 Over the past two decades, though, Nero has evolved into a comprehensive multimedia suite covering audio, video (SD to 4K), photos, the internet and locally networked content.
To reflect this, the 'Burning ROM' moniker was dropped – fear not; the ability to burn discs is still available.
Now in 2018 form, the Nero Platinum suite consists of no fewer than seventeen basic elements.
No wonder it takes a while to install on a Windows 7 (or later) PC – especially if you install the supplied content packs (templates and video effects for the video editor) and carry out updates. The process took 20 minutes or so on my PC.
Said programs are split between five categories in the 'QuickStart' launch-screen, alongside a KnowHow help section.
The overall appearance owes more than a little to the latest version of Microsoft's operating system.
Double trouble
First up is 'Manage and Play', concerned with the location and playback of local or networked media (and with a neat feature that roots out unwanted 'doubles' of your photos).
Media can be played locally, or pushed to network media players or smart TVs.
Nero MediaHome 2018 Review
Although the MediaHome player behind the latter works well, being able to handle all of the major file types and codecs, I experienced trouble getting the associated 'MediaBrowser' to search folders stored on a NAS.
Yet these could be seen by Windows, from which movies could be opened.
More positively, subtitle support has been improved – and there's full compatibility with the new H.265/HEVC video codec.
Nero Video 2018 (in the 'Edit & Convert' category) is a capable non-linear video editor with the expected input options (note that it caters for the smartphone video you were daft enough to capture vertically), timeline structure, scene detection/export, transitions and effects.
Your epic can be exported to a file, or burnt to disc (with menus).
Nero Recode 2018 Review
Then there's Nero Recode, which converts video from one form/codec to another.
This module impressed me particularly as it accepts high-definition off-air transport streams captured with a TV tuner card.
Basic trimming is supported, as is the ability to pass through Dolby Digital soundtracks without lip-sync delays.
'Rip & Burn' lets you convert audio CDs into a capacity-efficient form optimised for smart devices – most discs/tracks are recognised by the Gracenote database.
Non-copyrighted DVDs can also be ripped here.
To go the other way, Burning ROM can be used to write material to CD, DVD and Blu-ray discs; it can also rip CDs, and with far more flexibility when it comes to the output (lossless compression, for example).
To achieve the same flexibility with your video discs, though, Nero Recode is required.
Nero Express, meanwhile, eases the copying of discs. You even get a disc cover designer to give your homespun media a professional sheen.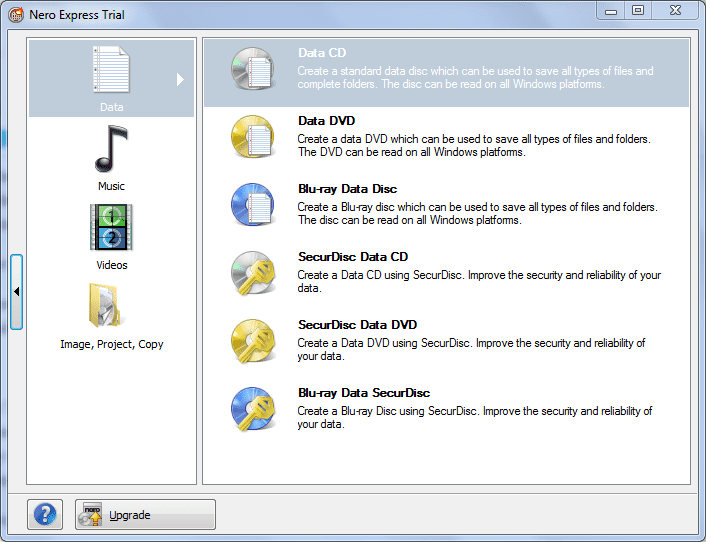 For data there's the 'Backup & Restore' category.
This is concerned with making secure selective copies of your irreplaceable files, so that the impact of hardware failures are minimised.
For corrupted memory cards, accidental deletions and dodgy drives that haven't been backed up, Nero includes a rescue agent that scans them for useful data.
SecurDisc uses encryption and redundancy to ensure your personal information isn't compromised.
Yet annoyingly Nero no longer offers an external cloud backup function.
Last up is 'Extras', which includes software configuration and a handy program that captures audio from internet radio stations.
You're also steered towards mobile apps and other downloadable extras and updates.
You'll be impressed with the sheer functionality that Nero has crammed into this suite, although there are one or two bugs and integration could be a little better.
And yes, a significant proportion of the functionality exists in freeware that can be easily found online.
But that has no integration at all.
AV INFO
Multimedia software suite for Windows
Top-of-the-range version, with additional 'content packs'
Roxio Creator; various freeware
Nero platinum 2018 specifications
Nero 2018 system requirements:
Operation
Windows 7 (Service Pack 1);
Processor
2GHz processor (64-bit for 4K editing);
RAM
1GB RAM;
HDD
5GB hard disk space;
Graphic card
DirectX-compatible graphics card;
DVD drive CODEC SUPPORT
MP3; FLAC; AAC; WAV; APE; OGG; MPEG; FLV; MP4; H.264; H.265
Nero platinum 2018 features
Duplicate Manager
Video editor with disc export (and menu templates)
Media organiser
Free apps/programs (DJ tool, 360 VR viewer, etc)
Import, edit and play SD/HD/4K content
Burn to CD/DVD/ Blu-ray
Cover art/Gracenote
Rip CDs and non-copyrighted DVDs; archive/backup data
Verdict
Best NERO PLATINUM 2018 prices ?
MORE DEALS

See also: NERO PLATINUM 2019 Review: Natural selection