NO BIGGER THAN a PS4 Pro or an Xbox One, MSI's lounge-room-friendly Trident 3 is one of the most svelte mini gaming PCs we've ever tested.
Its compact parallelogram-shaped chassis means it'll easily fit on a shelf in your TV cabinet, but the included stand (which is less stable than we would have liked) gives you the option of flying it vertically as a tower.
And considering how nicely the angular lines, black metal-mesh fan vents and the single crystal looking RGB lighted corner of this come together, we'd be surprised if you didn't want to stand it up and show it off.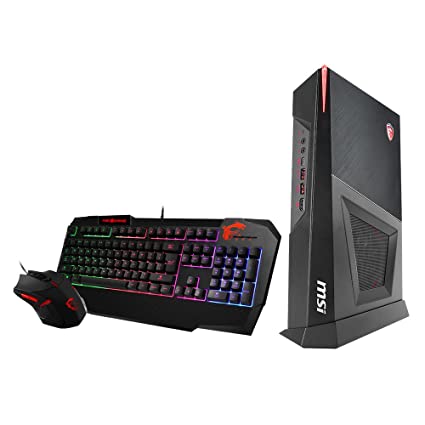 Spearheading the MSI Trident 3 gaming pc's list of specs is a 7th-gen Intel Core i7-7700 CPU, although that's running on a slightly older 6th-gen entry-level HI 10 chipset-based motherboard.
It's uncommon to see mixed-generation pairings like this, and the Frankensteinian component arrangement will mean that some of the additional features and upgrades offered by that newer i7 chip will be unavailable.
Adding fuel to this fire, the CPU cooler doesn't seem up to effectively cooling that CPU, regularly maxing out HW Monitor's temperature gauges with readings of 100<>C, even when only under partial load — these temperatures sit at the upper limit of what CPUs can handle.
The result is that the CPU will automatically be throttled down to let that excess heat dissipate. But in the long run, CPUs regularly operating at the top of their temperature range can suffer from a decrease in lifespan and the heat they put out can even damage surrounding components.
If you can look past that perplexing flaw, there's a lot to like about the Trident 3. Leveraging the performance and efficiency boosts of Nvidia's latest Pascal GPU architecture, the Trident 3 is fitted with a VR-ready GeForce GTX 1060.
This GPU is supported by a slightly low but acceptable 8GB of RAM, a 256GB SATA-3 SSD and a 1TB HDD, so its raw processing-power easily puts Sony and Microsoft's current gaming consoles to shame. The cutting edge components of the Trident 3 are even a generation ahead of Dell's SI,500 Alienware Alpha, but we can't help but feel like MSI has tried to beat square components into round holes.
In testing, the Trident 3 dominated the Alpha and its GTX 960 GPU across older titles on 1080p Ultra settings, churning out 133,114 and 87.5fps across our Tomb Raider, GRID 2 and Bioshock Infinite benchmarks, compared to the latter's 84,87 and 70 respective scores.
And even on current titles like The Division and Far Cry: Primal, the distinction was significant, with the Trident 3 respectively firing out 49.8 and 42 frames per second on 1080p Ultra settings, to the Alpha's curbed clip of only 32.4 and 34 fps.
Despite the hot CPU, the Trident 3 managed to pin benchmark scores of 19.9 and 849 on the CPU-focused HWBOT x265 1080p media encoding and Cinebench R15 multi-threaded CPU benchmarks. The Trident 3's scores are reflective of some CPU throttling, when compared against the scores of the Alienware Alpha's Core i7-6700T CPU scores of 14.5 and 650 on the same tests — but the end result was pretty negligible overall.
We feel a bit like rehabilitating drug addicts weighing up the desirable but potentially tragic component mix inside the Trident 3.
If that CPU didn't get so hot, we'd already be mentally rearranging our own TV cabinet to fit in this $ unit (which includes an accompanying Stratus XL controller and For Honor game code). But the potential longterm consequences of that hot-running CPU are enough to make us reconsider — and wishing for a slightly cooler-running Core i5 version.
CRITICAL SPECS
Windows 10 Home: Intel Core I7-7700 CPU; Nvidia GeForce GTX 1060 GPU: 8GB DDR4 RAM; 256GB Kingston SATA-3 SSD; 1TB Hitachi HDD; 35.4 X 25.1 X 9.8cm (4.7 Litre); 3.46kg
Best MSI Trident 3 Gaming PC prices ?
MORE DEALS