Kaby Lake may sound like a new out-of-town shopping mall somewhere in the Midlands, but actually it's Intel's latest range of processors. On the face of it, a new out-of-town shopping mall in the Midlands would be more exciting: these chips aren't a huge step forward from the Skylake series that's been worming its way into PCs for the past year or so. In fact, they're a bit of a stop-gap while Intel gets its real next generation of chip manufacturing sorted out. Still, they're designed to be more energy-efficient, which in turn means they can run slightly faster.
The first Kaby Lake desktop PC to arrive in our testing lab is this mid-range i5 system. The i5-7400 is the successor to the popular i5-6400, with a base clock speed of 3GHz and a maximum of 3.5GHz (that's 0.3GHz and 0.2GHz faster, respectively, than Skylake). Although 0.3 may not sound like a big number, it's an extra three hundred million clock cycles per second, which is not to be sniffed at.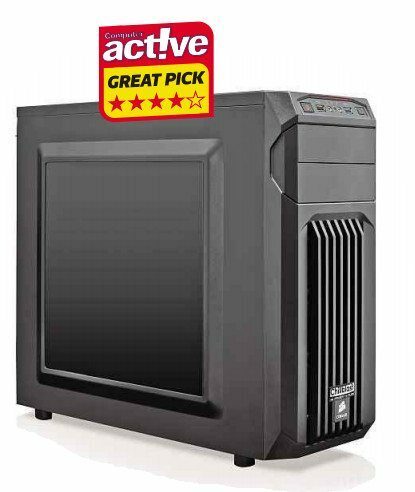 Equipped with the latest components, it performs well, but expansion is limited.
For your £750, the Sentinel also includes a standard 8GB of relatively fast DDR4 RAM and a GeForce GTX 1050 Ti graphics card. This is the souped-up version of the budget GTX 1050, with 4GB rather than 2GB of its own memory, and much like the i5-7400 it may not be top-of-the-range but it is brand new. For storage, a 250GB SSD is paired with a 1TB hard drive to give you both fast performance and ample capacity.
So is Kaby Lake a shiny new day-trip destination with a great selection of coffee shops, or just a grubby precinct full of disaffected teenagers? It's good news, according to our benchmarks: the Sentinel's scores were about 10 per cent better than an i5-6100 desktop PC with similar specifications. The older chip was already reasonably adept at basic document-, photo- and video-editing tasks, as well as multitasking, but it looks as if Intel has modestly improved it. The Sentinel will serve most people's purposes very well.
However, at this price you'd expect a bit more than that, and the 1050 Ti graphics card provides it. At Full HD resolution with the highest Ultra graphics settings, we got up towards 90 frames per second (fps) in some 3D games, while the most demanding ones could at least manage 30fps on Very High. Don't mistake this for a high-end graphics card, but with plenty of memory it doesn't feel restricted, and should help out effectively with compatible photo and video software too.
Be wary, though, if you're likely to need more horsepower later. Even though the reasonably compact Corsair case can take a full-size ATX motherboard, the Sentinel is actually built on a smaller micro-ATX board, leaving you no spare RAM slots and only a single PCIe x16 slot, which is already taken by the graphics card. There are two basic PCIe xl slots for additional accessories, such as Wi-Fi or a sound card, but one of these is obscured by the chunky GTX 1050, so it would be a fiddly job to make use of it.
There are two free bays for 5.25in optical drives, if you need DVD or Blu-ray, as well as room for up to two storage drives in addition to the SSD and hard drive, plus an M.2 slot for N VMe SSDs – the fastest storage you can buy.
Nonetheless, a sensible storage setup and up-to-date components make the Sentinel a well-rounded PC for the money.
SPECIFICATIONS
3GHz Intel i5-7400 quad-core processor • 8CB memory • 4CB Palit GeForce GTX 1050 Ti graphics card • 250GB SSD • 1TB hard drive • 3x USB 3.0 ports • 5x USB 2.0 ports • Gigabit Ethernet • 2x HDMI ports • lx DisplayPort • 2x DVI ports • lx VGA port • Windows 10 • 428x200x447mm (HxWxD) • Two-year warranty