How does Linux Mint prioritise when it comes to planning new releases?
The Mint update model has changed – what's the new advice for users?
Is Ubuntu's controversial 'call home' feature also included in Mint?
As well as the flagship Cinnamon environment, what else is available?
Linux Mint is based on the long-term releases of Ubuntu, with the 18.x versions underpinned by Xenial and version 19 using the latest Bionic base. All Linux Mint's releases are supported for five years.
Paul O'Brien talks to Clement Lefebvre, the project leader of Linux Mint, as the popular distribution continues to mature and improve with a new release
Linux Mint first came to life well over ten years ago with the August 2006 release of 'Ada', version 1.0, based on Kubuntu 6.06. The use
of Kubuntu as the code base was short-lived as the subsequent release, 'Barbara', switched to regular Ubuntu with GNOME as its desktop environment. The release process for Mint has shifted over the years, but today the main Mint releases align with LTS releases of the Ubuntu base, with five years of support provided. Release dates for the distribution aren't communicated or set in stone; instead, a 'when ready' approach is adopted, with release announcements posted on the Linux Mint blog at https://blog.linuxmint.com.
When Linux Mint was first conceived, it took the form of a quick experimental distro containing feature ideas that the founder, Clement Lefebvre, had discussed in online reviews. This experiment was well received, with new users offering up feature requests to augment Clem's own ideas and improvements. The project gained significant traction – the reason that Linux Mint has grown hugely in popularity is that the development team listened to its loyal community following from the start, and have continued to do so. How does the team agree what goes into a new release? "When we work on Linux Mint, our goal is to keep doing better, so we have our existing users in mind," Clem explains. The team want existing Mint users to continue to enjoy what they already enjoyed in the past, and they aim to meet their expectations by implementing new features, fixing issues and responding to their feedback. Clem sums it up perfectly: "A great release is a release everyone enjoys upgrading to".
This user-focused approach to development, and a desire to strike the right balance between being both powerful and easy to use, clearly succeeds – Mint remains one of the most popular desktop distributions, installed by millions of satisfied users. Linux Mint cements its accessibility by bundling a complete
LINUX MINT RELEASES
LINUX MINT 15 'OLIVIA'
Linux Mint 15 focused on the release of Cinnamon 1.8 and MATE 1.6 – significant updates to the desktop. Software Sources and Driver Manager made their first appearance.
LINUX MINT 16 'PETRA'
Linux Mint 16 included Cinnamon 2.0, with tiling and snapping support for windows, and introduced the 'Mint-X' theme, giving Mint a new level of visual polish.
LINUX MINT 17 'QIANA'
Linux Mint 17 signalled the switch to only using Ubuntu LTS releases for the Linux Mint base. It also included a host of new applets and improved window management.
LINUX MINT 18 'SARAH'
Linux Mint 18 introduced the new Cinnamon 3.0 release, support for the X-Apps application model, a much- improved update manager and a first look at the 'Mint-Y' theme.
Mint 19's changes to Ubuntu 18.04
REPORTING
Unlike Ubuntu 18.04 LTS, on which Linux Mint is based, version 19 doesn't use 'ubuntu-report' to send back details about users' systems.
Clem says…
"We don't need this, so we don't include it. We're also very careful when it comes to collecting data, that's a liability we don't want."
Mint x
UBUNTU v
32-BIT SUPPORT
The installation ISOs for Ubuntu 18.04 Bionic are only available in 64-bit flavours; however 32-bit options are available for all Mint versions.
Clem says…
"i386 won't last forever but we are able to support this in LTS without much effort, and that gives people the ability to use Mint in 32-bit until 2023."
MINT v
UBUNTU x
SNAP SUPPORT
While Ubuntu releases are heavily promoting snaps, since version 18.3 Mint has made using Flatpak much easier, with no support for snaps.
Clem says…
"In 19 we polished Flatpak support and the Software Manager, so you'll be able to install apps just by clicking a link."
Mint x
UBUNTU v
TIMESHIFT ADOPTION
Linux Mint 19 has fully adopted Timeshift, providing snapshots of the system for a quick and easy way to roll back changes.
Clem says…
"We're able to communicate a very simple, yet honest message, which people will enjoy: Set your snapshots, you're protected, go update everything."
MINT v
UBUNTU x
set of apps by default, including LibreOffice, Firefox, Thunderbird and GIMP, with the full set of over 30,000 packages from the Debian/Ubuntu base available for installation as required.
No GNOME, no KDE
In 2002, the Linux Mint team chose to fork GNOME Shell to create Cinnamon, an alternate desktop environment that – while not requiring GNOME itself to be installed – stayed true to the interface features users liked in GNOME Shell. A 'modern GNOME' version of Mint is not distributed and for the first time with version 19, there is no KDE desktop either. You can download Cinnamon, MATE or Xfce versions, with Cinnamon providing the flagship Mint experience, now updated to release 3.8. Cinnamon sports a user interface that will feel instantly familiar to those converting from Windows or Mac OS and as such, it's a popular option for new Linux converts. For those who just can't shake a Windows software addiction, switching is aided further by the inclusion of Wine, the Windows compatibility layer, by default. Live boot/install ISOs are available both in 32- and 64-bit flavours – a bonus as the main Ubuntu Bionic distribution switches to 64-bit ISOs only. Clem's view is that while i386 won't last forever, and we might even see it dropped by NVIDIA, there's no need for Linux Mint to remove 32-bit yet. "We are able to support it in this LTS without much effort, and that gives people the ability to use
For the first time with Linux Mint 19 there is no KDE desktop. You can download Cinnamon, MATE, or Xfce versions
Linux Mint in 32-bit until 2023", he explains.
That's pretty cool, so we're doing it.
Mint has always focused on stability and reliability by taking a conservative approach to software updates. In previous releases, inexperienced users were discouraged from installing updates that were unnecessary, or those that require a certain level of technical knowledge to install. The approach has been overhauled for this release, instead focusing on encouraging users to update everything while also actively encouraging them to enable Timeshift.
Timeshift is a utility that provides the ability to take full system snapshots, either manually or on a regularly scheduled basis. It's now fully integrated into Mint as the official solution not only against mistakes and critical issues, but also against software regressions. The inclusion of Timeshift has led to changes in several aspects of Linux Mint, from the welcome screen and the help pages to the update functionality. Explaining Mint's stance on updates has traditionally been a challenge for the team. "Just like you couldn't talk about updates without talking about security, you couldn't talk about updates without talking about stability," says Clem. "At play were two contradicting very important issues and it was difficult to communicate about them." Clem isn't shy about the importance of Timeshift to Mint.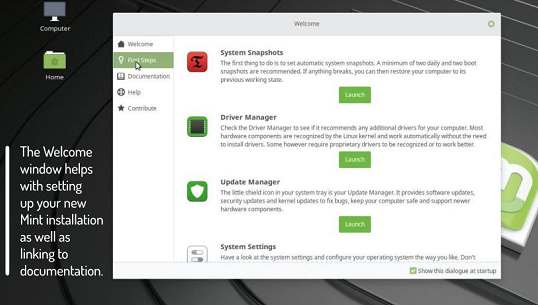 Configurable maximum volume
In Linux Mint 19, you can now set a 'maximum volume' level anywhere between 0 and 150%. The volume buttons on your system won't go beyond this maximum volume.
"Timeshift changes everything because it made it trivial to go back in time, thus cancelling the effect of any regression, thus cancelling the worry of bumping into one. We're now able to communicate a very simple, yet honest message, which people will enjoy: set your snapshots, you're protected, go update everything." This change also enables no-risk automatic updates, a no- brainer for Clem. "The rationale is the same here; if you can fix your computer easily by restoring a snapshot, you don't need to worry about regressions."
Mint 19 retains one of our favourite features, the kernel update functionality, which still eclipses anything on offer from other distributions. The tool enables users to easily install and test newer kernels, typically a tricky process that is only catered for with third-party tools such as UKUU.
As well as the headline updates to Ubuntu Bionic and Cinnamon 3.8, Mint 19 includes a host of other changes and improvements. A great example of Mint improving based on user feedback is the distribution theming;
Mint has traditionally used a theme called 'Mint-X', but in version 19 it switched to an updated version, 'Mint-Y', although Mint-X is still available as an option. This was no rash decision; the new theme was first previewed with the 'Sarah' release two years ago, tuned and refined based on user feedback and finally only now becoming the default. A key change in Tara is the switch to GTK 3.22, the latest 3.x GTK release, representing stability for the theming engine and APIs. This means that Mint will use the same version of GTK as other distributions which use the Mint-developed components (Fedora, Arch and so on), easing development and increasing the quality of these components outside of Linux Mint.
A lot of work was put into the included 'X-apps' application suite for the 18.3 Mint release, particularly Xed the text editor, Xplayer the media player and Pix the image utility. This time round Xreader, the PDF app, gets a little bit of love, with a whole host of bug-fixes, improved ePub support, smoother scrolling and new preferences.
Despite the Ubuntu base, there are a couple of Bionic features that are missing from Tara. First is data reporting – Ubuntu now sends home details about the user's system via 'ubuntu-report'. Also missing is the minimal install option. Clem is careful to avoid criticising
SPOTLIGHT: Changes in Cinnamon 3.8
1 Applications now launch faster in Cinnamon
Cinnamon 3.8 feels noticeably snappier than previous versions because of changes the team has made to reduce bottlenecks in some applets and the window manager. Window animations are slicker too.
2 The Nemo file manager has had a performance upgrade
Thanks to improvements in the underlying libnemo-extension library, Nemo is now faster at rendering directory contents, particularly noticeable on larger directories. Moving files to USB devices is faster too.
3 Notifications are smarter, and can show up in a different places
Notifications now have a close button and no longer fade out on mouse-over. They are also limited in number per application, disappear when the source app gets focus, and can show at the bottom of the screen.
4 You can more easily access your desklets via a shortcut key
You can press Windows/Super+Alt (or use the right-click option on the Show Desktop applet) to see your desklets, without minimising windows. Desklets move above your windows until you click.
5 Dark themes now look better on Cinnamon, with an updated icon set
Symbolic icons are now used to give Cinnamon a more modern look and better support for dark themes. In addition, widgets and components have been tweaked to fall on exactly pixels, reducing the risk of blurring.
6 Rubber banding is powered-up
A frustrating limitation of previous versions of Cinnamon was the fact that you could only select by rubber banding when viewing items in an icon view. That's resolved in 3.8 – it now works in the list view too!
Ubuntu's approach to each even if it isn't right for Mint:
"I see a lot of people on the internet who think it's okay to criticise other people's work. I don't agree with them.
I can explain our decisions for Linux Mint though. We don't need these [features], so we don't include them. We're also very careful when it comes to collecting data, that's a liability we don't want."
One of Canonical's big bets is around snap packages. They feature heavily in the latest release and even completely underpin Ubuntu Core, the company's loT offering. Mint has taken a different approach, choosing to support Flatpak, originally introduced in 18.3. Tara improves support further with improved integration into in the Software Manager, allowing easy install of Flatpak apps by just clicking a link. "Flatpak is very important to us because we're using a frozen package base", says Clem. "This base guarantees great stability and a really high level of quality, but it also means users don't get access to bleeding-edge software. For instance, the version of LibreOffice which ships in Mint 19 will be the
Cinnamon provides the purest Mint experience with excellent extensibility courtesy of themes, applets and extensions same all the way to 19.3. Flatpak allows us to provide new applications to our users seamlessly". There are currently no plans to include snaps (although it isn't completely ruled out for the future), as the team feel that snaps don't lend themselves to use outside Ubuntu itself. Clem explains why: "Until snap is fully transparent and gains support for multiple remotes, it isn't interesting as a shipping solution. As it is, currently snap is nothing more than the Ubuntu Store. As great as that store is, it's just a store, not a solution for the future". In his opinion, Flatpak is much more flexible. "Anyone can make a Flatpak remote", he says. "If Flathub doesn't want your proprietary software, you can ship it yourself. If we decide for any reason to interact with users directly, that's possible too."
So which version of Linux Mint is right for you? Cinnamon is of course the headline version, providing the purest Mint experience with a traditional desktop metaphor and extensibility courtesy of themes, applets and extensions. While Cinnamon is based on GNOME 3 technologies, MATE's history is also closely related to the GNOME project as it is effectively a continuation of GNOME 2. Xfce is GTK-based, offers a huge amount of customisability and is very lightweight.
As well as the Ubuntu-based distro, the Mint team also offers LMDE (Linux Mint Debian Edition), a Cinnamon- only version of the distro, ostensibly to cater for the possibility of Ubuntu ever disappearing and to help with testing application compatibility on other distros. Debian Stretch underpins the latest rolling update LMDE3 'Cindy' release. Linux Mint 19 and LMDE3 contain specific work to minimise differences between packages on the distributions, reducing the work required for updates. The move to GTK 3.22 on both versions will also help.
Expanding the team is next for Clem. "We have a wonderful team and a great relationship among developers – we're currently working on making it easier for new developers to get started and to join us". New and improved processes are in place to make the development process easier too: "Some of the tools we're using, such as GitHub and Slack, are amazing and they're helping us in many ways", says Clem.
Nemo full- text search
Nemo has gained proper full-text search in the Mint 19 release! Searching will no longer only show the first file that starts with the entered text, but all files matching the text anywhere.
SPOTLIGHT: HiDPI improvements in Mint 19
With Linux Mint 19 the team is staking a claim for the position of a leading HiDPI distribution, which is important as PC and laptop hardware move in this direction. In the latest release, all Linux Mint tools use GTK3 and fully support HiDPI. With the move to the Mint-Y theme, all icon assets include 2x versions, which means they will have no loss of quality on
high-resolution displays. Mate 1.20 has HiDPI support with dynamic detection and scaling. Gksu, which used GTK+, has been removed and HiDPI-friendly pkexec is used exclusively. So is the work here done? Not quite; in the default software selection Hexchat, GIMP (which finally gained at least basic HiDPI support in 2.10.0) and Tomboy Notes are not yet HiDPI-ready.