Kyocera is known for making office printers that cost less than average to run over time, even if they aren't the cheapest to buy up front. The Ecosys P5021cdw is reasonably priced for a colour laser printer, but its running costs could be on the high side.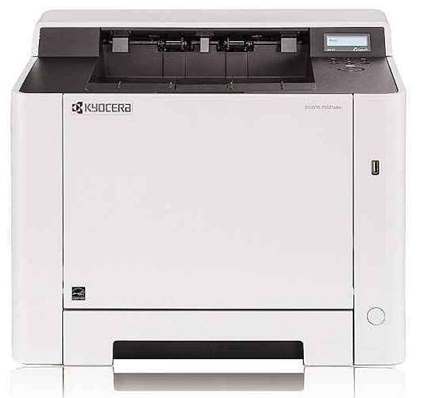 Although fairly compact by colour laser printer standards, this is a hefty beast at 21 kg, and not much easier to drag up a flight of stairs than a small armchair. It looks neat, though, with a 250-sheet paper tray at the bottom, a 50-sheet multi-purpose feed for different paper types, and a recess in the top where printed pages pile up.
There's no scanner, but it prints duplex (two-sided) and has Wi-Fi, supporting Apple and Android devices, as well as both Ethernet and USB connections.
As with most laser printers, the only onboard screen is a tiny LCD, so you'll need to configure everything from the PC-based software. Some of the options are intended for multi-user offices and
SPECIFICATIONS:
1200x1200dpi maximum print resolution • 21ppm quoted speed • 802.11n • USB 2.0 • Gigabit Ethernet • 329x410x410mm (HxWxD) • 21kg
will feel like unnecessary clutter to home users.
Crisp text is laser printing's forte, and Kyocera's 1200 dpi engine didn't disappoint, delivering 19.5 black-and-white pages per minute (ppm) and 17.1 ppm in colour. Photos were also quick, and from the USB stick input they looked decent for a laser (you can't expect the subtle photo-realism of an inkjet), but from our PC they had a blue-green tint unless we switched the mode to 'Vivid' or 'Text and photos'. Solid-colour graphics looked good. Laser printers can be noisy, but apart from a mildly audible fan the P5021cdw didn't bother us, and there's a Silent mode too.
With the drum guaranteed for three years or 100,000 pages, the only thing to worry about is toner. The supplied cartridge is rated for 1,200 pages, after which you can buy 2,600-page black and 2,200-page three-colour refills. But they work out at around 12.7 pence per colour page, which is very pricey; or a more reasonable – but not cheap – 2p for black only. 'Compatible' toners can be found under half the price, but we can't vouch for their performance.
VERDICT:
Best Kyocera Ecosys P5021cdw prices ?
MORE DEALS

ALTERNATIVE:
A fast inkjet like this or Epson's WorkForce Pro WF-5620DWF does more and costs less to run.
We solve your buying dilemmas
Is an HP or Canon printer best for my needs?
I am looking for a printer that I'd use infrequently, and only for black text. Two cheap inkjets have shown a similar fault – missing lines – which I understand may result from blocked ink nozzles. I hear the nozzles of HP and Canon printers are inside their ink cartridges, so any blockage can only be rectified by changing the refill. What would you recommend?
RA Harris
Yes. some printers have a permanent print head, while others have disposable heads in each cartridge. Canon has mainly shifted to permanent heads, while HP mostly includes the head with the cartridge ('integrated print head', or IPH) but also makes 'individual ink cartridge' (IIC) printers with permanent heads.
A 2015 study of HP printers found that after 180 days idle, using HP inks, disposable heads had blockages, but IIC heads unclogged themselves. Then again, IIC printers use coloured inks for flushing, a waste if you only print black.
We'd recommend the HP DeskJet 2630, which takes black and tri-colour IPH cartridges.