If you're bored with the usual black boxes that usually grace our review pages, then Koiink's Big Chungus will look quite refreshing. It chucks a lot of the usual expectations of modern PC cases out the window, in favour of a mammoth, outlandish – looking design that stands out from the crowd. As always, there's a price for experimentation, though, and the Big Chungus tips the scales.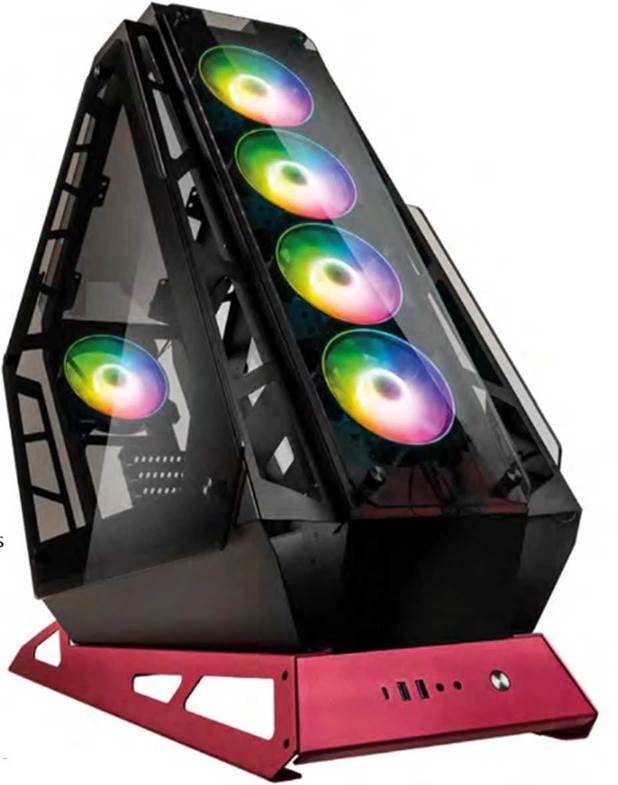 Assuming you'll be using it for more than an occasional LAN party showstopper, the Big Chungus will need some significant space too, standing nearly 70cm tall and 65cm deep, while its hefty 34cm width gives it a massive desk footprint. Despite its part-aluminium construction, it's not light either, weighing in at 16kg thanks mainly to copious amounts of tempered glass.
A lot of this volume is taken up by a large red-anodised stand, which leans the case backwards. The interior is
SPEC
Dimensions (mm) 336x651x668 (WxDxH)
Material Steel, aluminium, glass
Available colours Black
Weight 16kg
Front panel Power, 1 x USB 3,1 x USB 2,1 x USB 3.1 Type-C, stereo, mic
Drive bays 2×2.5/3.5in,2×2.5in
Form factor(s) E-ATX, ATX, Micro-ATX
Cooling 4 x 120mm front fan mounts (4 x fans included), 1 x 120mm rear fan mount (fan included), 3 x 120mm base fan mounts (fans not included), 2 x 120mm roof fan mounts, (fans not included)
CPU cooler clearance 175mm
Maximum graphics card length 335mm
rotated as a result, with the tiny rear section barely able to accommodate a single rear 120mm fan and rear I/O panel. On the plus side, the front has been elongated and has a slightly ridiculous quartet of 120mm fans – the most we we've ever encountered in a stock case configuration before.
All four fans sport digital RGB lighting, and can be controlled using an included remote control and lighting hub, or via a 3-pin RGB connector that can hook up to your motherboard. There are also two LED strips on the underside. The controller allows you to set various lighting effect modes, with a choice of 11 static colours, but motherboard software usually offers significantly more options. It's a good addition, but the fan hub lacksone important feature – the ability to control the fans' speeds. Out of the box, they're reasonably quiet, although still louder than you'd expect from most motherboard-controlled case fans at low loads.
We spotted a slightly strange issue with the fans too, where the noise from air entering the fans seemed to fluctuate. On closer inspection, the fan speed was changing every ten seconds or so, which caused a noticeable change in the pitch. We even switched PSUs to make sure it was indeed the case fans, but the issue was still there. Otherwise, the fans look fantastic, especially when viewed through the tempered glass front panel.
There's glass all around the case, in fact, with each of the four sections held in place by thumbscrews. Once removed, you gain easy access to the fan mounts for mounting radiators. As you'd expect from such a large case, there's space for E-ATX motherboards, and up to 360mm radiators in the front and base areas. However, due to the case's internal design, it sadly can't support 420mm radiators in place of those four 120mm fans.
The red base attaches using screws, but thankfully the rest of the case comes pre-assembled. The base is an essential part of the case too. as it houses the front panel connectors, including a power button, USB 2 and USB 3 ports, a Type-C port and audio jacks.
There's plenty of hardware clearance, though, with 175mm of room for CPU cooler height. 335mm graphics card clearance and a 220mm-long PSU mount.
If you plan on kitting out the case with 2.5 in or 3.5in drives, you'll also find a pair of 2.5in/3.5in mounts, plus an additional two dedicated 2.5in mounts. There's enough gadgets and mod cons to build and house a monstrous system, but there's plenty of omissions too.

There are no dust filters, for example, so dust ingress will require the regular use of a vacuum cleaner or air duster. Also, while there's plenty of space for cable tidying, there are no cable covers to hide the spaghetti – a feature that we've seen in numerous premium cases recently. Given that both panels are made from see-through glass, you'll need to be a cable-tidying ninja to avoid creating an unsightly view.
Performance
The fans churn through a decent amount of air. and with four of them acting as intakes, dust will only likely get in through the front panel, with air pressure leaning strongly on the positive side. With so many open vents and a battery of reasonably powerful 120mm fans, it wasn't surprising to see the Big Chungus hit some impressive cooling numbers either. The CPU delta T of 53'C was better than the mighty NZXT H700i on its full speed setting, and 6'C cooler than the Cooler Master SL600M.
Meanwhile, the GPU delta T of 49'C was also excellent and only second to the Cooler Master SL600M's exceptional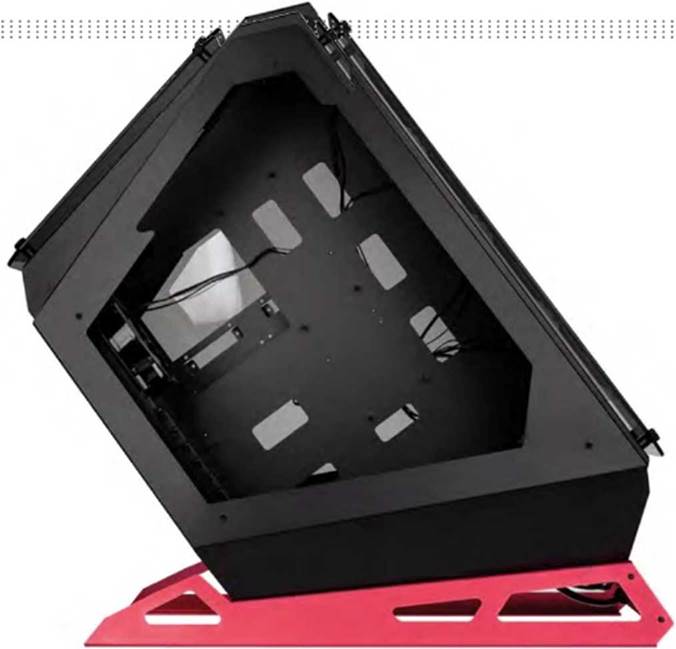 result of 48'C, bettering the NZXT H700i by a couple of degrees too. It's a shame, then, that the included fans couldn't be a bit more powerful under high loads, then rein themselves in at other times, as the cooling results could be even more impressive.
Conclusion
In spite of its unique design, there are fewer compromises with the Big Chungus than we've seen with other uniquely designed showcases. You get USB Type-C support, plenty of airflow, lots of places to stow and route cables, and the case comes mostly pre-assembled. We've seen kits comprising hundreds of parts and poor instructions with similar cases in the past, so the Big Chungus is comparatively simple in this respect. The RGB lighting is extensive and good-looking, and there's ample water-cooling support as well.
There are several negative points, though, which are that like most cases of this ilk, there are big open areas devoid of dust filters. It's also massive, and your build will need an extensive cable-tidying session. Your PC will be really heavy as well, even with just an air-cooled interior.
The biggest issue, though, from an everyday point of view, is that the fan speed can't be controlled. This is compounded by the fact that the fan speeds seem to fluctuate regularly, which could be annoying if you're sitting next to it. As an occasional showcase to wow people at LAN parties, the Big Chungus is fantastic, but we'd swap out the fans if we were going to use it on a daily basis.
ANTONY LEATHER
VERDICT
Kolink big chungus review
An outlandish-looking and easy-to-build showcase, but it has some niggles as an everyday home for your PC.
PROS
Excellent cooling
Extensive RGB lighting
Decent water­cooling support
CONS
No dust protection
Expensive
Fanslack PWM control
Add your review
Best Kolink big chungus prices ?
MORE DEALS