It's tough to stand out in the highly competitive sub-£ case market right now. You can use a striking design, unique or premium features or even lavish materials, but all these additions add up and make offering a decent case with good cooling for under £ a tall order. Imagine our surprise, then, when we opened the box of the Antee DF700 FLUX and found a £ chassis that ticked a number of these boxes, but went even further and included a highly generous total of five 120mm fans as standard. Read our ANTEC DF700 FLUX Review.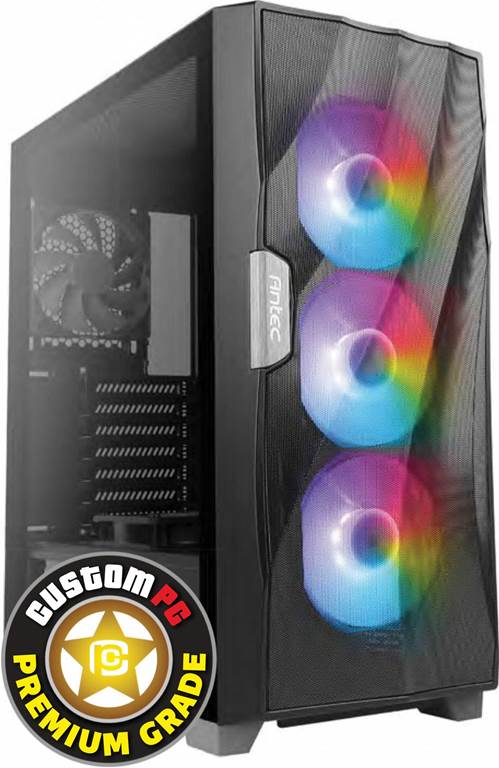 As if that wasn't enough, three of these fans in the front section feature digital RGB lighting, and Antee includes a controller with a button on the front panel to cycle through colours and modes, while you can also connect them to any motherboard using a 3-pin or Gigabyte-specific connector, which is included.
With five fans included in the box, our first thought was 'wouldn't it be nice if Antee included a fan hub too?' And sure enough, the far side panel reveals one with six ports and all-but-one of the included fans already hooked up to it. The hub even includes six 3-pin RGB headers for connecting additional fans or light strips.
The fifth fan sits in a box as standard, allowing you to position it where you like. There are five spare locations, with two vacant fan mounts in the roof that support either 120mm or 140mm fans, as well as 360mm and 280mm radiators. In addition, there are two 120mm fan mounts in the PSU cover, which is where Antee suggests you mount the fan, so it can feed your GPU with additional airflow.
However, with our short graphics card being sat over the PSU, there was limited space for air to pass through the vent with the PSU sat immediately below it, so longer cards with the fan in the second forwardmost slot will likely see more benefit from this fan.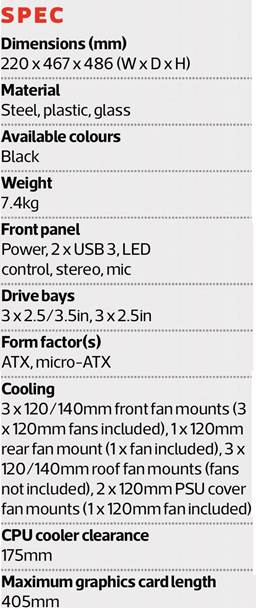 Meanwhile, the front section can offer a home to a 280mm or 360mm radiator, or a trio of 140mm fans in place of the three 120mm fans included already, with a final 120mm fan in the rear acting as the only exhaust. The case caters well for air cooling as well, with 175mm of CPU cooler clearance and 405mm of graphics card clearance, although there's no option for a vertical GPU mount.
All inlets are covered with dust filters, including a neat magnetic one in the roof that sits flush with the panel, as does a second inside the far side panel that improves airflow to the PSU cover fan though the lower part of the panel. There's a full tempered glass side panel as well, and both side panels have embedded thumbscrews, and are quick and easy to remove.
The case catches your eye from the outside too, with the three RGB fans putting on a great show, but also because the front mesh panel here has a striking wave pattern bent into it. This really makes it stand out from the crowd. You even get Velcro cable ties, although there are just two of them, and the cable-routing holes lack grommets to help hide the cables. Still, with plenty of holes around the motherboard, routing your cables won't be a problem.
Antee has nailed the storage arrangement too, with space for up to three hard disks and three further dedicated 2.Sin SSD mounts. The front panel has two USB 3 ports, audio jacks, the LED control button and power button, only lacking USB Type-C and reset buttons, although a Type-C port is still a rare luxury at this price. Even here, though, Antee has been thoughtful and included rubber port covers to prevent dust ingress.
Performance
Thanks to its army of fans, the Antec's CPU delta T of 47°C was fantastic, being easily the best result we've seen recently. The GPU delta T wasn't quite as stellar, but we suspect the PSU and fan arrangement wasn't ideal for our short graphics card, with the PSU starving the fan of air in this rear mount. However, the second PSU cover mount in front of it was too far forward for our GPU to make use of it.
In the end, though, a GPU delta T of 43°C was still cool enough to beat the be quiet! S00DX, CorsairiCUE 465X and Thermaltake HSS0 TG ARGB, but the Fractal Design Define 7 Compact was re cooler, with the Phanteks Eclipse P400A DRGB extending that gap to 2°C. The fans were reasonably loud at full speed, but the noise wouldn't be unpleasant with the PC sat under your desk.
Conclusion
We're honestly amazed that the Antee DF700 FLUX. The fact that the package includes five fans, three of which have digital RGB lighting and can be operated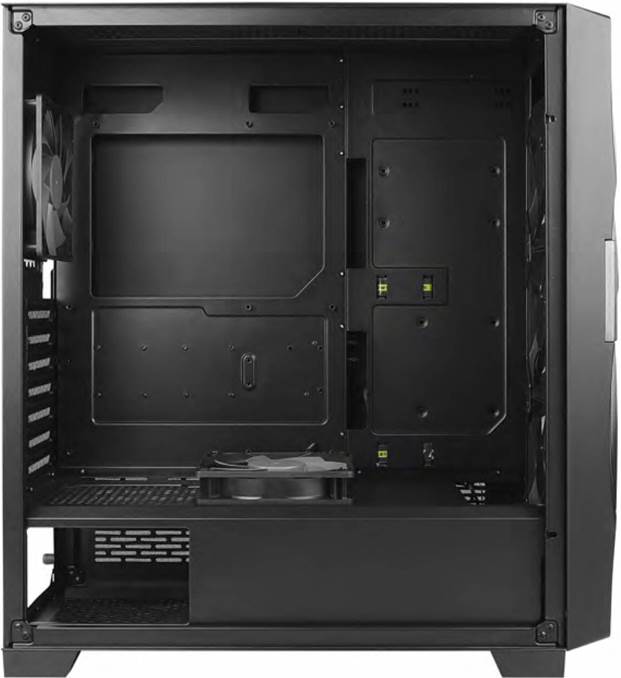 with an included lighting controller that also doubles as a fan hub is incredible enough. But to have most of the usual conveniences of more expensive cases, such as extensive, easy-to-remove dust filters, additional cooling via the side panel, a tempered glass panel and Velcro cable ties to name a few is the icing on the cake.
Those five fans don't sit idle either, enabling the DF700 FLUX to hit some seriously low temperatures. Were our graphics card a bit longer, we'd likely have seen a lower result here too.
The case is sturdy, well made and sports a striking mesh panel in the front, while it also provides plenty of space for all-in-one liquid coolers and even custom loops.
This would be a great case for £, means it's a bargain. It's ideal if you want an affordable case that has all you need to build a well-cooled PC, while offering plenty of scope for adding large liquid coolers or custom water-cooling gear in the future.
ANTONY LEATHER
VERDICT
ANTEC DF700 FLUX Review
Superb cooling ability, great design and loads of features for a surprisingly low price.
PROS
Excellent CPU and GPU cooling
Superb value
RGB lighting
CONS
No USB Type-C
PSU limits effectiveness of rear PSU cover fan
No vertical GPU mount option
Add your review
Best ANTEC DF700 FLUX prices ?

$

109.99
25 new from $89.82
in stock


£

96.18
15 new from £91.19
in stock


The item in this listing is a brand new sealed product in its original manufacture retail packaging. This product will come with a Minimum 1 year warranty. Antec Dark League DF700 FLUX, Mid Tower ATX Gaming Case, FLUX Platform, 5 x 120mm Fans Included, ARGB & PWM Fan Controller, Tempered Glass...
$

224.87

$283.83
out of stock

MORE DEALS