A case study in combating successful Swedish design. Read our Be Quiet! Silent Base 601 Review.
With regard to system building, it almost always comes down to two trains of thought. The first is about showcasing. Presenting your components in a chassis that fits the bill, with LED lighting, tempered glass, reflections, you name it. The second is about sophistication and elegance. It means keeping things out of the way and—more importantly- minimizing noise. More often than not, the latter ethos is associated with workstations in noise-sensitive environments, or for people who simply prefer to enjoy their PC in silence. Fractal Design was the one to look out for as far as that was concerned, with its Define series of chassis being legendary for encapsulating those principles.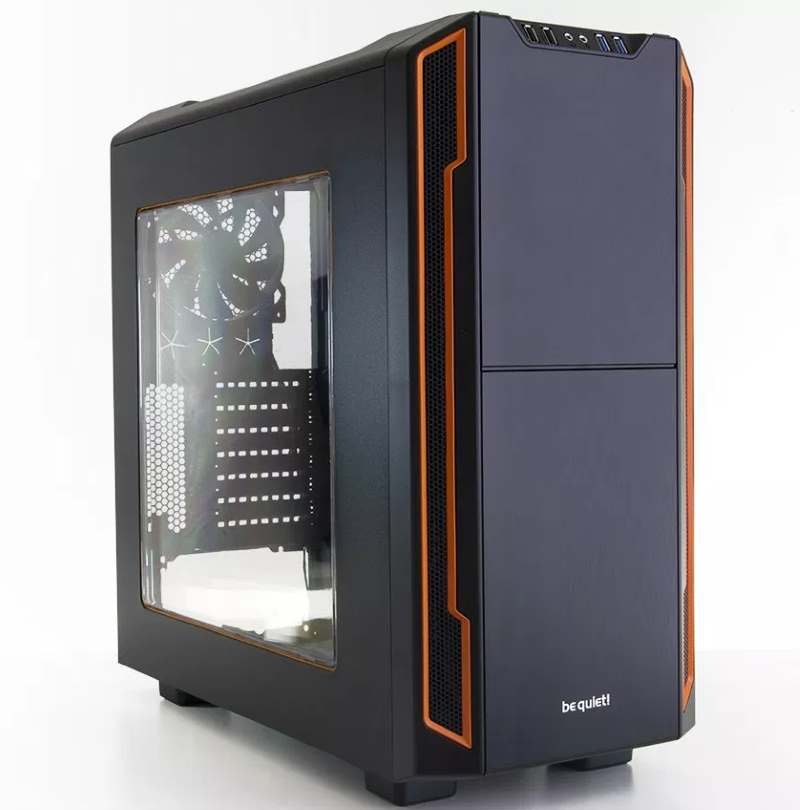 For the longest time, the Swedish designer had no competition, because although there was no lack of manufacturers developing quiet components, few had attempted to build a case capable of fulfilling the same noise-reducing remit. Enter Be Quiet!
Although this isn't the first time we've seen a chassis from Be Quiet!, we haven't encountered one aimed at a more budget-oriented portion of the market before. And, boy. does it impress.
The Silent Base 601 is available in three separate color schemes (orange, black, and silver), and comes in either a windowed or non-windowed variant. Ours, the non-windowed variant, is a beauty to behold. The exterior is clean, with subtle accents, and plenty of noise- dampened air vents lining the front panel and roof. There's support for up to two 140mm fans in the front, or three 160mm fans in the roof, and radiator support for both. Be Quiet! has also included two of its Pure Wings 2 160mm fans as standard, as opposed to a cut- down reference variant. There's a fan controller baked into the top of the case, and easy radiator installation in the roof, thanks to a removable sliding bracket, similar to what Phanteks first introduced with its Evolv lineup.
It's when you get to the noise dampening that the Silent Base becomes particularly impressive. Each panel (front, top, and both sides) is lined with half an inch of noise-dampening material, designed to reduce vibrations from inside the case. Then there's the included 3.5-inch hard drive cages, each housing rubber mounting grommets for your old-school spinning drives, further reducing vibrations. Even the air intakes are specially designed to reduce overall noise, by rerouting the airflow around the side of the fan. Bring all of this together, and what you're left with is an incredibly clean, exceptionally quiet case, at a reasonable price point.
Outside of the noise reduction, there's also a ton of modern features packed in. From the vertical GPU mount, to the PSU shroud, housing mounting for a single 160mm fan. and the modular support for even more drive caddies, this thing's a beast to build in.
So, what are our criticisms? Well, if we're honest, we would have loved to have seen more care lavished on the front I/O, because it still looks a bit too in-your-face (especially the power button) for us to really consider it a super-premium solution, along the lines of Fractal. But perhaps that's what Be Quiet! is going for. After all, you do need something to differentiate yourself from the competition. We'd also have liked to have seen a radiator bracket in the front, similar to Corsair's 500D.
That said, the Silent Base 601 is a fantastic new product, and for those looking to build a clean, quiet build, at an affordable price point, it's well worth considering. Ultimately, whether you choose a Fractal case or this will come down to personal preference, but in our eyes, they're very much on a par with one another, which is why we re happy to give this a "9."
Zak Storey
Be Quiet! Silent Base 601 Review: Verdict
Be Quiet! Silent Base 601 Review
PROS
Strong price
Easy to build in
Good cooling support
Innovative features
CONS
I/O requires work
Needs another bracket
Add your review
Best Be Quiet! Silent Base 601 prices ?
$

170.63
7 new from $123.48
in stock


£

244.24
3 new from £203.00
in stock


$

447.92
1 new from $447.92
in stock

MORE DEALS

Be Quiet! Silent Base 601 Specifications
| | |
| --- | --- |
| Form Factor | Mid-tower |
| Motherboard Support | EATX, ATX, mATX, ITX |
| Colors Available | Orange, black, silver |
| Window Available | Yes |
| 3.5-Inch Support | 7 |
| 2.5-Inch Support | 13 |
| Radiator Support | 360mm roof. 280mm front, 140mm rear |
| Fan Support | 3 x 140mm roof, 2 x 140mm front. 1 x 140mm rear |
| Dimensions | 20.23 x 20.94 x 9.44 inches |
| Graphics Card Clearance | 17.67 inches |
| CPU Tower Clearance | 7.28 inches |
| Weight | 24.74 lb |