While NZXT has been dipping its toes into the pools of peripherals and motherboards recently, it's better known for its cases and its ATX line-up has just received a refresh recently with a trio of new models. The range caters for three different markets, with the two cheaper models offering high-airflow or closed-panel designs, while the top-end model offers all-glass panels, as well as software control. We're looking at the high-airflow model this month, which is the £ H7 Flow. Read our nzxt h7 flow Review.

It comes in either black or white, and it's reasonably compact, measuring 50cm tall and 48cm deep, while its width of 23cm enables the case to offer 185mm of CPU cooler clearance. The graphics card clearance stands at 400mm, but while there's no vertical GPU mount in the case, NZXT's recent flurry of launches included a universal vertical mount, and with three PCI-E slots to shift dual-slot GPUs away from the side panel, it's probably a better option than a fixed mount anyway.

As its name suggests, the H7 Flow also has a large mesh on its front panel and in the roof section, so its geared towards offering high airflow with low fan speeds. There are a few useful features on the case's exterior, such as tool-free side, front and roof panels that simply pop into place. There's also a removable front fan mount, which you can detach in order to fix fans and radiators to it, rather than having to do it awkwardly inside the case. There are dust filters all around the interior too, with the roof part sitting under the main panel and held in place using magnets.

Meanwhile, the front panel is a basic affair, with a pair of USB 3 ports, a USB
SPEC
Dimensions (mm)
230x480x505 (WxDxH)
Material
Steel, plastic, glass
Available colours
Black, white
Weight
10.05kg
Front panel
Power, 1 x USB 3.2 Gen 2 Type-C, 2 x USB 3, stereo
Drive bays
2×2.5in/3.5in,4×2.5in
Form factor(s)
E-ATX (up to 272mm) ATX, micro-ATX
Cooling 3x120mm/3x140mm front fan mounts (1 x 120mm fan included), 1 x 120mm/140mm rear fan mount (120mm fan included), 3 x 120/2 x 140mm roof fan mounts (fans not included)
CPU cooler clearance
185mm
Maximum graphics card length
400mm
3.2 Gen 2 Type-C port and a single audio jack output for a headset. However, that means there's no microphone input, so you'll need to use your motherboard or sound card's own input or a USB headset in order to be able to talk to people.
The H7 Flow's exterior is otherwise unblemished, while the H7 Elite and H7 have extra vents in their side panel to boost cooling, due to them lacking a vented front panel.
Out of the box, the three cases' fan arrangements differ too, with the H7 and H7 Flow offering front and rear 120mm fans that spin up to 1,200rpm, while the H7 Elite includes four larger 140mm fans. The roof and front fan mounts can house up to 360mm radiators, with the front section also able to house up to three 140mm fans, and with space for 60mm-thick radiators, making it an excellent case for watercooling systems or AIO liquid coolers.
If you're looking to add a bunch of hard disks, sadly there's just the basic two 3.5in mounts in a removable cage in the base of the case, which can also be used for 2.5in SSDs, in addition to four dedicated mounts for the latter behind the motherboard tray and on top of the PSU cover.
The H7 Flow also offers decent cable-routing options. If you detest cable ties and prefer large Velcro straps then you're in luck, as the H7 Flow has two large cable runs equipped with Velcro ties to secure the usual cables, such as the 24-pin ATX connector, PCI-E cables and any other wires at the front of your case. There are Velcro ties at the top and to the rear edge of the motherboard traytoo, and the positions of cable-routing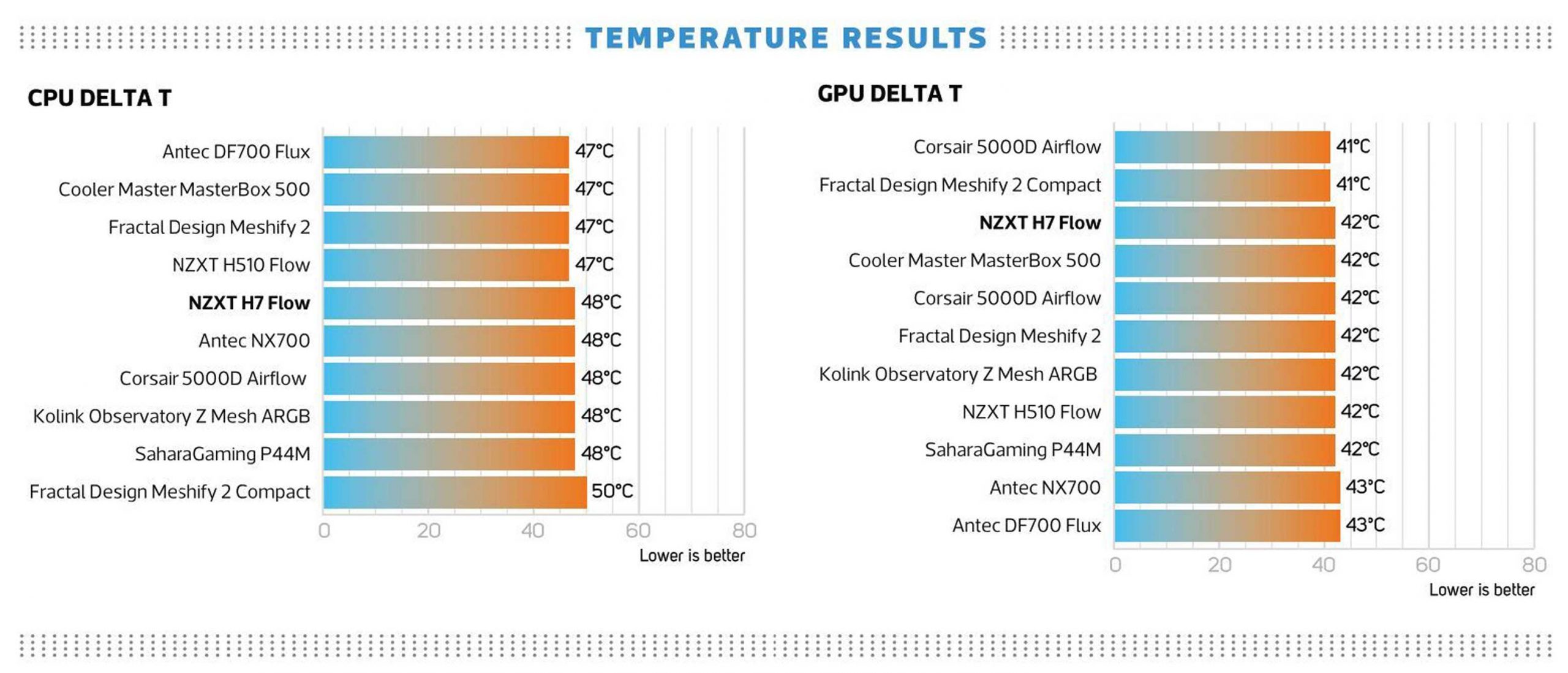 holes have been well considered. There's a routing hole at the top of the motherboard tray that runs for around 10in to cater for motherboards that have sockets in various places, such as most AMD Threadripper TRX40 models.
However, it's a shame the case doesn't have full E-ATX support, with the width limit set at 272mm. The main holes at the front of the case have a large cover to hide them as well. Overall, it's an easy case to keep tidy, with plenty of stowage for excess cables, lots of anchor points and cable ties. Build quality is also excellent throughout, with minimal panel gaps and all the parts fitting snugly together.
Performance
With the fans peaking at a speed of 1,200rpm, they're not particularly powerful, so it wasn't a surprise to see the H7 Flow return middling results with the CPU and GPU delta temperatures. However, the flip side is that it's extremely quiet, even with the fans at full speed. The CPU delta T of 48°C was on par with the Antec NX700 and Corsair 5000D Airflow, while the Antec DF700 Flux, Fractal Design Meshify 2 and Cooler Master MasterBox 500 were a little cooler. However, the NZXT was a couple of degrees cooler than the Fractal Design Meshify 2 Compact.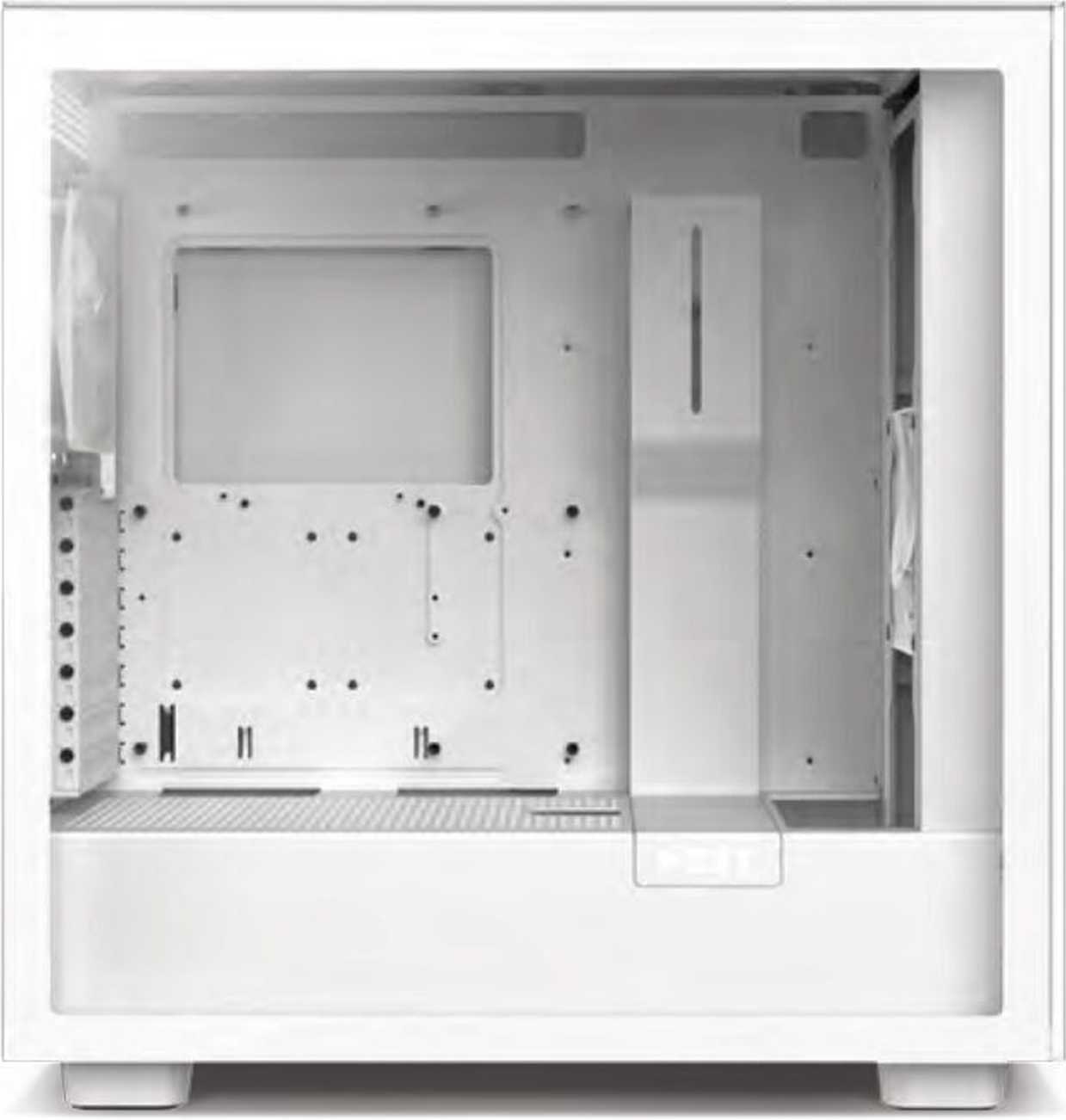 The CPU delta T sat at 42°C after our testing, which again is in the middle of the results and lacks the clout of cases such as the Corsair 5000D Airflow, while just pipping the Antec DF700 Flux and Antec NX700 to the post, albeit by just a single degree.
Conclusion
At a price of £ inc VAT, the NZXT H7 Flow is well priced given what's on offer, which is just as well, as the competition is fierce. The Fractal Design Meshify 2 Compact sports a similar specification and a removable roof section that helps to set it apart, but with slightly reduced radiator and storage support and lower CPU cooler clearance. Corsair's 5000D Airflow costs £ more, but does offer an even better basis for a water-cooled PC, although it doesn't include more fans or storage mounts.
Overall, then, the H7 Flow is an attractive, well-priced case with good cooling and massive potential for expansion in terms of both air cooling and water cooling. We'd have liked to see full E-ATX motherboard support, although the 272mm width limit does cater for most large PCBs. The lack of a microphone front panel jack, and limited room for hard drives, may be an issue for some people, but not if you're using a USB headset and SSDS. It also lacks standout features compared with the competition, but this is otherwise a great case for the money.
ANTONY LEATHER
VERDICT
nzxt h7 flow Review
An excellent, attractive ATX case that's also well priced.
PROS
Good cooling
Excellent watercooling support
Reasonable price
CONS
Not many other stand-out features
Fans are quiet but underpowered
No microphone port
Add your review
---
TODAY'S BEST DEALS

$

129.99
8 new from $129.99
in stock


£

119.99
9 new from £119.99
in stock


$

175.09
1 new from $175.09
in stock