The original Kolink Rocket wowed us with its tiny size and ability to house some of the biggest graphics cards available, while offering good cooling for the latter. It was well built and made almost entirely from aluminium, which did sadly also bump up the price. However, not only is the new Kolink Rocket V2 currently cheaper than its predecessor, but it's a more grown-up case in a few areas too. It's bigger in every dimension than the original, now spanning several centimetres of extra width and nearly 3cm in height. Read our KOLINK ROCKET V2 Review.
The extra dimensions mean even better graphics card support catering for up to 330mm-long cards that occupy up to 2. 9 slots. The latter figure means that coolers bigger than dual-slot models are supported, but there are only two PCI-E slots on the rear panel, so very few cards will be too big. To support these cards, both side panels are vented, although the actual vented areas lack dust protection and remain the same size as before, despite the case and panels being bigger than the originals.
The exterior is made up almost entirely of a single U-shaped piece of aluminium, which suspends the main case chamber in a separate container, allowing for small recesses to sit above and below it. As such, while there are two fan mounts, you can't actually see them, as they exhaust into these recesses.
The downside, of course, is that airflow will be restricted, as it has to bend around 90 degrees.
The side panels are fiddly to install, and the need for eight screws means it's not a quick process to perform upgrades and tweaks. The panels also didn'tfit quite flush in some areas either, with noticeable gaps, although the gaps aren't visible from more than a few feet away.
Meanwhile, the underside is held aloft by small metal-clad circular feet with rubber bases that look very swish, and the front section is illuminated by a bright blue LED-backed power button. Beneath this sits a single USB 3 port, as well as a Type-C USB port. The latter uses a Type-C connector on its cable too, so you'll need a proper Type-C header on
SPEC
Dimensions (mm) 150 X 350 X 270 (W X DX H)
Material Aluminium
Available colours Grey
Weight 2.6kg
Front panel Power, 1 x USB 3, 1 x USB Type-C
Drive bays 2×2.5in
Form factor(s) Mini-lTX
Cooling 1 x 92mm roof fan mounts (1 x 92mm fan included), 1 x 80mm base fan mount (fan not included)
CPU cooler clearance 63mm
Maximum graphics card length 330mm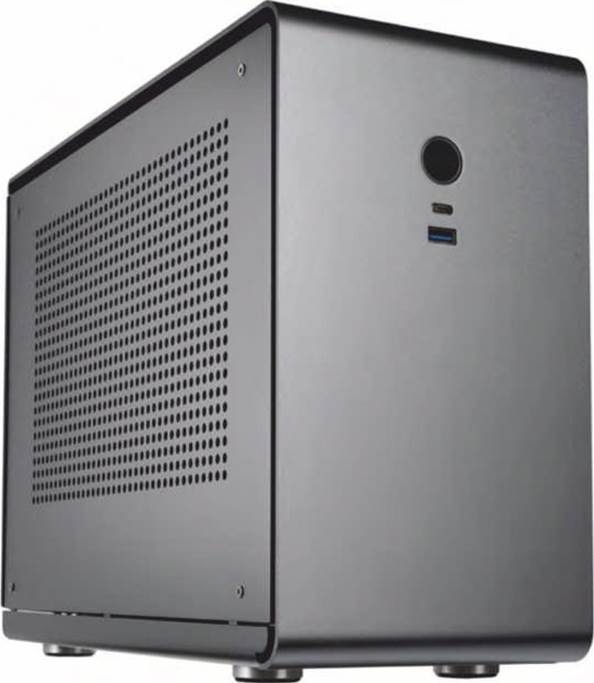 your motherboard to use it. There are no audio ports or a reset button though.
Like its predecessor, the Rocket V2 is limited to SFX and SFX-L power supplies, and the PSU is mounted on a removable bracket at the front of the case that points the fan at the side panel. A power extension lead then connects to your PSU and hooks it up to a standard kettle-lead female port atthe rear of the case. Even using an SFX-L PSU will give you plenty of room above the ports for cables, although you'll need to take care that none of them fouls the 92mm fan in the roof.
The latter is an upgrade over the 80mm model in its predecessor, especially as there are even 92mm all-in-one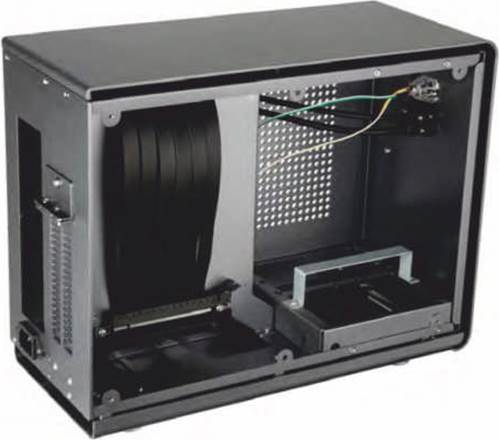 liquid coolers floating around now. However, we'd prefer to see a couple of120mm mounts in the roof instead, which would allow for more potent coolers or better airflow, especially as there's just 63mm of CPU-cooler clearance. While Ko link doesn't mention it, there's also an 80mm fan mount in the base of the case beneath the graphics card, which allows for a slim 80mm fan to boost airflow – that's an upgrade we certainly recommend, especially given their low price.
Meanwhile, the graphics card connects to the motherboard by way of a riser cable and, like the Phanteks Evolv Shift 2 on p24, it's only PCI-E 3-compatible. You can still use PCI-E 4 motherboards and graphics cards with it, but you'll need to fix your primary graphics slotto PCI-E 3 mode in your motherboard's EFI, as not doing so can cause stability issues.
For storage, there are no 3.Sin hard disk mounts, so if you want mass storage, you'll need to invest in an expensive large SSD, an external drive or a NAS. There are two 2.Sin SSD mounts located in the bowels of the case, but like the side panels, they're not particularly easy to access once the drives are installed.
There are a few factors we'd change about the interior design as well, such as getting rid of the lower exterior shell, and lowering the motherboard and PSU. As it is, the case is unnecessarily tall. The factthe motherboard tray stretches from top to bottom means there's no option to include larger fan mounts there, when some simple tweaks would open up the case to much better airflow and liquid-cooling options.
Performance
The Rocket V2′ s CPU delta T of 50°C is actually very good, thanks to the large vent sitting right up against our low-profile CPU cooler, allowing it to draw cool air straight into its heats ink. This air is then expelled out of the roof, but we did suspect some recirculation was occurring, with warm air from the cooler leaving the side panel at the front of the case and being drawn back in again.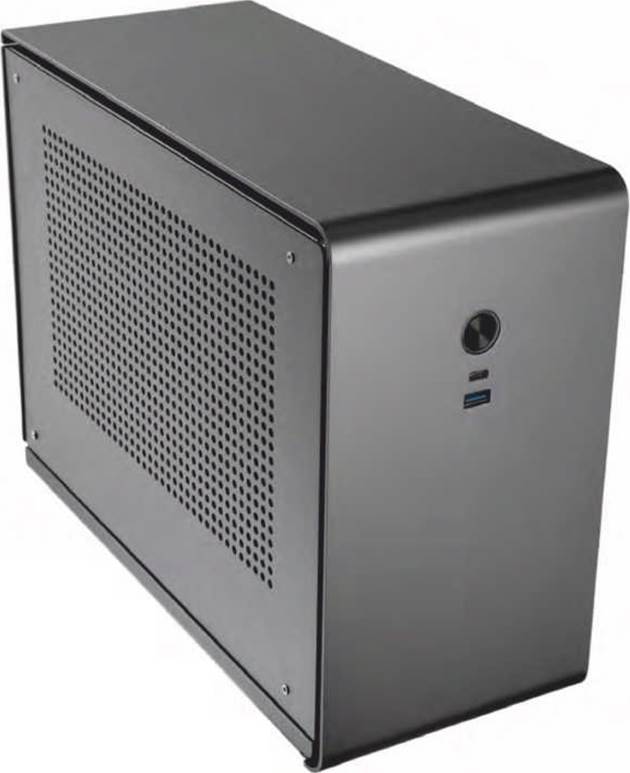 The GPU delta T was also very good at src – only the Cooler Master N R200 P, with its fans pointing directly at the GPU, fared noticeably better. The Kolink case also offers much better thermals than the Phanteks Shift2 and Raijintek Metis Evo TGS in their out-of-the-box configurations.
Conclusion
Externally, the Kolink Rocket V2 is sleek, attractive and very compact- it would undoubtedly look great on top of your desk. Its price seems rather steep in the face of excellent and very flexible cases such as the Cooler Master MasterCase NR200P, but ultimately you're paying for the premium materials and more compact design.
Internally, though, it's very restrictive thanks to a complete lack of 120mm fan mounts and just 63mm of CPU cooler clearance. While you can comfortably house a monster graphics card in the Rocket V2, you can't say the same for your CPU. In fact we'd have concerns about using any CPU with more than six cores, and we wouldn't recommend overclocking either.
Kolink does have a potential answer in the form of the Rocket Heavy, which we hope to test soon. For now, though, unless you're looking for a very specific layout or feature set there are more flexible compact mini-lTX case options.
ANTONY LEATHER
VERDICT
KOLINK ROCKET V2 Review
A great-looking ultra-compact case made from premium materials, but some of its design aspects need a rethink.
PROS
Ultra-compact case
Attractive appearance
Space for high­ end GPUs
CONS
Limited cooling possibilities
Average use of space
Poor CPU cooler support
Add your review
|
Read reviews and comments
Best KOLINK ROCKET V2 prices ?

$

197.00
1 new from $197.00
in stock

MORE DEALS