With NZXT's previous compact ATX chassis, such as the H510 Elite, the company went for a brute-force approach to ensure the cases had good airflow despite having a sealed front panel. We don't blame the designers at NZXT for making that decision, as the H510 Elite looked fantastic and was also the best­performing, sealed-front case we've tested. However, it could also be quite noisy when running its fans at full speed. With the new H510 Flow, NZXT is adding a front mesh to the equation in order to improve airflow.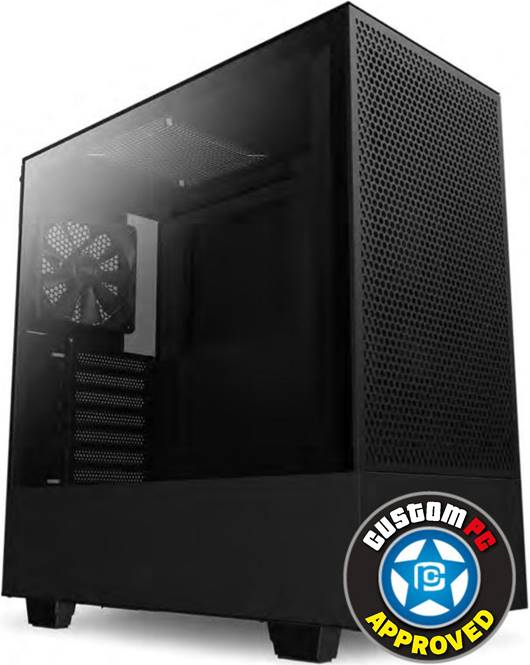 ATX CASE
spec
Dimensions (mm) 210 x 428 x 460 (W x D x H)
Material Steel, plastic, glass
Available colours Black, black and white
Weight 6.6kg
Front panel Power, 1 x USB 3, 1 x USB 3.1 Type-C, 1 x stereo/mic
Drive bays 2 x 2.5/3.5in, 2 x 2.5in
Form factor(s) ATX, micro-ATX
Cooling
2 x 120mm/140mm front fan mounts (1 x 120mm fans included),
1 x 120mm rear fan mount (fan included), 1 x 120mm/140mm roof fan mounts (fan not included)
CPU cooler clearance 165mm
Maximum graphics card length 360mm
This addition, NZXT claims, has not only enabled the company to reduce noise, but still maintain low case temperatures, and it comes with a different fan arrangement as a result. There's now just a single 120mm fan in the front, rather than two, with a second fan in the rear of the case, and this limited number of fans undoubtedly helps the H510 Flow to hit a rather attractive price point of just £. The case fans spin 300rpm slower than those in the H510 Elite too, so they should generate fewer decibels, although the front mesh will probably also allow noise to escape more readily.
The new mesh panel only covers around two thirds of the front panel from the top, and we really liked the fact that it pops off easily, giving you access to the removable dust filter inside it, as well as the dual 120/140mm fan mounts beneath it. What's more, the whole fan mounting plate can be removed too, helping even further with the installation of fans and radiators. There are vents at the front of the case and beneath the PSU as well, and these are also covered with removable dust filters.
The rest of the case is largely the same as previous versions of the H510, including the two-third-height tinted glass side panel, which is held in place by a single thumbscrew and is easily removable.
Externally, the case's design is extremely clean, except for a 120/140mm fan vent in the roof, and NZXT has even kept the front panel as small as possible, with just a single Type-A USB 3 port and Type-C port, with the latter needing a Type-C header on your motherboard to work. There's also a power button and single audio jack, and if you need to use the latter, a tri-pole splitter cable is included in the box, so you can plug both speakers and a microphone into it.
Even with its large feet, the H510 Flow stands just 46cm tall on your desktop, and it measures just 43cm deep and 21cm wide. An ATX motherboard just fits inside it, so it's no surprise to learn that E-ATX is a no-go. Despite the limited interior space, though, NZXT has done a good job of making sure it's easy to route and tidy cables. There are holes in the full-length PSU cover, and along the side of the motherboard tray, with a metal plate covering them. In fact, cables are so well hidden that it's largely pointless buying a custom cable kit for your PSU if you're using this case.
Behind the motherboard tray, you'll find more cable­routing gadgets, with channels to direct and secure the 24-pin ATX and PCI-E cables neatly down to the PSU, as well as plenty of cable anchor points. This is just as well, as the depth of clearance here is quite shallow, so you'll need to ensure you do a good job of tidying if you want to be able to refit the side panel without issues.
Thankfully, despite there being a dual 2.5/3.5in storage bay at the front of the case, there's still room to stow cables in front of the PSU, although limiting the number of SATA drives in your system will help you here, as space is quickly eaten away, especially with the closeness of the side panel.
Despite a width of just 21cm, the H510 Flow has a CPU cooler height limit of 165mm, which means all but the very tallest air coolers will fit. The front fan mounts can also offer a home to radiators for 240mm or 280mm all-in-one liquid coolers, and the case's tight dimensions mean it's possible to have the cooler's tubes sitting at the bottom and still reach the CPU socket, helping you to avoid long-term issues with air bubbles accumulating in the pump.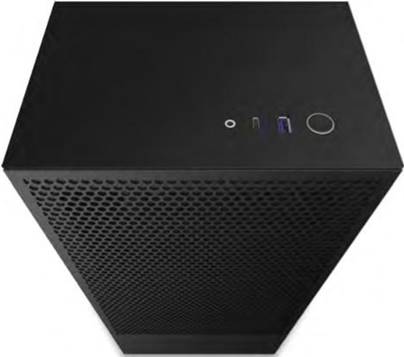 Performance
The H510 Flow's fans are certainly quieter than those in the H510 Elite, and you don't get too much sound bleeding from the new mesh panel either. At lower speeds, it's a very quiet case, and it's cool enough too. Our overclocked Ryzen 1600 was kept to a chilly 47°C, which is only a degree warmer than the H510 Elite, and cooler than the be quiet! Silent Base 802 and Corsair 5000D Airflow. The GPU delta T was a match for the H510 Elite, likely thanks to that front mesh allowing the front fan to point its airflow straight at our graphics card. It was only a degree off the pace of the best-performing cases we've tested too, so cooling high-end GPUs will be no problem at all.
Conclusion
The NZXT H510 Flow is compact and reasonably priced, and the addition of the mesh front over its sealed-front siblings confirms NZXT's claims that the new case can cool just as well as its brethren, but with fewer fans and less airflow. Coming in at £, it's certainly a very appealing option that's clean and able to handle large, high-end components, plus it's relatively easy to work with this case.
There is plenty of competition out there, though, and the Fractal Design Meshify 2 Compact, for example, costs the same, and while it's a tad taller, it's even easier to work with than this case, plus it has even better water-cooling support and similar performance out of the box. We like the H510 Flow's black and white colour scheme option, though, which most of the competition can't match. The Meshify 2 Compact might be the perfect all-rounder, but for some added class and head-turning looks, the H510 flow comes a very close second.
ANTONY LEATHER
VERDICT
Editor choice
NZXT H510 FLOW Review
An attractive, cool and quiet take on one of our favourite compact cases.
PROS
Fantastic water­cooling support
Easy hardware installation
Flexible interior
CONS
Expensive
No PCI-E riser cable included
Extremely niche
Add your review
Best NZXT H510 FLOW prices ?
MORE DEALS