CONVENTIONAL WISDOM DICTATES that the ideal PC storage setup – the sweet spot between performance and affordability – is an SSD master drive with a mechanical hard disk providing extra capacity. It makes perfect sense: you get a few hundred gigabytes of solid-state storage to keep Windows and some choice applications nice and responsive, while a terabyte or two of HDD space takes care of big files, which don't suffer so much from slower read and write speeds.
Intel's Optane technology heralds the biggest challenge to this approach in years.
It's based on 3D XPoint, a new kind of non-volatile memory co-developed by Intel and Micron Technology, and is supposedly both denser than DRAM (meaning it can save more data in a given physical space) and faster, in latency terms, than NAND.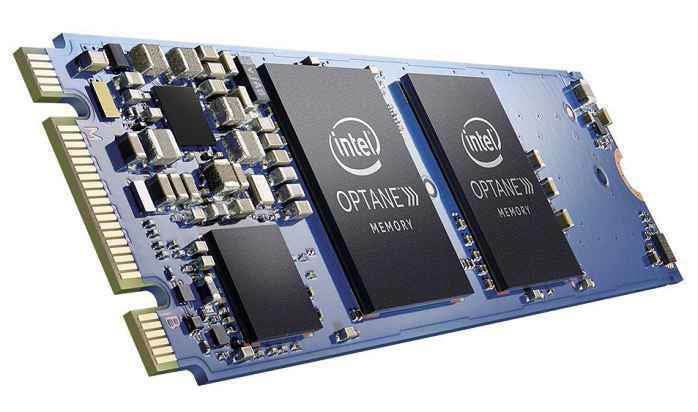 It's planned for use in data center SSDs, such as the DC P4800X series. We consumers, however, can already buy something very different: Intel Optane Memory. Whereas the DC P4800X is a standalone drive, Optane Memory acts more like a cache for your existing SATA connected drives, coming in tiny 16GB and 32GB models. It fits into the M.2 slot on your motherboard, like a full-fat NVMe SSD, but first and foremost it's about boosting the speeds of creaking old hard disks.
HELPING HAND
It does this by identifying your most-used programs (as well as Windows itself) and effectively moving them from the hard disk to the PCI-E-connected Optane drive; this allows the CPU to access the data more quickly, resulting in faster boot times and fewer loading delays, both in technical applications and games. Of course, this isn't a radical idea – it's been around on hybrid SSHDs for years.
These, however, tend to use NAND memory caches, and are still beholden to SATA speeds. Optane Memory promises much higher performance, and at much lower prices than buying a standalone NVMe SSD.
Before we get into testing results, a disclaimer: our review unit is marked as an 'engineering sample', not a retail product.
Specs should be the same, so it should at least be broadly representative of what you'd see from a 32GB model off the shelf.
We tried using it with an Intel Core i7-7700K processor and 8GB of RAM, to ramp up the speed of a 1TB Seagate Barracuda, about as close to a bread-and-butter hard disk as you can get.
FAST TRACK
Without Optane acceleration, the Barracuda averaged 143.01MB/s read and 222.7MB/s write speeds in our huge files test. In the large files test, these dropped to 72.43MB/s read and 77.72MB/s write. The most strenuous small files test returned a 63.13MB/s read speed and 73.82MB/s write speed.
After installing our Optane Memory drive, the huge file read speed utterly exploded: it averaged 1,548MB/s overall, a massive improvement that blasts through maximum SATA speeds and heads into PCI-E SSD territory. Average write speeds only went up to 341.46MB/s, but that's still a sizable boost, and both results exceed Intel's own claimed speeds.
It's a similar story with the large and small file tests: none of the other results went as extremely and consistently high as the huge files read performance, but we still saw significant gains across the board. In the large files test, average read and write speeds went up to 232.69MB/s and 223.26MB/s respectively, both roughly a three-fold increase. Small file write speeds were raised to 133.72MB/s, with write speeds upping to 209.83MB/s – both more than double what the un-accelerated hard disk managed.
We should note that other than the huge read result, our Optane/Barracuda combo isn't actually all that fast – our SATA SSD Best Buy, the Samsung 850 Evo, is consistently faster in the large and small tests, and only costs £10 more. But still, squeezing 1,500MB/s out of a mechanical hard disk is a pretty impressive feat.
It's not just about increased file-transfer speeds, either. One of the Optane Memory's headline features is being able to cut down on booting and load times, and we found it delivers: with the Barracuda alone, our test rig took an agonising 42 seconds from pressing the power button to loading the desktop; after Optane was installed, this was cut in half to 20 seconds.
SLOW STARTER
We do wish it was easier to get running, though. You don't need to tinker with Disk Management, but besides the fiddliness of securing such a small thing in the M.2 slot, we had to update our motherboard BIOS, manually enable Optane compatibility in said BIOS (it's off by default), download and run an installation utility and perform multiple restarts before the Optane Memory was ready to go.
What's more, it's rather picky about what hardware it can work with. On top of the obvious need for a motherboard with an Optane-ready M.2 port, only recent Intel CPUs with a 200-series chipset (such as Kaby Lake or Skylake-X) are compatible; if you're still using Skylake, Broadwell-E or earlier, Optane is a no-go. It also requires Windows 10, so Windows 7 holdouts are out of luck as well.
While we were very impressed by how the Optane Memory breathed new life into our hard disk, for an all-new PC build, we'd rather have a standard SSD that can handle smaller files even better. Where it really shines is as an upgrade to an existing, HDD-based system; you can conveniently keep all your files on the same drive, but can double, triple or even decuple its speeds for relatively little money.
James Archer
Verdict
It's not entirely an SSD-beater, but Optane Memory succeeds in wrangling solid-state speeds out of an old hard disk
Specifications
CAPACITY 32GB • INTERFACE M.2 NVMe •CLAIMED READ 1,350MB/s• CLAIMED WRITE 290MB/s•WARRANTY Five years RTB • DETAILS www.intel.com
Editor choice
INTEL Optane Memory Review
It's not entirely an SSD-beater, but Optane Memory succeeds in wrangling solid-state speeds out of an old hard disk
Add your review