By Jove, an average tablet
It 's one of the frustrations of technology that electronic components manufacturers use get cheaper over time, but the price we pay for products falls much more gradually – or even, as we've seen with phones, actually goes up. Manufacturers would rather sell us better models at higher prices. But there's still a place for budget devices, and this is one of those.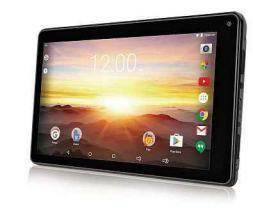 Our initial impressions of the Mercury 7L weren't good. At 12.5mm thick, it 's very chunky , and if it feels comfortably light, that's because it 's made of creaking plastic. We wouldn't feel too confident about its ability to survive drops and scrapes.
The small 7in screen – even phones go up to 5.7in these days – has just 1024×600 pixels, less than 720p HD resolution. We found the maximum brightness wasn't great, either , and colors looked muted and washed out. This ought to be a handy gadget for watching films, but it won't do them much justice.
We'd also question RCA's decision to name this tablet after the Roman god of speed. Its unnamed quad-core 1.3GHz processor is just about fast enough to run basic apps and games on Android 6.0 (Marshmallow), but swiping through menus feels sluggish, with long waiting times when opening apps. Scrolling can be choppy, and in our tests there was even a slight lag between us tapping the screen and the Mercury registering it.
Although none of this is fatal, it 's frustrating compared with the way a good tablet just works. We were frustrated all over again when the battery ran out after less than five hours.
This is one of the cheapest tablets around, but without doubt one of the slowest and clunkiest. Bear in mind that the built-in 8GB of storage will fill up as soon as you start accumulating apps, music, photos and videos, so you'll need a microSD card, at about a tenner for 32GB if you shop around, which adds 20 per cent to the price.
Other budget tablets aren't ideal either , but you could get the similarly equipped and more durable Amazon Fire 7 with Alexa, which we'll be testing soon.
If you prefer proper Android to Amazon 's limited version, consider the 7in Acer Iconia One, which has a 720p screen. Both of these have a two-megapixel rear camera, which the Mercury 7L lacks: there's just a low-res front camera for video chat and selfies.
VERDICT:
There's no avoiding that this tablet cuts corners, but for 50 quid it's worth considering as a basic option
ALTERNATIVE:
Acer Iconia One B1 7in
Available from Argos, this slimmer tablet has a sharper 720p screen and adds a basic rear camera
SPECIFICATIONS
1.3GHz quad-core processor • 1GB memory • 8GB storage • 7in 1024×600-pixel screen • 1-megapixel front camera • 802.11n Wi-Fi • Bluetooth 4.0 • micro USB port • MicroSD slot • Android 6.0 • 185x114x12.5mm (HxWxD) • 280g