Intel was never going to be without its performance crown for long, so with approriate pomp and ceremony Jacob Ridley introduces the new CPU king. Read our Intel Core i9 12900K Review.
Meet Alder Lake, Intel's all-new 12th gen processor architecture. It's a core part of what may well be the beginning of Intel's push-back against a resurgent AMD, but more than that, it's an extremely good chip. And that's really what counts, right? This Core i9 12900K represents the very best in Intel's desktop 12th Generation processors, and what that means is it houses the Alder Lake architecture in its most performant form.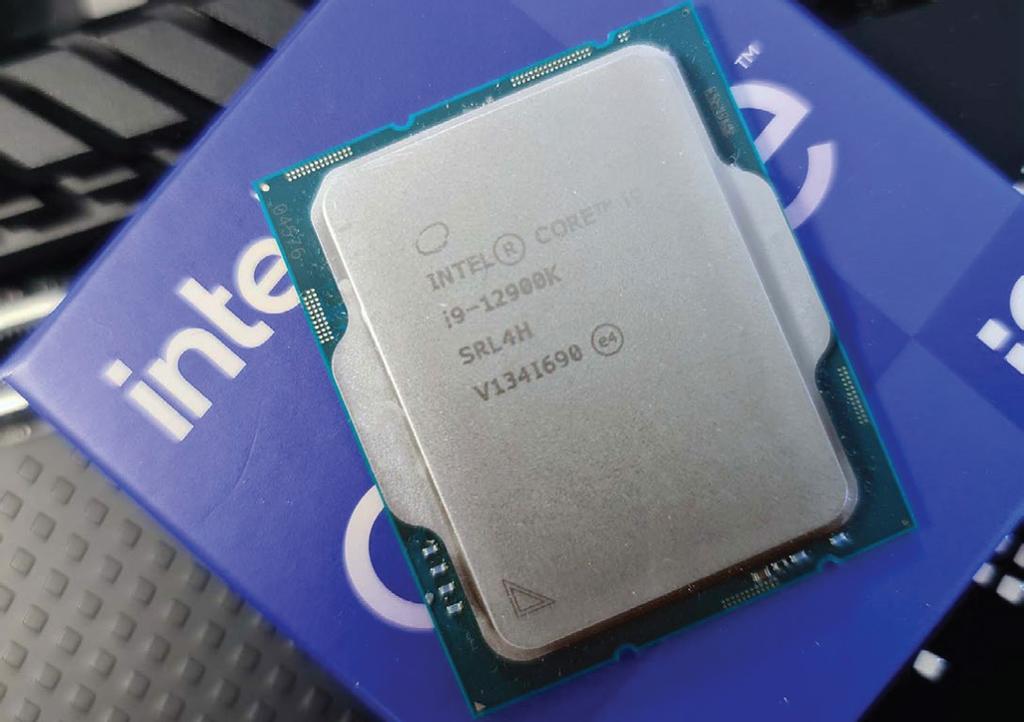 Alder Lake is Intel's first desktop processor to use the Intel 7 process node, which was previously referred to as Intel 10nm SuperFin. Smaller process means less power, less heat, more speed. The next notable change of the lot is the hybrid Core architecture. Intel is stuffing all of the K-series 12th Gen chips with two types of cores: Performance Cores (P-Cores) and Efficient Cores (E-Cores).
The P-Cores are based on the Golden Cove microarchitecture, which is one step beyond the Willow Lake microarchitecture that's found in Intel's 11th Gen mobile Tiger Lake processors. They offer the highest clock speeds of the two – on the Core i9 12900K these reach 5.2GHz at times – and nail down slick single-threaded speed for it. They're also built to minimise latency, and they're technically wider and smarter to catch up with the competition.
Each P-Core has access to 1.25MB of L2 cache. From there, they're hooked up to 30MB of Intel Smart Cache, which is also shared between E-Cores and onboard integrated graphics.
The Efficient E Cores are built on the Gracemont architecture, whose origins are in the Atom line-up. Traditionally built for lower-power, lower-performance processors, Intel has decided that its Atom architecture may find a use in more powerful processors after all, and the Core i9 12900K features eight Gracemont Efficient Cores in total. That's eight Efficient Cores clustered into two groups of four, with each group having access to 2MB of L2 cache. These then share access to that same 30MB of Intel Smart Cache.
Sounds like Arm's big.LITTLE design, and it is! But how can a bunch of Atom-like cores help in a desktop? For starters, they help increase the multi-threaded performance, but their key use is removing lighter loads from the P-Cores.
Say that you're a game streamer and you're trying to play a competitive title on one screen and beam your capture off to the world on the other. An Alder Lake CPU should be able to divvy up this workload in order to keep your P-Cores focused on delivering gaming frame rates and your E-Cores on streaming that over the web.
Sure, a processor with a straight big 16-cores is able to manage multiple workloads just fine, too, such as the Ryzen 9 5950X, but Alder Lake does have a few more performance boons up its sleeve and will cost less. The most significant is DDR5, which is already raising the bar for memory frequencies and performance, and Alder Lake is ready to meet it. You can buy a DDR4-compatible motherboard and skip over the burgeoning DDR5 market altogether. However, do bear in mind that you're stuck with one or the other. So make your pick and be prepared to live with it for the rest of your chip's life. Or get a new motherboard. Either way, your choice.
That brings us neatly on to the Z690 chipset in compatible LGA1700 motherboards. The new socket shouldn't come as much of a surprise if you've caught sight of the 12900K itself, because the heat spreader on this chip is larger than previous Core desktop processors. It does, however, mean that you'll need a new motherboard and cooler for Alder Lake, read more expense. These new boards do offer greater bandwidth for PCIe devices thanks to support for PCIe 5.0, which will mean more for SSD storage than anything else, although we're only just getting used to speedy PCIe 4.0, so this is spec'd out for the future.
Under the lid
The Core i9 12900K is a 16-core processor in an 8+8 design, which means it includes eight P-Cores and eight E-Cores. HyperThreading is enabled on the P-Cores, which doubles the available threads to 16, making for a total of 24 with the E-Cores factored in. That means the Core i9 12900K is tentatively a match for AMD's Ryzen 9 5950X in terms of raw core count, but has to make up a little lost ground in terms of threads.
The maximum Turbo clock speed of the P-Cores is 5.2GHz, with a base clock of 3.2GHz. You'll tend to see clock speeds somewhere between the two during realworld operation and depending on the workload.
For all its speed, the Core i9 12900K is also the most power-hungry of the Alder Lake lot, and, well, most desktop CPUs to date. Despite Intel's best efforts with the Intel 7 process node and the Efficient Cores, this chip is still quite thirsty at 241W Maximum Turbo Power (MTP). Intel says it's doing away with the TDP specification for the 12th Gen. The Processor Boost Power (PBP) of the Core i9 12900K is 125W, which is a match for the Core i9 11900K's TDP. Neither chip operates within this power envelope for the most part, however.
The Z690 motherboard you choose will play an important role in overclocking, but beyond that, the new chipset does have its benefits for everyone, overclocker or no. For starters, there's PCIe 4.0 support baked right into the Z690 chipset, up to 12 lanes of it. That accompanies the 16 lanes of PCIe 5.0 direct from the CPU, which means you shouldn't end up short of available bandwidth for your GPU and a handful of speedy SSDs. The availability of plenty of bandwidth also ensures there's the potential for plenty of USB ports, although that will depend on your board choice.
The performance
Looking at synthetic single-core performance with Cinebench R23 the Core i9 12900K delivers a tremendous leap in single-core performance over the best of Zen 3 in the Ryzen 9 5950X, so that's a return to form for Intel.
Pair its excellent single-threaded performance with the new wave of E-Cores and you're on to a winner in multithreaded performance, too. To our surprise, the Core i9 12900K manages to outmuscle the Ryzen 9 5950X – a straight 16-core chip – in Cinebench R23.
The Ryzen 9 5950X does hold its own in x264 encoding, however, and just edges out the Core i9 12900K in Shadow of the Tomb Raider and Civilisation 6's turn time benchmark, where AMD has been stronger in recent years. So it's not a flawless victory for Intel, though it is still a very convincing one.
Intel has clearly still had to push its Core i9 package to the nines to make sure it's capable of beating AMD's top Ryzen processor, and that means seeing much higher power draw under load than AMD's Ryzen 9 5950X during x264 v5.0 benchmarking, at a 53 per cent increase, and a 6°C increase in peak temperature. That's even in excess of the Core i9 11900K, the chip infamous for its high wattage demands.
The Core i9 12900K aims for the top spot as the best CPU performance, and by most standards makes it soundly. By hook and by crook, Intel has leapfrogged back in front of AMD in performance, utilising a new architecture, process, approach, and platform – all the things that we've been waiting patiently for it to do. The Core i9 12900K totally obliterates previous Intel generations by most metrics.
To tie a bow on it, if you're genuinely in the market for a new processor at this moment and you want the best performance, the Core i9 12900K is that and more. The Z690 platform offers the only way into the most cutting-edge technologies around today, and for PC builders it's sure nice to know you won't be falling behind the curve in 2022 once PCIe 5.0 and DDR5 are more widely adopted. The elephant in the room is the current lack of kernel support for the Intel Thread Detector, it's off putting, especially considering the high platform costs. By the time the kernel is potentially patched AMD will have a competing DDR5 offering with this extra speed.
specs
Socket: Socket V LGA1700
Process: Intel 7 10nm
Cores (P+E): 8+8
Threads: 24
P-cache: 640KB L1, 10MB L2, 24MB L3
E-cache: 768KB L1, 4MB L2, 6MB L3
P-core: 3.2GHz (5.2GHz boost)
E-core: 2.4GHz (3.9GHz boost)
Unlocked: Yes
GPU: UHD Graphics 770, 32 EU, 300MHz, OpenGL 4.5, OpenCL 2.1
Memory max: 128GB, No ECC, two-channel
Memory speed: DDR5 4,800MT/s, DDR4 3,200MT/s
PCIe: v5 16-lanes, v4 4-lanes
Processor Base Power: 125W
Max. Turbo Power: 241W
VERDICT
DEVELOPER: Intel
WEB: www.intel.com
FEATURES 10/10
PERFORMANCE 9/10
EASE OF USE 8/10
VALUE 8/10
The Core i9 12900K's clever new architecture and cuttingedge features provide multithreaded performance on tap.
Rating 9/10
Best Intel Core i9 12900K prices ?
MORE DEALS