After the Core i7-11700K proved almost as potent as the Core i9-11900K, but for much less cash, Alder Lake sees Intel's mainstream Core i7 chip go back to basics.
INTEL LGA1700 CPU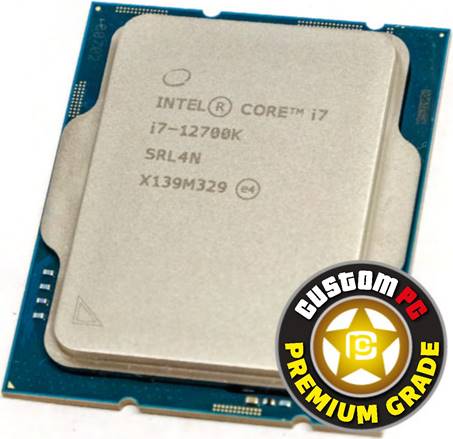 It has a lower core count than the 12900K, but also a much lower price, retailing for £ less than the Core i9-12900K.
It actually has the same number of P-cores as the Core i9-12900K, which should give it serious clout across the board. These can hit a peak of 5GHz at stock speed, which is 200 MHz lower than the Core i9-12900K, but it did hit this frequency regularly. In fact, we saw an all-core boost of 5GHz
SPEC
Base frequency
P-core 3.6GHz, E-core 2.7GHz
Max boost frequency
P-core 5GHz, E-core 3.6GHz
Core
Alder Lake
Manufacturing process
10nm
Number of cores
8 x P-cores, 4 x E-cores,
(20 threads)
Hyper-Threading
Yes
Cache
25MB L3, 12MB L2
Memory controller
Dual-channel DDR4 3200MHz and DDR5 4800MHz
Packaging
LGA1700
Thermal design Power (TDP)
125W
Features
Turbo Boost Max Technology 3, Turbo Boost 2, FMA3, F16C, SHA, BMI / BMI1 + BMI2, AVX-512, AVX2, AVX, AES, SSE4a, SSE4, SSSE3, SSE3, SSE2, SSE, MMX
regularly in multi-threaded workloads too.
The E-cores usually sat at 3.6GHz in our tests, but according to Intel they can reach 3.8GHz, which is a 100MHz climb down from the flagship. It actually has fewer E-cores than the 12900K too, at four compared to eight, so in total it has 12 cores. The result is a CPU that has 20 threads, which is just four short of the Core i9-12900K. You get a little less cache too, with 25MB L3 and 12MB L2, but other specifications are the same.
The 12700K's score of 78,744 in the image editing test saw it outperform every AMD CPU by a few thousand points, and it was also much faster than the Core i9-11900K while not sitting too far behind the Core i9-12900K. Meanwhile, our heavily multi-threaded video encoding and Cinebench tests saw it outgun the Ryzen 9 5900X, which cost £ more at the time of writing, and the 12700K was only a couple of thousand points behind the Ryzen 9 5950X.
The single-threaded test in Cinebench saw it come close to matching the massive score of the Core i9-12900K, and it was miles ahead of older CPUs. Its minimum 99th percentile frame rate of 105fps in Far Cry 6 was the fastest on test and a good 10fps higher than any AMD CPU, while in Dirt 5, the 12700K again had an edge over AMD and closely matched the Core i9-12900K.
Overclocking saw us hit and all-core frequency of 5GHz on the P-cores, but we decided to leave the E-cores alone, partly due to running out of time, but also as they didn't seem to offer much of a boost with its bigger sibling. This tweak still saw the Cinebench R23 multi-threaded score rise to 24,168, which again bettered the overclocked Ryzen 9 5900X's result, while 3fps was added to the 99th percentile frame rate in Far Cry 6.
What's more, our system drew just 248W at stock speed with the 12700K installed – that's just a little higher than the Ryzen 9 5900X and this figure only rose by 30W after overclocking.
Conclusion
The 12700K is the best Core i7 CPU we've seen since the Core i9 brand first landed on the mainstream desktop in the Coffee Lake era. The Core i9-12900K still has its place with noticeably better multi-threaded performance, but the Core i7-12700K still offers superb lightly threaded grunt and top gaming performance. If you need a CPU for gaming and a fair amount of content creation, but can't stretch your budget to the Core i9, it's a fantastic alternative that also offers better value than AMD's current options.
ANTONY LEATHER
VERDICT
A fantastic CPU for a reasonable price – it's unbeatable in games and no slouch in content creation too.
OVERALL SCORE 94 %
SEVEN WONDERS
+ Fantastic gaming performance
+ Faster and cheaper than Ryzen 9 5900X
+ Much cheaper than Core i9-12900K
SEVENOAKS
– Limited overclocking headroom
– Core i9-12900K faster at multi­threading
– New motherboard and socket
Best INTEL CORE i7-12700K prices ?
MORE DEALS