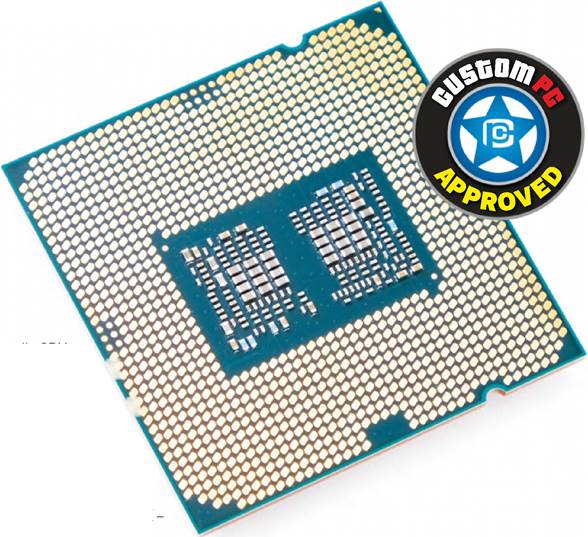 LGA1200 CPU
SUPPLIER ebuyer.com
"One main reason why Intel's CPUs haven't been that competitive recently is their price. The Core i5-10600Kand Core i9-10900Kwere good CPUs, but they were just too expensive, with the latter not leaving you with any change from £, while the Ryzen 9 5900X offered two more cores for the same money. Intel's answer is the Core i9-10850K a 10-core CPU at a lower price. Read our INTEL CORE i9 10850K Review.
Spec
Base frequency 3.6GHz
Max boost frequency 5.2GHz
Core Comet Lake
Manufacturing process 14nm
Number of cores 10 x physical (20 threads)
Cache 20MB L3, 10 x 256KB L2
Memory controller Dual-channel DDR4, up to 2933MHz
Packaging LGA1200
Thermal design power (TDP) 125W
Features
Thermal Velocity Boost, Turbo Boost Max 3, Turbo Boost 2, FMA3, F16C, SHA, BMI / BMI1 + BMI2, AVX-512, AVX2, AVX, AES, SSE4a, SSE4, SSSE3, SSE3, SSE2, SSE, MMX
What's more, it's in stock in the shops, which is more than you can say for AMD's Ryzen 9 5900X.
In the Core i9-10850K's favour, it has the same ten cores and20 threads as its more expensive siblings and surprisingly hefty frequencies, despite coming from lower-binned rungs of Intel's production line. It has a 5.2GHz peak boost frequency, which is only 100MHz short of the flagship, with the same deficit on the base frequency and Turbo Boost Max 4 and 2 speeds.
At stock speed, the Core i9-10900K's all-core boost sat at 4.9GHzin our water-cooled test system, and again it was a 100MHz deficit with the Core i9-10850K installed, which sat at 4.8GHz in Prime95 with AVX instructions disabled.
Temperatures didn't top 75°C here, although our system was water-cooled.
We're still dealing with a 14nm CPU here, though, and there haven't been any significant changes under the hood. By the time you read this, Intel's new Rocket Lake CPUs will be approaching too. You also get the same 20MB of L3 cache as the 10900K, with 256KB of L2 cache for each core.
In short, apart from the possibility of a slightly higher overclock thanks to preferential binning, the Core i9-10900K doesn't offer any benefit on paper that will result in noticeably more performance. In terms of price, its main competitors are AMD's Ryzen 5 5600X and the Ryzen 7 5800X.
Performance
At stock speed, the Core i9-10850K largely performed as expected, with scores nearly identical to the Core i9-10900K. The image editing score was within a few hundred points, and the video editing scores of 730,663 and 726,017 were neck and neck, as were the overall system scores. There were barely 200 points between the
Performance result

two chips in the Cinebench multi-threaded test too. The single-threaded test of 522 was a little way behind the Core i9-10900K's result of 532, but the game results were very similar.
Overclocking also proved very fruitful, and our sample actually managed to better the 5.1GHz all-core overclock we achieved with the Core i9-10900K, reaching 5.2GHz with 1.35V, although we did need to apply some fairly high loadline calibration to get there. Still, this means we see no drop in peak boost frequency, since 5.2GHz is the same clock the CPU can achieve at stock speed. The already hefty power draw rose from 341W for the system under load to 481W though.
The boost from overclocking was significant, with the Core i9-10850K leapfrogging the Core i9-10900K in the image editing and video encoding test, and coming within the margin of error overall.
In games, while the Core i9-10850K was slower than the Ryzen 9 5800X at stock speed in Far Cry New Dawn, it leapfrogged all the AMD CPUs we've tested once it was overclocked, with the 99th percentile frame rate rising from 97fps to 111fps, compared to 104fps for the Ryzen 9 5800X. Metro Exodus, meanwhile, saw the 99th percentile frame rate rise from 43fps to 47fps – again, a faster result than the AMD CPU.
Conclusion
The Core i9-10850K is an interesting CPU for a few reasons. Firstly, as it has two more cores than the Ryzen 7 5800X, it offers similar multi-threaded performance for less cash. AMD is clearly offering far more performance per core here, but in terms of bang for your buck, Intel has a strong case. It's also not likely to be noticeably slower in games, but even our comparatively modest RTX 2070 Super showed a definite advantage over the AMD CPUs at 1080p. Above this, though, the differences will get smaller.
The issue for Intel is that its IPC and single-threaded performance – while excellent at launch – is no match for Zen 3. The Core i9-10850K also has no support for PCI-E 4 for the latest SSDs either, unlike AMD's Zen 3 chips. AMD's CPUs had massive leads in our image editing test, and will have leads in other games and lightly threaded applications too.
For a pure gaming system, the Ryzen 5 5600X is a better bet for the money, while the Ryzen 7 5800X costs £ more but has that extra lightly threaded grunt. Still, if £ is your limit, the Core i9-10850K offers great performance when it's overclocked, where it can still match AMD's latest chips.
ANTONY LEATHER
VERDICT
Editor choice
INTEL CORE i9 10850K Review
As quick as a Zen 3 CPU when it's overclocked, and it offers much better value than Intel's other 10-core K-series CPUs.
PROS
Good overclocker
Matches Core i9-10900Kin most tests
As quick as AMD CPUs when overclocked
CONS
AMD CPUs faster at stock speed
Poor power efficiency
No PCI-E 4 support
Add your review
Best INTEL CORE i9 10850K prices ?
MORE DEALS