Intel Core i3-8350K review – Driving the budget concept in a whole new direction
There are two important factors when it comes to Intel's Core i3-8350K: Firstly, it is unlocked, and secondly. It's good that you can overclock it, but that's unquestionably a lot of money for a chip that most of us would perceive as being a budget offering. For context here, this isn't the only eighth generation Core i3 currently available, as the Core i3-8100 rolls in at a much more palatable —Intel clearly knows what sort of price it can expect to charge for budget hardware, even if it has decided to ignore that wisdom here.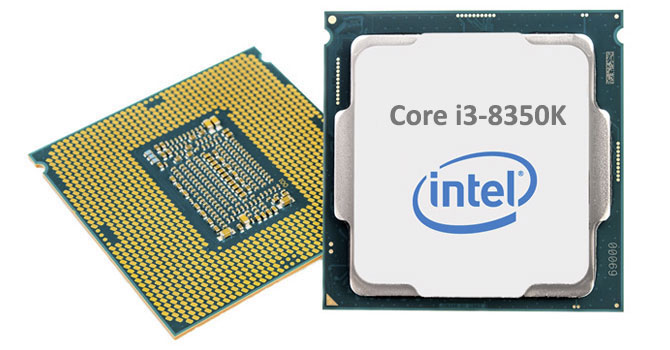 Pricing aside, it's worth going over what your cash does actually get you. Under Intel's new branding, a Core i3 is a quad-core processor that lacks Hyper- Threading (just like the Core i5). but also lacks a Turbo mode. To be fair, the base clock frequency of 4GHz is healthy enough, even if it won't be jumping up and down as more/fewer cores are used. As we've mentioned, though, this CPU also happens to be unlocked, so if you want to push the chip harder, you can. And you really can.
PROS:
Impressive performance
high base frequency
great overclocking potential
CONS:
Expensive
lacks Turbo
motherboards are pricey
no cooler
Core i5-8400 is better value

4 Cores / 4 Threads
4.00 GHz / 8 MB Cache
Compatible only with Motherboards based on Intel 300 Series Chipsets
Intel Optane Memory Supported
Intel UHD Graphics 630
Last update was on: 2021-10-28 5:00 pm
4 Cores / 4 Threads
4.00 GHz / 8 MB Cache
Compatible only with Motherboards based on Intel 300 Series Chipsets
Intel Optane Memory Supported
Intel UHD Graphics 630
You get 8MB of cache to help keep things ticking along nicely, support for up to 64GB of DDR4 RAM, and integrated graphics in the form of Intel's UHD Graphics 630, which has a nominal base clock of 350MHz, capable of hitting a maximum speed of 1.15GHz. While this obviously can't compete with dedicated graphics silicon when it comes to driving the very latest games, it does mean that you can build a machine without a discrete GPU. which can help keep the overall price and size of the machine down.
There is one small problem when it comes to that notion of budget, though, and it's that your options on the motherboard front are limited to a single chipset, and that's the enthusiast-class Z370. There is a surprisingly good spread of options here, but with even the cheapest starting out, we're some way off the starting point that formed the basis of many a budget Core i3 build using the B250 mobos from the previous generation. More budget-conscious chipsets should be on the way, but for now, the combo of this chip alongside the cheapest Z370 board starts out at just under $300. Gulp.
Intel Core i3-8350K review: PERFORMANCE PART
We may have reservations about how this chip is being pitched, but when it comes to performance, our opinion is much more straightforward: It's great. That high base clock speed combined with four real cores makes for some great results. Indeed, in testing, this chip was just a shade off the performance offered by the last- generation Core i5-7600K. Here, we've compared it to the closest priced chip from AMD, the Ryzen 5 1500X, which is a quad-core chip as well, albeit with SMT (Simultaneous Multi-Threading), so it can handle eight threads. It's a neck and neck fight, with the added threads of the Ryzen helping it to win in some areas, but the raw grunt from Intel's single-core performance trumping Team Red elsewhere.
When it comes to overclocking, we managed to get our silicon running at 4.9GHz, with only a little extra voltage (1.4V), resulting in a Cinebench score of 784 (with a single-thread score of 205). Impressive figures, even if you will need to spend more on your cooler to hit that.
The real problem for this unlocked Core i3 is Intel's own Core i5-8400, a chip that costs just more, yet boasts 50 percent more cores. The Core i5 also has more cache and a lower TDP, at 65W as opposed to 91W. Of course, you can't overclock that chip, which is a definite win for the Core i3- 8350K, but on balance, we'd still prefer to have the extra cores. -alan dexter
Intel Core i3-8350K review: SPECIFICATIONS

Base Clock
4.0GHz
Turbo Clock
N/A
Cores/Threads
4/4
Lithography
14nm*
Cache
8MB
Memory Support
—

64GB DDR4-2400

Memory Channels
2
Max PCIe Lanes
16
Graphics
Intel UHD Graphics 630
Graphics Clock
1.15GHz
TDP
91W
Intel Core i3-8350K review: BENCHMARKS
| | | | |
| --- | --- | --- | --- |
| | Intel Core i3-8350K | AMD Ryzen 5 1500X | Intel Core i5-8400 |
| X265 Benchmark (fps) | 15.92 | 15.85 | 22.20 |
| Cinebench R15 Single (Index) | 169 | 154 | 165 |
| Cinebench R15 Multi (Index) | 666 | 807 | 949 |
| Fry Render (Seconds) | 352 | 329 | 230 |
| AIDA64 Memory Latency (ns) | 58 | 80 | 69 |
| Total War: Attila (fps) | 40 | 36 | 41 |
| Far Cry Primal (fps) | 77 | 75 | 77 |
| 3DMark: Fire Strike (Index) | 15,725 | 14,528 | 15,405 |
| Power Draw Idle (Watts) | 50 | 42 | 47 |
| Power Draw Load (Watts) | 117 | 101 | 112 |
Best scores are in bold. Our test bed consists of an Asus Maximus X Hero (Intel) or MSI X370 Gaming Pro Carbon (AMD). 16GB (2x 8GB) of Corsair Dominator Platinum DDR4. an Nvidia GeForce GTX 1080, and a Samsung 850 Evo 500GB SSD. All games were tested at 1440p on the highest graphical profile.
Intel Core i3-8350K review
PROS
Impressive performance
high base frequency
great overclocking potential
CONS
lacks Turbo
motherboards are pricey
no cooler
Core i5-8400 is better value
Add your review
|
Read reviews and comments