A space-saving Full HD screen
In case you were wondering, the first part of the name 'Iiyama' is pronounced 'ee'. and the last part sounds like 'yammer' if you're Japanese, although nobody will mind if it comes out as 'yarmer'. I low you pronounce 'GE2288HS-B1' is up to you. This budget monitor is on the small side, at 21.5in, but with a Full HD resolution it looks sharper than most 27in screens, if at the expense of text and icons that look rather small. This could make it a good choice if you have limited space but you still want a full Windows desktop.
A relatively small screen, but the Full HD resolution and fast response times make for a sharp picture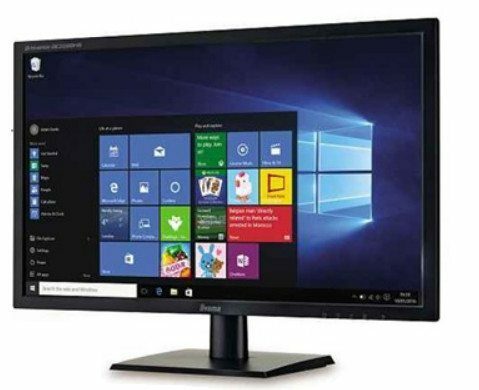 The GE2288HS-B1 incorporates FreeSync technology, which helps games look smooth if your PC has a recent AMD graphics card. It won't help with anything else, because it only kicks into action with the variable frame rates that occur when the graphics processor is rendering 3D scenes in real time. It's unusual to see FreeSync in a monitor that uses HDMI rather than a DisplayPort connection, and we found it didn't work so well, leaving some 'tearing' effect still visible. As a result, we wouldn't choose this model just for that feature, but if you don't need it anyway you can ignore it.
You don't have to be a gamer to enjoy a fast pixel-response time, which prevents •ghosting' when the screen displays fast-moving objects. The GE2288HS-B1 was fast, even more so when we upped its Overdrive setting to. We also found the Black Tuner option handy: this lightens the darkest areas, which sometimes helps because this isn't the brightest of screens.
The fast response is possible because this panel uses a TN panel rather than an IPS one. The downside is that the picture looks right only from the correct vertical angle. The stand tilts to make this easy to achieve, although it feels a little wobbly.
The screen reproduced just under 90 per cent of the sRGB color range, which is acceptable, but was colder (more blue) than it should have been. You can adjust this, if you can put up with the imprecise touch-sensitive menu buttons. Weak stereo speakers are built in. but there's no USB hub.
ALTERNATIVE:
This 23in IPS panel Is plasticky but has pleasingly narrow bezels and a slightly better picture