Gemini PDA Review: Back to the future?
Gemini PDA Review – Remember the Psion? No, not the Psion Organiser, the boxy grey glorified calculator that every shop assistant and delivery driver toted in the 1980s. A decade later, its British maker produced the Series 5, a touchscreen pocket computer with a proper keyboard. This short-lived but enduringly popular format was the invention of industrial design consultant Martin Riddiford, and if the Gemini PDA seems oddly reminiscent of it, that's because he's worked on this new personal digital assistant too – and this time it runs Android.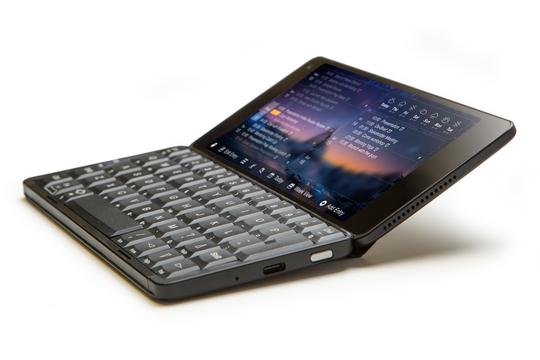 A mini PC and phone with great screen, but many design flaws
First impressions are good. The Gemini is only a bit bigger than a large mobile phone, albeit noticeably heavier. The top part is basically a 6in Android phone sideways, which has a very sharp, bright screen that covers 97 per cent of the sRGB range. Colours aren't as accurate as they might be, but that's being picky – it's a very decent screen. The processor inside is mid-range but perfectly adequate, and battery life may not compare with that of most phones, lasting just over 11 hours in our video-playback test, but that's longer than laptops and tablets. There are two USB Type-C ports, one of which is used for charging, and a microSIM slot for 3G/4G, which not only enables internet access but lets you use the Gemini as a phone. That feels fine, but with the lid shut you can't tell who's calling you except by an arcane system of blinking LEDs. A version with only Wifi brings the price down.
Android proves to be a double-edged sword. On the plus side, you have millions of apps to choose from, including Microsoft Office. But most of them don't suit landscape orientation, and nor does web browsing, which is tedious on such a wide screen (you can only read a few lines of text before having to scroll) and awkward if you try to hold the Gemini vertically.
The keyboard doesn't fold all the way back, so it's always sticking out at the side. Cleverly, you can access Google Assistant even with the device closed. When you open it, though, it's a pain to have to tap your passcode into the touchscreen (the keyboard won't work for this, and there's no fingerprint reader).
Surprisingly, the biggest disappointment is the keyboard. A common problem for crowdfunded projects like the Gemini is that they don't have the time or resources for comprehensive prototyping, and there's many a slip between the best of design intentions and execution on the production line. The Gemini's space bar is rather short, but would be manageable if it reliably typed one space every time it was hit. Ours was often likely to type two, and other users have reported the same problem. Nor is the feel of the keys or their spacing ideal, and overall, even after a week, we only managed half our normal PC typing speed, barely faster than on a phone screen.
Via USB Type-C, you can connect the Gemini to a monitor and full-size keyboard while at your desk. Windows 10 Mobile phones used to support this, and some of Huawei's phones do now, but the Gemini's Android installation doesn't. Instead, this feature will be activated by a 'coming soon' option to install Debian Linux. That might be interesting, but like Android, Linux is a general-purpose operating system, not one written specially for this device, as with the Series 5. It seems like missing the point.
We love the idea of a mobile device with a real keyboard, and the Gemini PDA is tantalisingly close to making it happen. Some users are satisfied with it. But for now, we're not convinced.
VERDICT:
The keyboard is the whole point, so its poor quality is a deal- breaker, but we'll be first in the queue to try the next version
Best Gemini PDA prices ?
MORE DEALS

SPECIFICATIONS
Cortex 10-core processor with Mali-T880 graphics • 4GB memory • 64GB flash storage • 5.99in 2160×1080-pixel screen • 5-megapixel front camera • 802.11ac Wi-Fi • Bluetooth 4.1 • MicroSD card slot • 2x USB Type-C ports • Android 7.1 • 14x171x79mm (HxWxD) • 304g • One-year warranty