Editor choice
Lenovo Legion Y720 Review: Master of one
Lenovo Legion Y720 Review – Most of the laptops we test come from international brands, and most of the desktop PCs are built in the UK. There's a reason for that. To make them small and light, laptops have to be very carefully designed and are very fiddly to build. It helps if you're a big company that can put a team of designers to work on this season's model, order any special parts you need, set up your production line and churn out units until next season comes round. The catch is that when prices fluctuate and technology advances in the meantime, there's not much you can do to take advantage.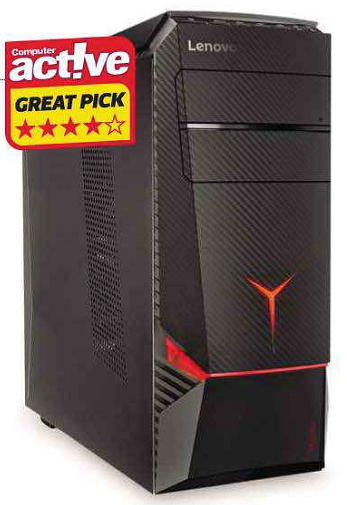 Desktop PCs, on the other hand, are quite straightforward to assemble from components available on the open market. As a smallish firm, you can adjust specifications and prices weekly to tweak performance and offer the best value.
That makes it easy to beat rival PCs from bigger, slower operations. Like this one.
Lenovo, the Chinese company that bought IBM's PC business and is now best known for its innovative laptops, has chosen a rather curious specification for this all-AMD system, and one that won't impress the gaming crowd that it's primarily aimed at. For the rest of us, though, it's an inadvertent win.
Most of Lenovo's budget has been spent on the eight-core Ryzen 7 1800X CPU, served by a generous 16GB of memory, at the expense of the graphics card – a decidedly average Radeon RX570. That meant we struggled to play 3D games at anything beyond Full HD resolution, but in demanding creative and number-crunching tasks we got all the power we could possibly expect in this price bracket, competing on some counts with systems costing considerably more. Other configurations of the Y720 are available with lesser processors and better GeForce GTX graphics, but at higher prices.
Unlike fancy gaming systems from the likes of Dell and HP, the case is a conventional sheet-metal affair with not particularly great airflow, but there's a nice simple opening mechanism and lots of hand screws to avoid hassle. Expansion potential is limited, however.
A DVD writer is included as well as a 1TB WD Blue hard drive and a 256GB Samsung PM961 SSD, which makes good use of the single M.2 connection with very fast read and write speeds. There's also USB 3.1 Gen2 for fast external storage.
Overall, you're getting higher general- purpose performance than from most £1,000 PCs, without compromising so much on graphics that you'll regret it.
Legion Y720 Review: VERDICT
With a good CPU for the money, adequate graphics, some nice touches and no major flaws, this is a decent buy
Best Lenovo Legion Y720 prices ?
MORE DEALS

Legion Y720 Review: ALTERNATIVE
Omen by HP 880-028na
With a more bespoke case and faster RX580 graphics, this is a well- rounded PC
Legion Y720 Review: SPECIFICATIONS
AMD Ryzen 7 1800X processor • 16GB memory • 256GB SSD • 1TB hard drive • 4GB AMD Radeon RX570 graphics • USB 3.1 Gen2 port • USB Type-C port • 6x USB 3.0 ports • 2x USB 2.0 ports • 2x HDMI ports • 2x Display Ports • SD card reader • Gigabit Ethernet • Windows 10 Home • 479x207x504mm (HxWxD) • Two-year warranty