Cyberpower Ultra 3 gtx review – Like Intel, AMD arranges its processors into series numbered 3, 5 and 7 (for basic, mid-range and expensive). This desktop PC is based on AMD's Ryzen 3 2200G, which, like the latest rival Intel i3s, has four cores, redefining 'basic' as 'really quite good'. It also has built-in Radeon Vega 8 graphics, making 3D gaming possible without a separate graphics card. But Cyberpower has installed a separate graphics card anyway, and the GeForce GTX 1050 Ti is another example of how bottom of the range needn't be a bad thing.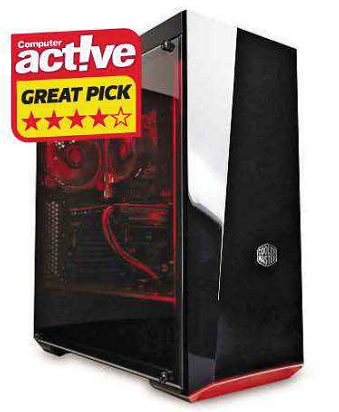 Wise choices make for a good all-purpose PC and smooth gaming
In our tests, the 2200G didn't quite match the i3-8100 in the Palicomp Pulsar GT, but it was still slightly faster than the impressive- sounding i7-8550U in the new top-end Dell XPS 13 laptop. That might seem surprising, but it shows the advantage of choosing a desktop PC, which doesn't need to squeeze everything into a small space or limit demands on battery power.
Games ran smoothly, only requiring a few compromises on quality settings in Full HD. You may remember the Palicomp Pulsar used an overclocked version of the GTX 1050 Ti card, though, and the difference was especially noticeable in virtual-reality scores, in the unlikely event that you plan to add a VR headset.
Cyberpower has spent a bit extra instead on an SSD, a very wise choice to speed up booting, loading programs, and other bits of behind-the-scenes, disk-to- memory-and-baek-again activity that can make a fast system feel slow. It's not the quickest around, but enough to make a difference, and its modest 120GB capacity is supplemented by a standard 1TB hard drive. To add any more storage, you only have one free 2.5in mount, and no M.2 slot for the new breed of ultra-fast SSDs. External ports are also limited to USB 3.0, and the small microATX inside the medium-sized ATX case has no free PCI-Express xl6 or memory slots (although Cyberpower can install 16GB), 802.11ac Wi-Fi is optional.
The case, also used by Palicomp, is a nice shiny affair, with a smoked glass front and a big side window through which you can admire the illuminated inner workings. If you want reasonable general performance and GeForce support for games and compatible graphics programs, the Ultra 3 GTX is a fine buy.
VERDICT:
Not the fastest processor nor the most upgradable configuration, but for the money this is a very good all-purpose PC
Editor choice
Cyberpower Ultra 3 gtx Review
Not the fastest processor nor the most upgradable configuration, but for the money this is a very good all-purpose PC
Add your review
MORE DEALS

ALTERNATIVE:
Palicomp i3 Pulsar GT
This lacks an SSD, but the i3 performs well and the full-size motherboard has more room for expansion
SPECIFICATIONS
3.5GHz AMD Ryzen 3 2200G quad-core processor • 8GB memory • 4GB MSI GeForce GTX 1050 Ti graphics card • 120GB SSD • 1TB hard drive • 6x USB 3.0 ports • 2x USB 2.0 ports • PS/2 port • Gigabit Ethernet • HDMI port • DisplayPort • 2x DVI ports • Windows 10 Home • 480x210x500mm (HxWxD)