Synology call this a value series NAS box, but packing 10GbE ports and that beautiful interface, Mark Pickavance thinks it punches far above its weight.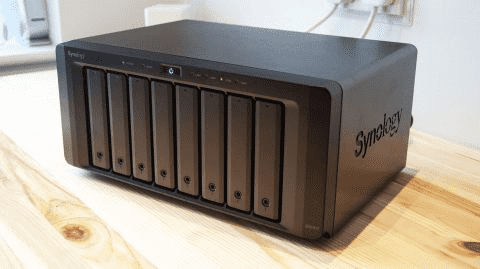 The DiskStation can handle up to eight drives. It's a beautiful sight…
Specs
» Processor: Annapurna Labs Alpine AL-314 (quad-core, 1.7GHz)
» RAM: 4GB DDR3L, expandable to 8GB
» Storage: 8x 3.5-inch or 2.5- inch SATA drives
» LAN ports: 2x 1GbE (RJ-45), 2x 10GbE (RJ-45)
» External ports: 2x USB 3.0, 2x eSATA
» Expansion: via eSATA (two DX517) 10 extra drives
» Weight: 5.31kg without drives
» Size: 157×340 x233mm
From the outside the DS1817 is practically identical to the design of the DS1815, which is the unit that this offering supersedes.
They both accept up to eight 3.5- inch or 2.5-inch SATA drives, giving a potential array of 80TB with current drive options. With optional external expansion boxes (DX517) you can add a further 10 drives and boost total capacity to 180TB.
To get all those drives to spin in unison, Synology utilized the Annapurna Labs Alpine AL-314 CPU – a quad-core Cortex-A15 SoC clocked at 1.7GHz. The system comes with 4GB of DDR3L memory in a single socket, and an easily accessible second socket enables that to be increased to 8GB.
Network connectivity is excellent, having both dual 1GbE LAN ports and dual 10GbE ports. There are also two eSATA ports for connecting the external drive enclosures, and a pair of USB 3.0 Type-A ports for connecting portable storage or a USB peripheral (printer) that you may wish to network share.
Being a 'Value Series' design, the DS1817 targets the advanced home user or small workgroup deployment. Traditionally, these machines aren't upgradeable and don't contain highend features. The DS1817 flies in the face of all those criteria, being the first Value Series DiskStation that Synology has made with user accessible RAM sockets and 10GbE networking.
Under a single 1GbE connected client experiences about 110MB/s reading and writing. A single client with dual gigabit ports channel bonded at both ends boosts that to 200MB/s performance. According to Synology the DS1817 can achieve 1,577MB/s reads and 739MB/s writes.
While it's possible for a single 10GbE connected client to see greater than 350MB/s performance, the DS1817 was designed to share network bandwidth rather than focusing it on a single computer. In the file serving function, the DS1817 can handle 16 or more active users when using a 10GbE downlink to a switch that connects 1GbE clients.
Yet the deal maker for many people is its extensible OS: DSM 6.1. This operating system is consistent across Synology's NAS range, with the only differences being the precise selection of apps that each device supports based on its hardware spec. The DS1817 can handle a range of apps, and supports commonly used virtualisation environments like VMware, Citrix, and Microsoft Hyper-V certificates.
Creating a mail server, Radius server, VP Server, Apache Web Server, Drupal platform or dozens of other functions are just a few clicks away. Other brands have tried to ape DSM in their platforms, but Synology's OS stands out as having the best third-party application support and excellent core functionality.
Being ARM-based, this is never going to compete with the Xeon-based servers, but for those who want reliable file serving with lots of capacity, or to meet a specific need, there's plenty here to recommend.
DiskStation DS1817 Review
Features 10/10
Performance 9/10
Ease of use 9/10
Value 7/10
» Synology's device offers a powerful alternative for those who want high performance, external storage.
Rating 9/10
– Network connectivity is well catered for.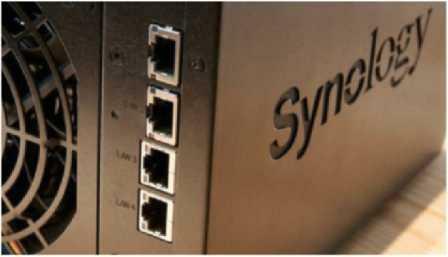 DiskStation DS1817 Review
Synology's device offers a powerful alternative for those who want high performance, external storage.
Add your review