Denon re-imagines home theatre for the HEOS faithful. Steve May wonders if there are strings attached…
HEOS AVR starts an AV cable cull
With the HEOS AVR, Denon has taken everything you think you know about AV receiver design, and filtered it through a multiroom prism. Pointless legacy inputs and 1990s design chic are traded for multiroom streaming and app control. You don't even have to trail speaker wire around your living room.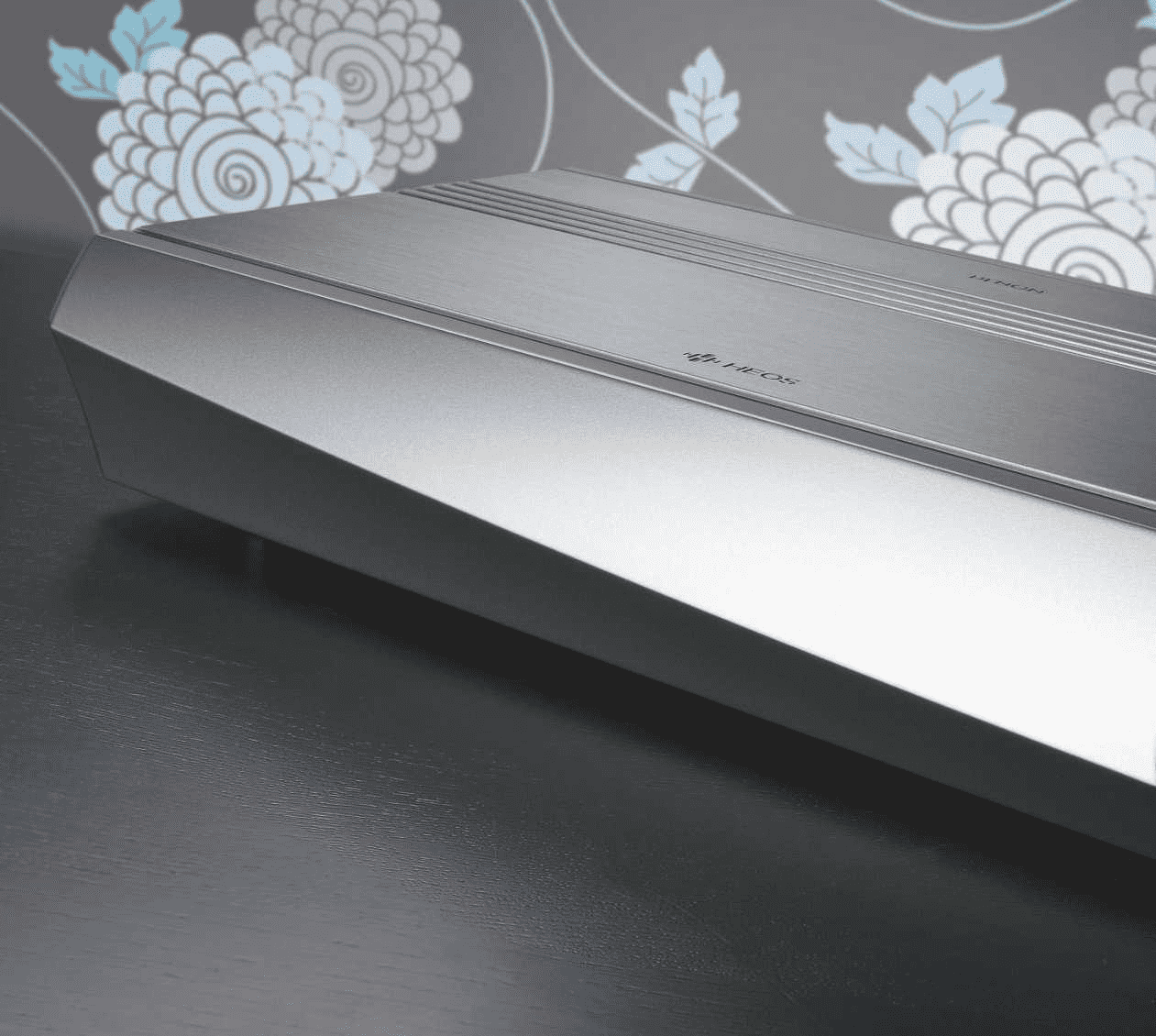 Few would argue that the AVR is long overdue a rethink, but is this the right direction for tomorrow's home cinema?
Certainly in terms of design, I think the brand has knocked it out of the park. This component looks like no AVR before it. Most obviously, it lacks a display. The solid extruded aluminium chassis has a sculpted twist. Only a volume knob to the right gives the game away.
Build quality is reassuringly substantial. The flimsy top plate so common on many receivers has been replaced by a sturdy roof, distinguished in premium gun-metal grey.
The receiver is also relatively compact, standing just 90mm tall. You shouldn't have any problem accommodating it on standard TV furniture.
The rear panel is refreshingly/alarmingly (delete as appropriate) economic. There are four HDMI inputs, and a single ARC-enabled output, all of which are 2.0a spec with HDCP 2.2 support. Additionally, there are just two digital audio inputs (coaxial and optical), plus analogue stereo, 3.5mm minijack, a lone USB and Ethernet LAN. You're hardly spoilt for choice. But with Bluetooth onboard and integrated Wi-Fi, does that really matter?
Typical system configuration might be to use the HDMI inputs for Blu-ray, games consoles and a set-top box, while the minijack input provides handy access for an Amazon Echo Dot.
While this HEOS amp is forward-thinking, it's not entirely committed to the home cinema cause. What we have here is a bare-bones 5.1 design. There's no Dolby Atmos support – probably because the HEOS speaker ecosystem doesn't support it. This makes that price tag look a bit spicy.
But if you buy into the HAVR (as we'll call it), then you have to buy into the broader topography of HEOS, otherwise the package makes little sense.
While there are speaker terminals for all five channels, the rational behind this receiver is that only the front soundstage will be wired. HEOS wireless speakers are expected to perform surround duties, with a wireless HEOS subwoofer providing deep bass.
The other central conceit behind the HAVR is that users will setup and manage it using the HEOS app. For everyday control, a simple IR remote is supplied. This offers basic input selection, volume adjustment and track selection.
'In terms of design, Denon has knocked it out of the park, and build quality is reassuringly substantial'
Shifting setup from onscreen menus (of which there are none) to an app heralds a very different user experience. The procedure mirrors the routine normally followed when setting up a multiroom system.
Don't worry, be 'appy
I took the easy first step of connecting the AVR to my network by Ethernet. The app found it immediately.
While it's a little counter intuitive to set up an AVR without a traditional onscreen UI (particularly given how friendly the usual Denon setup mode is), the now-and-next instructions are easy to follow.
During installation, the AVR also learns your TV's volume controls, so you can take basic control with a regular doofer. The IR receiver is cleverly hidden in the AVR's front foot.
For this audition, the receiver was partnered with a pair of HEOS 1 speakers at the rear plus the dedicated HEOS subwoofer. During setup, I configured the amp by telling it I would add this trio later. With inputs duly arranged and basic functionality established, I then used the Add Device command to place my three wireless HEOS speakers onto the same network (initially connecting a smartphone via 3.5mm lead to impart the Wi-Fi password). Once I had grouped them with the HAVR, I had a working 5.1 system.
Obviously building all this as intended is a costly affair. The rear HEOS 1s sell for a pop while the HEOS subwoofer. There is a conventional subwoofer output, if you don't need the HEOS option.
Any HEOS speakers can be paired for wireless duties, and they can be either HS1 or HS2 iterations. If you were any early HEOS adopter and have since moved to HS2 (high-res capable) models, delegating your original HS1s for rears could make a lot of sense.
It should be stressed that when the sub and HEOS 1s are grouped with the AVR, they are not on any wider HEOS network. They have a direct 5GHz connection to the amp, with an operational range of around 10m.
PRODUCT:
5.1-channel multiroom AVR with wireless surround/ subwoofer support
POSITION:
Separate to Denon's regular AVRs
PEERS:
Yamaha RX-V483; Marantz NR1608

The default when linking all this kit together is to select the 'optimized for HEOS AVR' option, which is how the system was auditioned. Perhaps rather surprisingly, there's no further setup calibration required, nor microphone supplied.
The building blocks of the HAVR come from the Marantz NR slim-line home cinema line. However, I'm told that it's a substantially different beast beneath the lid, which is borne out by a quite different sonic performance.
'The HEOS AVR may be specified at only 50W per channel but there's no shortage of punch on tap'
The receiver offers a variety of listening modes. For the most part, Auto applies whatever processing is appropriate. In addition to Dolby TrueHD and DTS-HD MA codecs, there are the usual Pro-Logic and DTS Neo:6 modes, plus multichannel stereo and virtual surround. The app streams Spotify, Deezer, Napster, Soundcloud and TIDAL services.
It also provides access to music delivered via USB, or from networked music folders. I found browsing my NAS boxes reassuringly fast.
The app itself is unfussy and efficient. Six Quick Select buttons can be assigned to any of the inputs, and renamed to keep them intuitive to other users.
Starting with stereo
To get a feel for the sonic character of the HAVR, I listened in two-channel first. Hi-res file support includes DSD up to 5.6MHz, plus FLAC 24-bit/192kHz, WAV and ALAC.
I'm Waiting for the Man, in 24-bit FLAC from Velvet Underground Live, is no audiophile experience, but the atmospherics are spot on. Lou Reed stands slightly off centre, the rest of the band placed indiscriminately around. It's live and scruffy, and makes your sneakers feel sticky.
Rimsky-Korsakov's The Snow Maiden Suite (24-bit/ 44.1kHz from HD Tracks), is altogether more challenging. The HAVR just about keeps track of chimes and strings, when percussion rolls in.
Like any Denon AVR without Audyssey room correction, it can sound a little plummy. The intervention of the wireless sub is certainly not subtle. Bass, treble and subwoofer levels are all adjustable from the app.
Iron Maiden's Tears of a Clown, a FLAC vinyl rip from Book of Souls, benefits from the receiver's dynamic reserves. It may be specified at only 50W into 8 ohms, but there's no shortage of punch on tap. Definition is a bit on the slabby side though. Oxygene Part IV (Jean-Michel Jarre, 24-bit FLAC), affords better spatial placement, and plays to the receiver's strengths, principally a defined mid-range.
Daft Punk's Doin' it Right (MQA) drops a bassline that's virtually subterranean, oozing from Denon's wireless sub. Style wise, this is as distinctive as the AVR. It shares the same curve on the grille, and can be positioned either horizontally or vertically. One benefit of the wireless connection is that you can place it anywhere for maximum room effect, although this should be moderated by your choice of LCR (I used my DefTech Reference speakers), as you need the soundstage to integrate.
The rear-ported sub uses dual 5.25in woofers, and starts to stir from around 31.5Hz. Crossover frequency is based on application, but appears to be set around 100Hz. Level and phase can be fine tuned on the HEOS app. However, it lacks tightness.
Ultimately, the HEOS is most at home with multichannel movies. Edge of Tomorrow (Blu-ray) has magnificent sound design, and really gives this 5.1 system a chance to shine. When reluctant reincarnating hero Tom Cruise first dons his exoskeleton in anger, the beachhead battle is massively exciting. The subwoofer doesn't take much encouragement to make its presence known; when a drop-ship lands on an unfortunate grunt, it booms in delight.
The HEOS 1 is a small speaker by any measure, and struggles to maintain the heft of the soundstage, but they deliver steered effects with suitable gusto. When Cruise's drop-ship takes a hit, metal rends to the rear right. As he falls to the beach, drop-lines whistle in a 360-degree arc.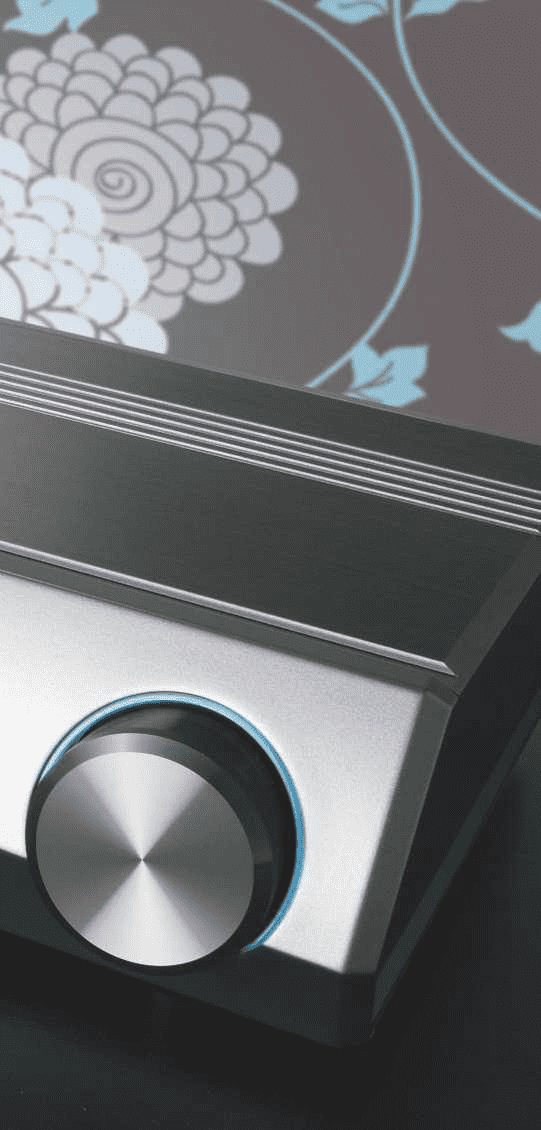 However, while the HEOS rears seem synced to the action with zero latency, I was aware of occasional pop and futz that seemed to travel to them through the ether.
When Cruise first meets Vrataski (Emily Blunt) in the training room, spinning blades zip left/right and front/back. The soundstage is agreeably immersive, and those little HEOS rears are able to convey metallic heft, thanks to a helping hand from that ever-eager sub.
Ambitious HEOS
A makeover for the AV receiver is long overdue. It remains to be seen if this HEOS flag-waver is a one-shot or trend-setter, but it's undeniably ambitious. However, treating an AVR as a wireless audio component has some unintentional consequences. One of my sources, a Bluesound Vault containing hi-res audio tracks, is also app-controlled. Juggling between apps is a faff.
This isn't a particularly musical-sounding AVR either, but it has no problem delivering enthralling cinema sound, albeit with a few rough edges. The appeal of wireless rears is obvious, particularly if you have wooden floors.
For me though, the real win here is one of design.
I'd like to see the same build quality aesthetic (stylized fascia, no display) applied to a regular Dolby Atmos receiver with conventional onscreen GUI. Now that would be intriguing…
HCC VERDICT Denon HEOS AVR
WE SAY: This novel HEOS AVR takes wireless multiroom cinema to another level, and great industrial design makes a virtue of the basic 5.1 configuration.
SPECIFICATIONS
DOLBY ATMOS: No. Dolby TrueHD DTS:X: No. DTS-HD Master Audio THX: No MULTICHANNEL INPUT: No MULTICHANNEL PRE-OUT: No MULTICHANNEL OUTPUT (CLAIMED): 5 x 50W (into 8 ohms) MULTIROOM: Yes. Part of a HEOS setup AV INPUTS: 2 x digital audio (1 x optical and 1 x coaxial); 3.5mm stereo minijack; stereo phono HDMI: Yes. 4 x inputs; 1 x output (v2.0a/HDCP 2.2 on all) COMPONENT VIDEO: No VIDEO UPSCALING: Yes. 2160p DIMENSIONS: 434(w) x 90(h) x 277(d) mm WEIGHT: 6kg
FEATURES: HEOS wireless speaker support; Apple OS and Android control apps; hi-res audio playback (FLAC, WAV, AlAc, DsD); Ethernet; Wi-Fi; Bluetooth; USB; music service support via app includes Spotify, TuneIn, Tidal, Napster, Soundcloud and Deezer; IR remote; ARC on HDMI output
PARTNER WITH
HEOS 1 HS2: If you're looking for the most affordable avenue to wireless surround with the HEOS AVR, you'll need these two-way compact speakers. They can also be used with the HEOS Go-Pack for out-and-about portability.
3. Stripped back connections include single stereo phono input and four-in/ one-out HDMI
4. The HEOS AVR joins a product line that first launched in 2014