VERDICT
A slim soundbar that punches above its weight, but it's sonically flawed
THE LG SJ8 is one of the most attractive soundbars we've ever come across. Not because it's ostentatious or showy, or because it lights up like a Christmas tree when you switch it on, but because it's incredibly, implausibly thin.
It stands a mere 38mm high, so it will fit under most TVs without obscuring the power switch or the infrared receiver. Most importantly, it's unobtrusive; a soundbar that really does blend into the background.
The LG SJ8 is quite a lot to spend on a TV speaker system with no rear speakers, especially when it's going up against cheaper standalone soundbars such as the Q Acoustics M3 and Orbitsound One P70. You could also get the Samsung MS650, a formidable soundbar that uses distortion-cancelling tech to produce a clean, powerful bassy sound.
The advantage the LG SJ8 has over these products is that it comes with a separate wireless subwoofer, which should be capable of reproducing deeper, richer, more controlled bass and more thundering, rumbling sound effects in movies.
SLENDER STUDIES
The first thing to be aware of is that the LG SJ8 is wide – very wide – and it will look a little daft sitting in front of TVs any smaller than 55in across the diagonal.
It's a discreet speaker, though, and despite its rather plasticky build, it looks smart. The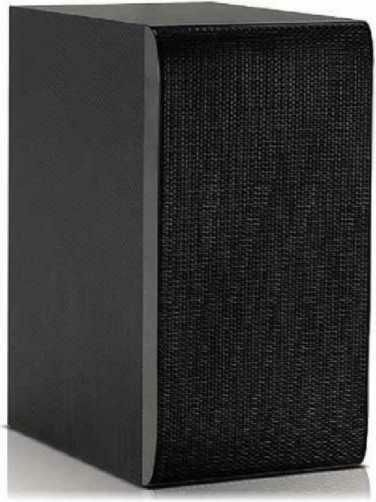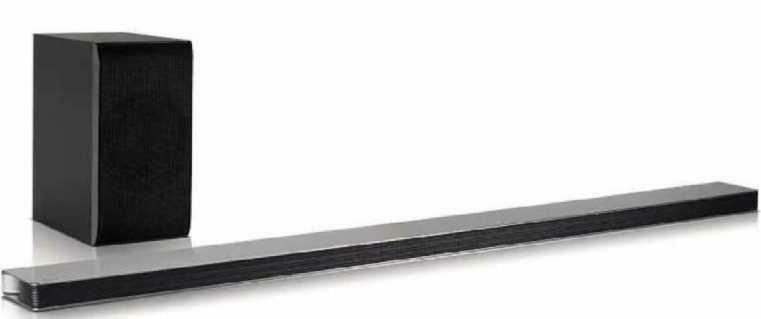 top panel is brushed-metal-effect plastic, and the front is covered with a sturdy grille that wraps around each side, tucking in to reveal a pair of sideways-firing ports, one on each end.
Behind the grille in the centre of the soundbar is a bright, white LED display, and there's a series of physical buttons located on the rear of the bar to the right-hand side. For the most part, though, you'll be using the small, stubby infrared remote-control unit supplied in the box, which is comfortable to use and sensibly laid out.
Physical connections are on the rear in a small cutout, and amount to a pair of HDMI 2 (HDCP 2.2) ports – one for input, one for output – both of which support 4K passthrough. There's optical S/PDIF input as well, but sadly no 3.5mm analogue connection.
The soundbar produces a pleasingly crisp, broad and detailed sound, underpinned by oodles of bass
As for wireless, you can hook up to the soundbar via Bluetooth for direct playback from your phone, and there's Wi-Fi as well. Support for Google Cast allows you to play music from Google Music, Spotify and Cast-enabled apps, although there's no support for Apple AirPlay. LG's Music Flow app is on hand to handle music playback from connected servers and local storage.
It might be slim, but with a total of 300W of amplification – 130W reserved for the bar and 17(W driving the subwoofer – there's plenty of power on offer to fill even the largest of living rooms.
And, in general, the soundbar produces a pleasingly crisp, broad and detailed sound, underpinned by oodles of bass from the wireless subwoofer.
STANDARD ISSUE
There are a number of modes you can select, depending on your listening preferences, from Standard through Cinema to Bass Blast, and a special adaptive mode called ASC (adaptive sound control), which analyses the audio signal passing through the soundbar and adjusts the EQ automatically. For late-night film watching, there's a Night mode that reduces the bass (and the chances of aggravating your neighbours) but doesn't kill it entirely.
For the most part, however, we found that Standard mode delivered the best balance between bass control and listenability. The Cinema mode delivers a more dynamic sound, but the bass is just too much and tweaking the subwoofer and EQ levels with the remote control doesn't help much.
In fact, even with Standard mode, we found the LG SJ8 to be a little overblown at the low end. Although there's plenty of power on show here, it's this part of the audio spectrum that tends to dominate.
Once again, the bass and subwoofer output levels can be tweaked via the remote control, but this doesn't fix the problems the subwoofer has with control; it simply reduces the level of the bass, which results in a rather thin overall sound.
It's a shame because, as we say, for the most part the LG SJ8 is great to listen to.
As long as there aren't too many boomy sound effects or explosions surrounding the dialogue, voices are delivered clearly and with a real texture and presence.
LOW BLOW
It's good to listen to music on, too, but we did find that some tracks exposed an odd weakness in the mid-bass region: play Kraftwerk's The Robots and when the first fast, repetitive beats kick in, they have a strange tubby sound to them. And while the SJ8 does deliver bass-heavy tracks such as Trentem0ller's Moan with muscle and power, there's always a touch of flab at the bottom end that is hard not to dislike.
The big question is that, with such stiff competition from Samsung's MS650 at the exact same price, does the LG SJ8 do enough? Not quite. It's sleek, slim and attractive, and the Google Cast facility does work well, but its flawed sonic performance, particularly in the bass region, undermines its appeal.
Jonathan Bray
Specifications
SPEAKERS 5 • RMS POWER OUTPUT 300W • DIMENSIONS 1,210x105x38mm (soundbar), 171x320x251mm (subwoofer) • WEIGHT 2.7kg (soundbar), 4.3kg (subwoofer) • DOCK CONNECTOR None • NETWORKING Bluetooth 4.0 WARRANTY One year RTB