CyberPower's new Ultra 7 RTX is a no-nonsense build that offers a good specification at a lesser price than rivals. Despite costing under £, it deploys an MSI GeForce RTX 2080 Super GPU graphics card, with 3,072 stream processors, and 8GB of 15.5GHz (effective) GDDR 6 memory.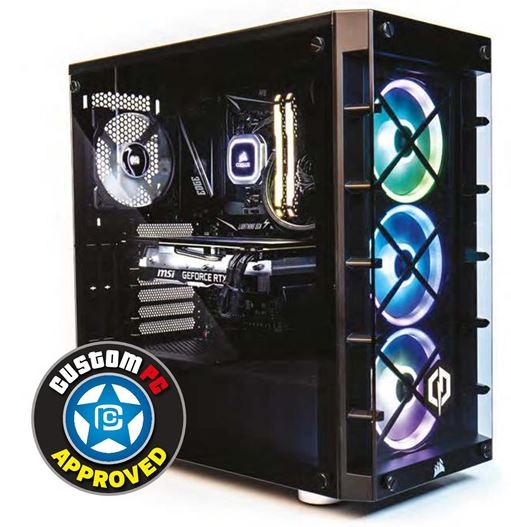 SUPPLIER cyberpowersystem.co.uk
Meanwhile, the CPU is an 8-core Ryzen 7 3800X at stock speed, so it runs at 3.9GHz with a 4.5GHz turbo peak. Comparatively, the Stormforce Crystal RTX 2080 Super used the same GPU alongside a slower Ryzen 7 3700X CPU, but with a higher price. Similarly, last month, CyberPower's own Infinity X99 Super, using the same MSI RTX 2080 Super card alongside an 8-core Intel Core i9-9900KS.
The Ultra 7 RTX also has an X57O motherboard, so you get PCI-E 4 support, with the 500GB Seagate FireCuda 520 SSD promising great speeds. There's also 16GB of 3200MHz memory, and a 2TB hard disk. It's all powered by a fully modular Corsair RM750x, which has 80 Plus Gold certification, putting it ahead of both the aforementioned competing PCs.
The MSI motherboard is otherwise basic, though, with a couple of spare memory slots, a vacant M 2 port and three empty 1x PCI-E slots alongside several spare SATA ports. However, there's no provision for a second GPU in SLI. There are no on-board buttons either, and the heatsinks are small and plain. The board has Gigabit Ethernet, dual-band 802.11ac wireless and Bluetooth 4.2, but no Wi-Fi 6 or Bluetooth 5. At the rear, there are several USB 3.2 ports, a Type-C connection and a BIOS Flashback button, but little else.
SPEC
CPU 3.9GHz AMD Ryzen 7 3800X
Motherboard MSI MPG X570 Gaming Edge WiFi
Memory 16GB Corsair Vengeance Pro RGB 3200MHz DDR4
Graphics MSI GeForce RTX 2080 Super 8GB
Storage 500GB Seagate FireCuda 520 M.2 SSD, 2TB Seagate Barracuda hard drive
Networking Dual-band 802.11ac Wi-Fi, Gigabit Ethernet
Case Corsair iCUE 465X RGB
Cooling CPU: Corsair Hydro H100i RGB Platinum with 2 x 120mm fans; GPU: 2 x 90mm fans; front: 3 x 120mm fans; rear: 1 x 120mm fan
PSU Corsair RM750x750W
Ports Front: 2 x USB 3,1 x audio; rear: 3 x USB 3.2 Gen 2, 1 x USB 3.2 Gen 2 Type-C, 2 x USB 32 Gen 1, 2 x USB 2, 1 x PS/2, 1 x optical S/PDIF, 5 x audio
Operating system Microsoft Windows 10 Home 64-bit
Warranty Two years parts and labour with six months collect and return, followed by one year labour only return to base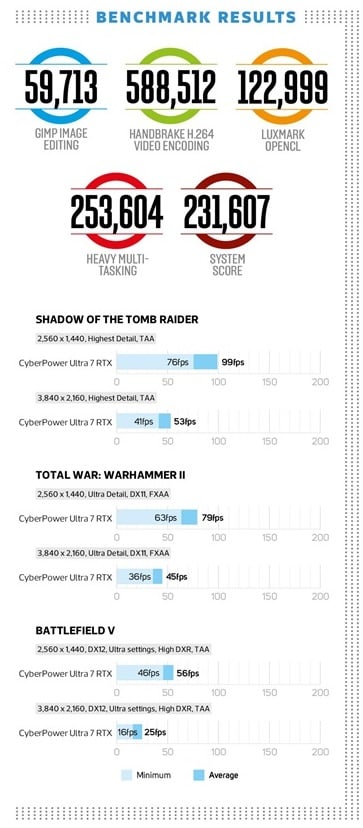 The components slot inside a decent Corsair iCUE 465X mid-tower chassis. Its tempered glass front and side panels look great, the RGB intake fans look bold and build quality is solid. Cyber Power has kept cables tidy at the front with the help of rubber grommets and a PSU shroud, while the illuminated fans are joined by DDR4 lighting, and a smart ring of RGB LEDs on the Corsair Hydro cooler's waterblock.
The radiator is also stowed in the front of the chassis, so it doesn't intrude on other components. The rear serves up four 2.5in drive mounts and a sole tool-free 3.5in bay, alongside a fan controller with three vacant spots. It's untidy here, though, with wires blocking some upgrade routes, including some wires lashed to a 2.5in caddy with cable ties.
Finally, CyberPower's warranty has three years of labour coverage and two years of parts protection. That's a good deal, although it's a shame you only get collect and return cover for the first six months.
Performance
The RTX 2080 Super will handle any game at 1080p and it's very quick at 2,560 x 1,440 as well. It returned 99th percentile frame rates of 63fps and 76fps in Warhammer and Shadow of the Tomb Raider at this resolution. The RTX 2080 Super just about handles 4K gaming too – in those two titles, its 99th percentile minimums of 36fps and 41fps are playable, and toning down a few settings will enable you to get smoother frame rates too.
Ray tracing is a big challenge for this GPU at 4K though. In Battlefield V at 2,560 x 1,440 with High DXR and RAA, the 99th percentile result of 46fps is playable, but it dropped right down to 16fps at 4K. To get ray tracing running smoothly, you'll need to turn to DLSS, which saw the 2,560 x 1,440 99th percentile result jump to 59fps. At 1080p and 2,560 x 1,440, this machine offers decent gaming performance, getting beyond 60fps in most games, and it will also play most games at 4K if you're willing to tweak settings.
The CPU is quick too, with an overall score of 231,607 that outpaces the weaker AMD chip in the Stormforce machine. The SSD is very impressive as well, with read and write speeds of 4,538MB/sec and 2,446MB/sec. The CyberPower can handle everyday computing, gaming and work tasks, including video and photo editing, fine. That said, the Core i9-9900KS in last month's CyberPower was faster, so it's a better option if you need the best performance possible.
This machine is a good thermal performer as well. Its peak CPU and GPU delta Ts of 64'C and 53'C are fine. It's quiet when idle, only a little louder during games and modest during a full-system test. It isn't silent, but it's not intrusive and the noise is easy to mask.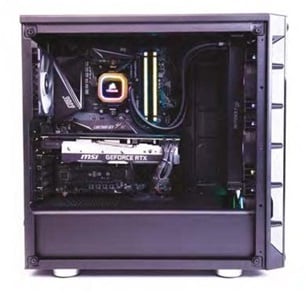 Conclusion
CyberPower's Ultra 7 RTX offers great performance for the money, with enough pace for 2,560 x 1,440 gaming at top settings, plus decent CPU speed. The SSD is fast, the chassis is reasonable and it remains quiet, especially when compared with last month's CyberPower Infinity X99 Super. Its also £ cheaper than its rivals. The only downers are the basic motherboard and the slower gaming performance compared with the Core i9-9900KS-equipped Infinity X99 Super. The Ultra 7 RTX has a better balance, though, with quieter operation, a faster SSD, a better PSU and a cheaper price.
MIKE JENNINGS
VERDICT
CYBERPOWER ULTRA 7 RTX review
A well-balanced build with good all-round performance and a fair price, although it struggles with ray tracing beyond 2,560 x 1,440.
PROS
Superb performance
Smart, sturdy and quiet
PCI-E4 SSD
CONS
Can't handle ray tracing at 4K
Some Intel chips are faster in games
Basic motherboard
Add your review
MORE DEALS