SUPPLIER cyberpowersystem.co.uk
It's not unusual to see a PC with an AMD processor, but a high-end rig all-AMD with Radeon graphics is rarer. CyberPower's Ultra 9 XT is the first system we've seen with the Radeon RX 6800 XT, and it sits alongside AMD's tremendous Ryzen 9 5900X Zen 3 CPU. Read our CYBERPOWER POWER ULTRA 9 XT REVIEW.
This chip has 12 SMT-enabled cores, alongside base and boost speeds of3.7GHz and 4.8GHz. It's a muscular part for multi- threaded workloads, and the rest of the CyberPower's specification takes aim at creative tasks-there's.
32GB of 3600MHz DDR4 memory, a PCI-E 4SSDanda4TBhard disk. The Corsair RM850x PSU is also a welcome addition, with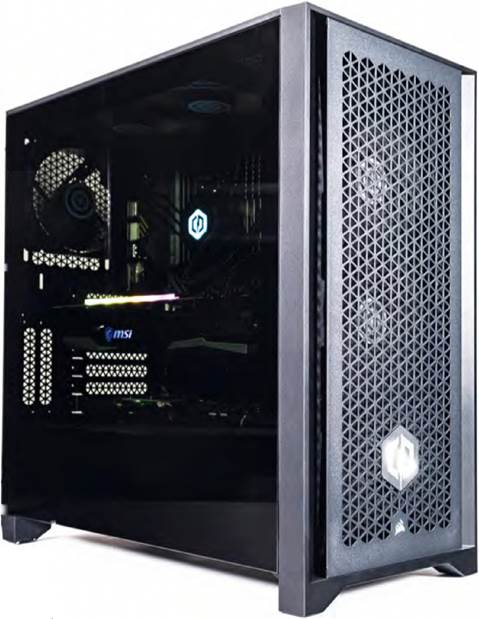 its 80 Plus Gold certification and modular design.
Meanwhile, the Radeon 6800 XT is AMD's answer to the Nvidia GeForce RTX 3080, and it includes 4,608 stream processors. This MSI- made card has overclocked game and boostclocksof2045MHzand 2285MHz respectively, and it includes 16GB ofGDDR6 memory. That's 6GB more than the RTX3080,butAMD's memory uses a narrower256-bit interface. AMD's card supports raytracingtoo,with72AMD Ray Accelerators – one for each Compute Unit, but the company doesn't have a hardware equivalent of DLSS.
It's all plugged into a basic Asus TUF Gaming B550-Plus motherboard, which concentrates on helpful features rather than hefty heatsinks and lighting. Its primary 16x PCI-E and M.2 connectors support PCI-E 4, and the board has 2.5Gbps Ethernet and loads of connectors, including a Thunderbolt header.
At the rear it has USB 3.2 Gen 2 Type-A and Type-C connectors, alongside six more USB slots of varying speeds.
CyberPower has added dual-band 802.11ax Wi-Fi, and the board has an M.2 Key E connector if you'd like to add a Bluetooth module. It's a good board, but it does have some minor limitations. None of the other M.2 connectors or PCI-E slots supports PCI-E 4, for example, and there's no USB 3.2 Gen 2×2.
The sturdy Corsair 4000D that houses the hardware looks subdued thanks to dark tempered glass. At the top it has single USB 3 Type-A and Type-C ports, and on the inside, there's the usual PSU shroud. Corsair has included extra cable-tidying features, including loads of Velcro anchor points and channels, and CyberPower has done a great job keeping the interior tidy, including the tubes emerging from the 360mm Cooler Master cooler. Around the rear, there's one 3.5in drive bay and two 2.5in mounts, but the rear is a little untidy and there's no fan hub. More USB ports would be welcome on top of the case too.
CyberPower's rig is protected by a three year labour warranty with an impressive two years of parts coverage. In the wider market, though, its value can be questioned – at the time of writing, it's relatively easy to find equivalent machines for a little less money than the CyberPower, and you can also find PCs with this CPU and an RTX 3080 GPU.
Performance
The CPU's image editing score is around 7,000 points faster than the Intel Core i9-10900Kthat's often found in equivalent systems, and in the Handbrake test, the AMD chip scored 1,023,652 – over250,000 points beyond those Intel CPUs and not far behind the 16-core Ryzen 9 5950X. The CPU's overall score of 378,724 is a superb result that's well beyond the performance of equivalent Intel CPUs.
This CPU can do it all, from multi-threaded content creation to everyday single-threaded workloads. The CyberPower's productivity prospects are bolstered by excellent SSD read and write speeds of 4,987MB/sec and2,543MB/sec.
The Radeon RX 6800 XT can't match the impressive CPU though. Happily, it did deliver superb frame rates in our standard game tests at2,560×1,440, and it will happily play Assassin's Creed Valhalla and Doom Eternal at4K too. However, it struggles with Cyberpunk2077 at the latter resolution, and the Radeon's Metro Exodus performance shows that Nvidia has the upper hand with raytracing, particularly if you enable DLSS. The RTX2080 is more than 10fps faster in Cyberpunk and Metro Exodus at 4K with DLSS enabled.
In most games you'll be able to play games on this machine at 4K smoothly without reducing many graphics settings, though, and at lower resolutions you'll easily have the pace to handle high refresh-rate displays. There was little to choose between the 6800 XT and the RTX 3080 at 2,560 x 1,440.
The CyberPower was also inconsistent in thermal tests. It impressed when gaming, with low fan noise, but it was louder when handling CPU-based workloads. The noise levels aren't ruinous, but they can be distracting. During all-core CPU workloads, the chip ran at around 4.5GHz,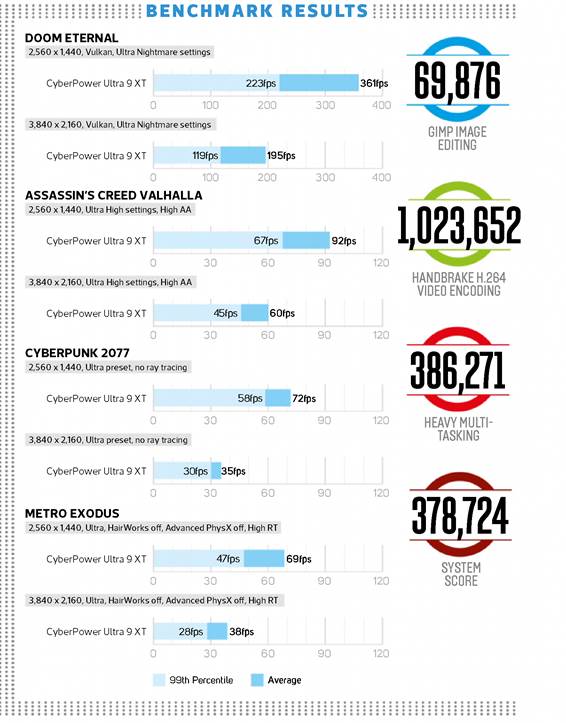 which is impressive – only 300MHz behind AMD's quoted single-core boostspeed. Temperatures were just about fine too: the CPU's delta T of 61°C is solid, and the GPU hit 68°C.
Conclusion
CyberPower's all-AMD rig is a solid machine that's undermined by a couple of missteps. The processor is fantastic for any workload, and the CyberPower serves up great memory and storage. The Radeon graphics card can't compete with the RTX 3080 with ray tracing enabled, though, and the CyberPower is also a little expensive for what you get. This is undoubtedly a good system for tough workloads, but we'd recommend shopping around for an RTX 3080 system at this price instead.
MIKE JENNINGS
VERDICT
REFRACT
+ FantasticCPU
+ Sturdy,subtlechassis
+ Decent storage, memory and PSU
RETRACT
— NvidiaGPUsfasteratraytracing
— LoudduringCPUtests
— A little expensive
Great CPU speed and solid component choices, but the price is high and the GPU struggles with 4K ray tracing.