Corsair caused quite a stir when it announced the Xeneon Flex a few weeks ago. Not only is it one of the very few OLED PC monitors to ever be announced, but it's also a huge 45in ultrawide panel that can be bent so that it offers the option of both a curved or flat screen. Add in a 240Hz refresh rate and the inherently ultrafast response time of an OLED display, and you have quite an alluring combination. Read our CORSAIR XENEON FLEX 45WQHD240 Review.

CORSAIR XENEON FLEX45WQHD240
45in OLED GAMING MONITOR
Although it's still several months away from being available, and it's yet to have an official price tag – expect it to be very pricey – we recently got some hands-on time with the display to get a feel for what it can do. Given that we were using pre-production samples, and features such as the on-screen display were locked down, our observations can't be considered final, but the models we saw were largely representative of the final product.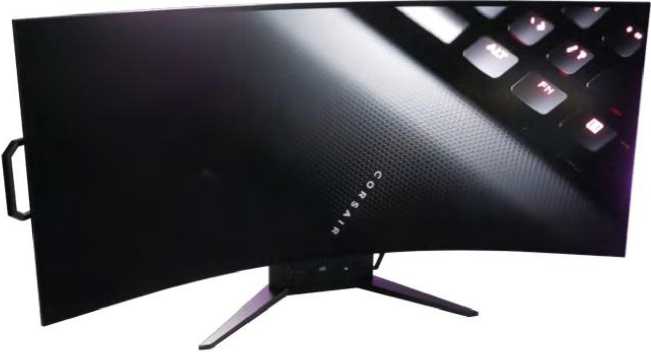 | | |
| --- | --- |
| Screen size | 45in |
| Resolution | 3,440×1,440 |
| Panel technology | OLED |
| Maximum refresh rate | 240Hz |
| Stated response time | 0.03ms grey-to-grey |
| Max brightness | 1,000cd/m2 SDR and HDR |
| Stated contrast ratio | 1,350,000:1 |
| Adaptive sync | FreeSync Premium, G-Sync compatible |
| Display inputs | 1 x DisplayPort 1.4, 2 x HDMI 2 |
| Audio | Headphone out |
| Stand adjustment | Height, rotation, tilt |
| Extras | 5-port USB 3.2 hub, bendable screen |
What first strikes you about the Xeneon Flex is its size. Even by modern standards – where 34in ultrawide panels are relatively commonplace – the Flex is a huge screen with panel dimensions of 1,048 x441mm. Due to it using a 21:9 aspect ratio, it even has a 20 per cent larger total screen area than Samsung's colossal 49in super-wide panels that use a shorter, but wider, 32:9 ratio. It's also 81 per cent larger than a typical 34in, 21:9 screen.
The impact of such a large screen makes it fantastic for immersive gaming and watching video. However, this panel only has a resolution of 3,440 x 1,440; when stretched out over such a large screen, this does limit its sharpness. It's less a problem for gaming and video, but text looks a little blocky and you gain no extra desktop space over a 34in screen, despite the vastly bigger panel. This will certainly limit its appeal for general desktop use.
As for its bendability, the roughly 10mm-thick panel is mounted on a hinged arm system that supports the panel and limits the bending of the screen. On the sides of the screen are two slide-out handles that are used to manhandle the screen into its bent or flat states. The final version can be set to five bend levels, but the version we tested could only be flat or fully bent into a tight 800mm radius curve.
It takes quite an effort to bend the screen – it's bent by your brute force, with almost no mechanical assistance -and it's a little unnerving to do, but it worked well enough the half-dozen times we tried it. Corsair says the mechanism is rated for a few thousand bending cycles, but we suspect many users will largely set and forget the panel once they've decided if they prefer the curved or flat setup.
Although we only had a short time with the screen, we erred towards leaving the panel in a bent state. Unlike with some LCD panels, the benefit isn't about getting an optimal viewing angle across the whole width of the panel, but rather that you get a more consistent view of the panel – without a curve the edges of such big panels start to disappear off in the distance. It's also great to have a slightly more immersive view when gaming.
Any time you might sit back and watch the screen, though, having the option to set it flat again would be very useful – flat screens provide a better view if there are multiple people viewing them, and the curve is only beneficial when sat up close.
The panel is mounted on a hinged arm system that supports the panel and limits the bending of the screen
A downside of the curving mechanism is that the display doesn't have a VESA mount for using monitor arms. However, Corsair will be offering an extra desk clamp that can be swapped out for the feet of the included stand.
Connection options are contained in the stand, with a DisplayPort input and two HDMI video inputs, along with three USB ports on the back of the stand. Around the front are two more USB ports, alongside a headphone jack, input select button, power button and the OSD control.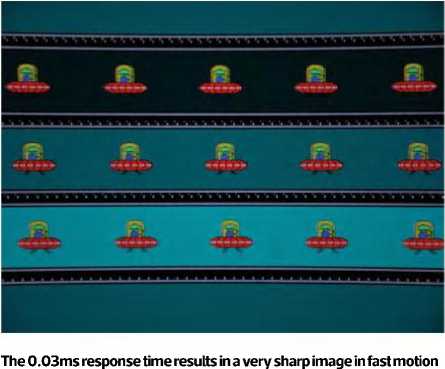 We jumped into some game tests to gauge its performance in action, and the 240Hz refresh rate and 0.03ms response time – that's roughly 100 times faster than a standard LCD panel – does feel incredibly snappy. The true status of it as a competitive gaming panel will need further testing -especially as we tend to find such large panels can actually be detrimental to your focus in first-person shooters, for instance – but we expect it to be very capable.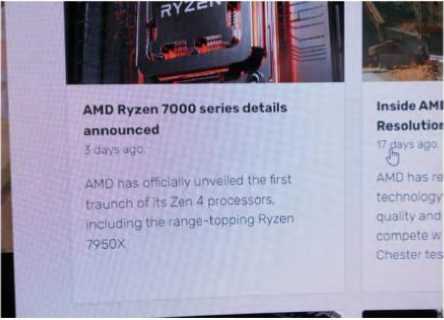 The large screen size and modest resolution results in text that doesn't look particularly smooth
One feature this display doesn't include, though, is a black frame insertion mode, akin to the backlight-strobing blur reduction modes we see on some LCD monitors. Although these modes exist partly to mask the slow response time of LCD panels, the momentary flashing of a black screen also helps to trick the eye into seeing smoother motion, so it has a place on OLED panels too.
Finally, we come to the experience of using such a large OLED panel in general. The most obvious factor when it comes to using this monitor is the stunning 1,350,000:1 contrast ratio, thanks to the true black you get from OLEDs not using a backlight – any LCD looks grey and washed out in comparison. Also, when bright colours are needed, this panel delivers in spades thanks to a 1,000cd/m2 peak brightness, resulting in dazzling HDR reproduction.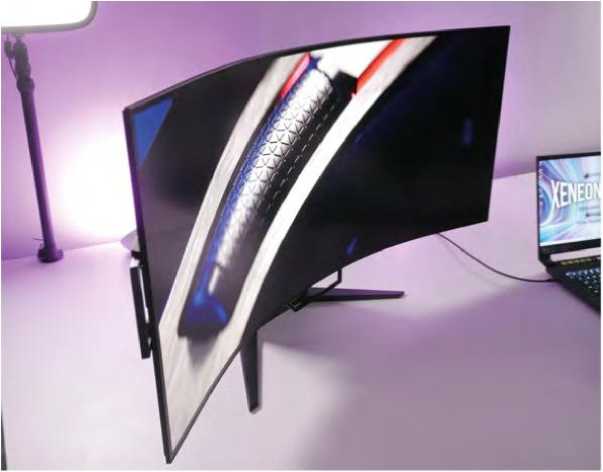 With its per-pixel OLED lighting, the Xeneon Flex provides a staggering 1,350,000:1 contrast ratio
We'd need to use the panel for longer in order to assess how well it works for general use for long periods, as it can be more pleasant to work on screens that are less vivid and with lower contrast to help reduce eyestrain. Moreover, there's the ever-present concern of the effects of OLED burn-in to consider. That's where the pixels can be permanently affected by showing the same colour for long periods, resulting in ghostly images of on-screen elements, such as the Windows taskbar being visible in your games and videos.
Without a price, we can't yet recommend or advise you to steer clear of the Xeneon Flex based on any consideration of value. However, as a piece of technology, we can see it having wide appeal. For gaming and video, its amazing contrast, bright colours and large screen size make for a dazzling spectacle. We can also see the flexible screen trick being genuinely useful to some people. The relatively low resolution will be a limitation for desktop use, though, so it may not be the ultimate all-rounder for work, rest and play. We look forward to reviewing a final sample in the future.
EDWARD CHESTER