Corsair One Elite Review – We've seen powerful PCs, small form factor rigs and quiet systems, but you rarely see a rig that's effectively all three. That's the Corsair One, though, and this stunning PC has now been updated with new components. The external design hasn't changed, but it didn't need changing anyway. It's still made from matt, aircraft-grade aluminium. Subtle logos sit between angular bands of ice- blue light, and the smart power button sits above front-mounted USB and HDMI ports.
The top has thick metal slats that dissipate heat, and the system measures just 380mm tall and 176mm wide – much smaller than normal towers, and more compact than most mini-ITX cases. Those slats form a crucial part of the cooling system. They sit above a Corsair ML-series exhaust fan that works in tandem with a pair of slim, custom-designed liquid-cooling units attached to the case's two larger side panels.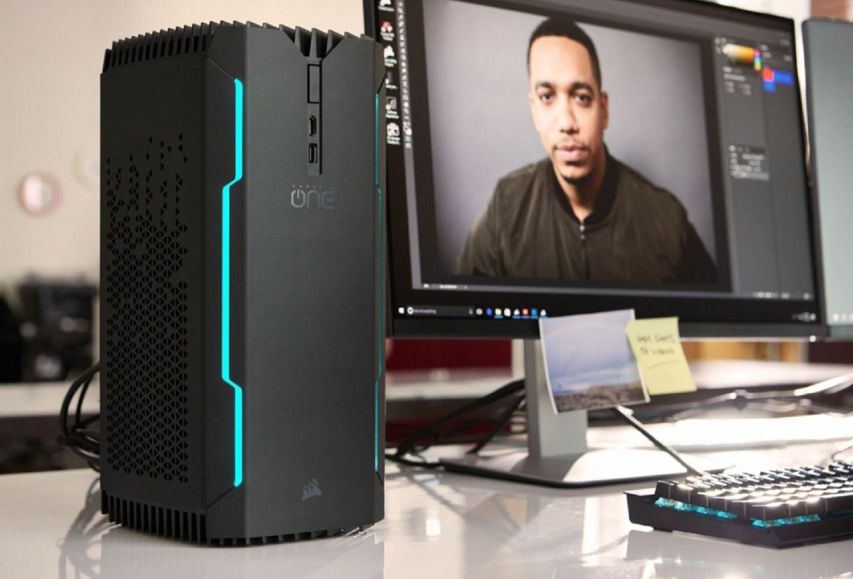 The first unit connects to the processor, while the second snakes to the full-sized graphics card. Neither 120mm unit has its own fans, but the CPU has a secondary spinner. Those side panels can be removed by pulling the slatted section free and removing four screws.
Meanwhile, the motherboard is based on the MSI's Gaming Pro Carbon AC, and the CPU sits behind the board and connects to the single PCI-E slot using a neat riser. More extension cables make the GPU's outputs and the main power socket accessible. The entire rig is built around a rock-solid metal skeleton, and build quality is beyond reproach. The PSU is better than last year's model too – if s still a Corsair SF model with an 80 Plus Cold rating, but its 500W rating is 100W higher than that of the older machine.
We're pleased that Corsair has also used some conventional components, which makes replacements easier if anything goes wrong, but the One's tiny design means every part is difficult to reach. There are cables everywhere, the hard disk is in a tiny caddy, and the memory is hidden beneath a bunch of wires. We're also still waiting for
The CPU connects to the PCI-E slot using a neat riser
dust filters on the vented side panels. Those are our only issues with the build, though, and they're minor quibbles – if you're really fussed about tinkering, a more conventional mini-ITX machine or larger tower will suit you better.
The biggest change over the first One is the processor. Older models had a quad-core Core i7-7700K, but a Coffee Lake i7-8700K now takes centre stage. The 6-core chip delivers more grunt for heavily multi-threaded applications, so it's no surprise that Corsair markets this machine at creative professionals as well as gamers. There's no overclocking, but the 3.7GHz 6-core chip has solid multi- and single-core Turbo speeds of 4.3GHz and 4.7GHz respectively.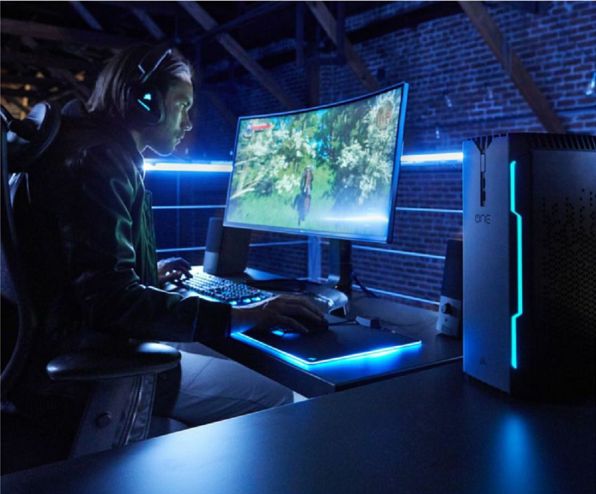 The processor is paired with 32GB of memory, a 512GB Samsung PM961 SSD and a 2TB hard disk. The memory has been given a speed boost to 2666MHz in this year's revision, and that M.2 NVMe SSD is faster than last year's SATA drive too. However, a high-end PC should have at least 3000MHz DDR4 memory really, and Samsung's newer 960 Evo SSDs are also a little quicker.
There's no overclocking in the graphics department either, but there's still plenty of power on offer, with the One now sporting a top-end Nvidia GeForce GTX 1080 Ti card.
On the downside, this model's price tag isn't cheap, but thankfully, Corsair also sells cheaper versions of this machine. The One Pro Plus halves the memory to drop the price.
Corsair One Elite Review: Performance
The Corsair is no slouch, although overclocked machines naturally offer more speed. Its result of 56,326 in our image editing test is good, but the PC Specialist Velocity X 01 scored 67,487 by running the same chip at 4.8GHz. The Corsair's Handbrake score of 428,219 occupies a similar position. If s a great result, thanks to the CPU's six cores, but larger PCs with overclocked CPUs (as well as Ryzen 7 machines) are a little quicker. That's a small price to pay for the privilege of owning such a compact machine, though, and the One Elite's performance is still plenty quick enough for high-end gaming and many tough productivity tasks.
The graphics card is quick too. Its minimums ranged from 36fps to 59fps at 4K, which is great for such a small PC, and it never dropped below 95fps in The Witcher 3 at 2,560 x
Corsair One Elite Review: SPECIFICATIONS
| | |
| --- | --- |
| CPU | 3.7GHz Intel Core i7-8700K |
| Motherboard | MSI Gaming Pro Carbon AC |
| Memory | 32GB Corsair Vengeance LPX 2666MHz DDR4 |
| Graphics | Nvidia GeForce GTX 1080 Ti 11GB |
| Storage |  512GB Samsung PM961 M.2 SSD, 2TB Seagate Barracuda hard drive |
| Case | Corsair One Cooling CPU: Custom 120mm radiator; GPU: Custom 120mm radiator with 1 x 80mm fan; exhaust: 1 x 140mm fan |
| PSU | Corsair SF500 500W |
| Ports |  Front: 1 x USB 3,1 x HDMI; rear: 3 x USB 3.1, 1x USB 3.1 Type-C, 2 x USB 2, 1 x Gigabit Ethernet, 1 x PS/2, 1 x optical S/PDIF, 5xaudio Operating system Microsoft Windows 10 Home 64-bit Warranty Two years parts and labour return to base |
The 500W SFX PSU even sports an 80 Plus Gold efficiency rating
The latest model features a Core i7-8700K, though it isn't overclocked
Two slim, custom liquid-cooling units are attached to the larger side panels
1,440. This PC will easily handle high-resolution games, as well as the demands of VR headsets.
The Corsair ran every test with impressive thermal performance too. It's practically inaudible when running standard applications – if it's under a desk, or even behind a monitor, you just won't hear this PC. Its noise level increased slightly during gaming, but it's quieter than almost every gaming PC we've tested recently here. We only heard the fans with an ear against the case. It didn't even make a racket during our full-system stress test, making the One Elite one of the quietest PCs we've ever used.
The CPU ran at around 4.3GHz in that last test, and the GPU remained at 1900MHz throughout, so there are no throttling issues either. Temperatures are fine, too, with solid CPU and GPU delta Ts of 64°C and 36°C.
Corsair One Elite Review: Conclusion
Corsair has taken this already stellar system and made it better. Coffee Lake delivers a solid boost to work capabilities, and the GTX 1080 Ti delivers 4K and VR gaming abilities. The memory and storage are a little better, and the Corsair is consistently and brilliantly quiet.
There's no change to the physical design, but this machine didn't need it. It remains quieter, smaller and sturdier than any other competitor we've tested, making it ideal for LAN events, living rooms and offices in equal measure. It also remains expensive and tricky to access, though, with more power and accessibility available in
cheaper machines. If you need a PC that offers huge power without making a fuss, though, then those issues won't be a concern. The Corsair One is now even better, and easily earns its Elite moniker.
MIKE JENNINGS
| | |
| --- | --- |
| PERFORMANCE | 23/25 |
| DESIGN | 24/25 |
| HARDWARE | 23/25 |
| VALUE | 19/25 |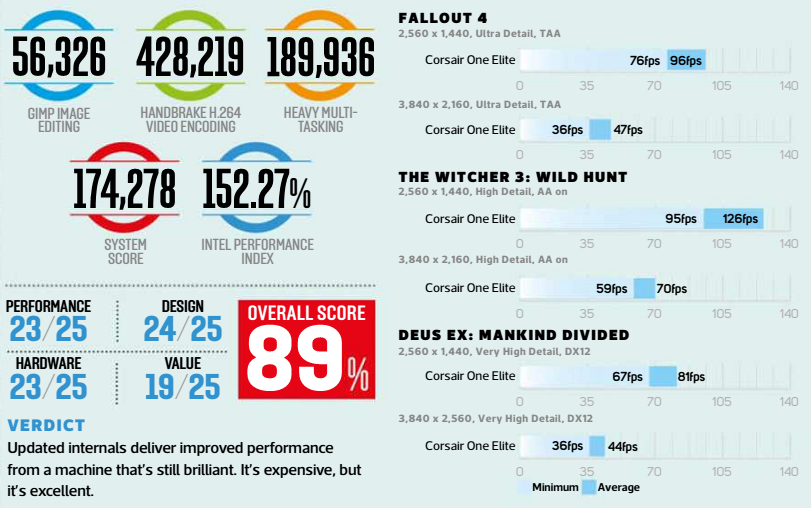 Corsair One Elite Review: VERDICT
Updated internals deliver improved performance from a machine that's still brilliant. It's expensive, but it's excellent.
Editor choice
Corsair One Elite Review
Updated internals deliver improved performance from a machine that's still brilliant. It's expensive, but it's excellent.
PROS
Superb application speeds
Excellent gaming performance
High-quality, compact design
Near-silent operation
Stunning, compact design
Upgraded application performance
Fast in games
Whisper-quiet in all scenarios
CONS
Pricier than rivals
Tricky to get to many components
Difficult to access and upgrade
More expensive than conventional computers
Add your review
|
Read reviews and comments
Best Corsair One Elite prices ?
MORE DEALS