Chillblast Fusion Fire blade review – The Chillblast Fusion Fireblade is a budget PC. No, honestly. Despite its price, this rig offers a surprisingly affordable route to high-end 4K gaming. It even has a GeForce GTX 1080 Ti – a component that often costs close to a grand thanks to the popularity of cryptocurrency mining. The MSI-made card is an overclocked model, so its original 1480MHz clock has been improved to 1544MHz.
The GPU is paired with a new Core i7-8700K Coffee Lake CPU, which means six Hyper-Threaded cores and a 3.7GHz stock speed. However, the Chillblast's lower budget means there's no overclock, which is a little disappointing. Instead, you just have Turbo Boost, which gives you a peak of 4.3GHz across all cores and 4.7GHz on one core.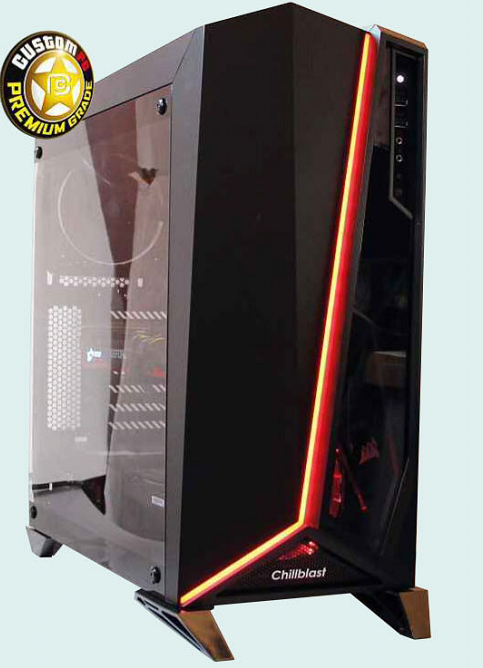 The Chillblast mixes and matches hardware with one key rival – the Scan 3XS Horizon Ti also had a GTX 1080 Ti that arrived with an extra 62 Hz of pace thanks to some in-house tweaking. However, that machine deployed an AMD Ryzen 7 1800X. At the time of review, the machine cost £1,999 inc VAT, but the spec now costs £2,217 inc VAT. Either way, it makes for an interesting comparison with the Intel chip: a different architecture and a slightly slower clock speed, but two more cores.
The rest of the Chillblast is a little subdued, which is no surprise given the tight budget. The 16GB of DDR4 memory runs at 2400MHz, which is the minimum we expect from a relatively powerful gaming rig, and we wouldn't want the 250GB SSD to be any smaller. At least it's a fast NVMe Samsung 960 Evo drive. Scan's machine, in contrast, has slightly faster memory and a larger SSD.
All the gear is connected to an MSI Z370 Gaming Pro Carbon. The board has the usual beefed-up audio, steel-reinforced slots and solid selection of USB 3 connectors on the back panel – including a Type-C port.
Unlike the Scan, it also has a second M.2 socket, as well as better support for dual-graphics (both SLI and CrossFire are supported), which the Scan board missed because of its lesser chipset.
Chillblast's machine also marks the first time we've seen a Corsair Carbide SPEC- OMEGA case. It's immediately arresting: the front panel is divided into asymmetrical sections, with one made of metal and the other filled with tempered glass. They're divided by a slash of red lighting.
The side panel is made from tempered glass, and the red theme continues to the motherboard's LEDs, the graphics card's illuminations and the 120mm intake fan. The entire rig sits on angular plastic feet.
The side panel requires an Allen key to remove it, and doing so reveals an ordinary interior. There's no PSU shroud, and hard disks are stored inside a plain metal cage. Meanwhile, the 700W EVGA PSU isn't modular and there's plenty of coloured cables on show, although it does at least have an 80 Plus Bronze rating.
On the plus side, it's easy to work inside this case. The single spare hard disk bay faces the side of the chassis, and there's room for three SSDs at the rear. The Chillblast- branded all-in-one liquid cooler is also compact enough to make accessing spare memory slots easy.
The Chillblast's case looks decent and it's more spacious than the Scan's Fractal chassis, but that enclosure was smarter. It had a PSU shroud and a subtler exterior, and its cables were a tad neater.
Finally, Chillblast's machine is protected with the firm's usual five year labour deal, which includes a decent two years of collect and return service for parts.
Chillblast Fusion Fire blade review: Performance
The Chillblast's GTX 1080 Ti doesn't have as big an overclock as the Scan's card, but the Core i7 helps to give the Fireblade a slim lead in games, even at stock speed. Its minimum of 61fps in The Witcher 3 was 5fps quicker, for example, but the differences in other games were only 1-2fps here and there. If you need a little more oomph, you
The machine was extremely quiet during game tests
Chillblast Fusion Fire blade review: SPECIFICATIONS
CPU 3.7GHz Intel Core i7-8700K
Motherboard MSI Z370 Gaming Pro Carbon Memory 16GB Crucial 2400MHz DDR4 Graphics MSI GeForce GTX 1080 Ti 11GB
Storage 250GB Samsung 960 Evo M.2 SSD, 2TB Seagate Barracuda hard disk
Case Corsair Carbide SPEC- OMEGA
Cooling CPU: Chillblast 120 water cooler with 1 x 120mm fans; GPU: front 1 x 120mm fan
PSU EVGA 700B 700W
Ports Front: 2 x USB 3,2 x audio; rear: 4 x USB 3.1, 1x USB 3.1 Type-C, 2 x USB 2,1 x Gigabit Ethernet. 1 x PS/2,1 x optical S/PDIF,5xaudio Operating system Microsoft Windows 10 Home 64-bit Warranty Two years parts and labour collect and return, plus three years labour only return to base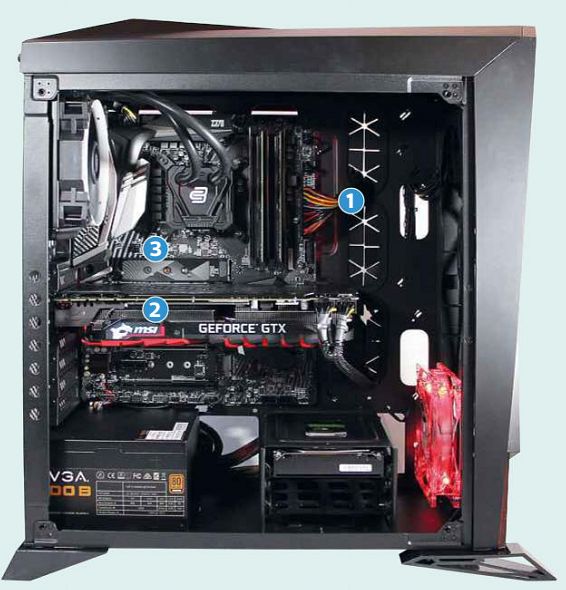 The interior isn't particularly fancy, but Chillblast has kept it tidy
It's great to see a GeForce GTX 1080 Ti card in a sub- £2,000 PC
A 250GB Samsung 960 Evo NVMe SSD sits in the M.2 slot under a heatsink
can also enable the MSI card's OC mode, which runs the GPU base clock at an improved 1569MHz.
The Chillblast system performed well in application tests too, despite the lack of an overclock. It was a little slower than the Scan in Handbrake, which is no shock, as the AMD chip has two more cores. However, the Intel chip's higher Turbo speeds saw it take a lead in the single-threaded image editing test. The SSD bolsters the setup too, with solid reliable reads and write speeds of 3,261MB/sec and 1,594MB/sec.
Not surprisingly, this relatively modest rig performed well in thermal benchmarks as well. Its CPU and CPU gaming test delta Ts of 36*C and 51*C are great, and the machine stayed extremely quiet during game tests – the graphics card didn't have any problem hitting 1900MHz either. The only issue came in a full-system stress test. There was no change to the graphics card performance, and the machine remained quiet, but the CPU delta T hit a toasty 69*C, so be careful if you decide to overclock the unlocked CPU.
Chillblast Fusion Fire blade review: Conclusion
Chillblast may have cut a few corners to meet a price point, but there's loads to like about the Fireblade. The overclocked GTX 1080 Ti is a great inclusion, as is the Core i7-8700K – it's a setup that will tackle almost any gaming task.
It's a shame the CPU isn't overclocked, and there are minor quibbles about the memory and PSU, but it's a decent PC for the money.
As ever, spending more will get faster memory, a CPU overclock and extra motherboard features, and the Scan machine is better if you want a system that's subtler and better in heavily multi-threaded tasks. The Chillblast offers superb value for money, though, giving you a great high-end gaming spec for under two grand.
MIKE JENNINGS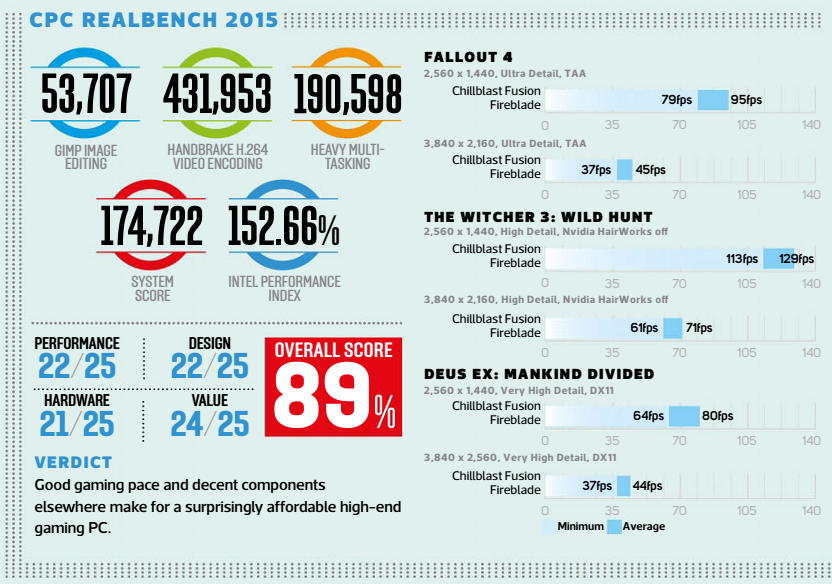 Chillblast Fusion Fire blade review: VERDICT
Good gaming pace and decent components elsewhere make for a surprisingly affordable high-end gaming PC.
Chillblast Fusion Fire blade review
Good gaming pace and decent components elsewhere make for a surprisingly affordable high-end gaming PC.
Add your review