HP Pavilion Wave – Many desktop PCs are still just a big black box, and if you want room for expansion, that's fine. But if you don't, why take up the space? We're used to seeing complete systems packed into a monitor, and now HP's managed to build the computer into a speaker.
The Pavilion Wave is about the size of a subwoofer, and with its fabric finish it looks like an upmarket Bluetooth accessory. A discreet Bang & Olufsen logo confirms that it really is designed around sound. Meanwhile, a vent at the top (which makes it look like it's wearing a hat) lets out the audio from the single full-range driver, which points upwards.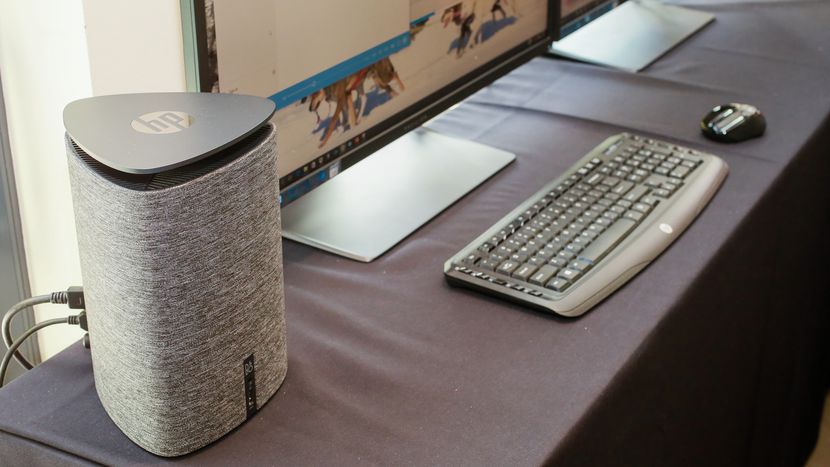 It's not stereo, but with strong bass, rich mid-range and plenty of detail, the Wave does justice to all kinds of audio and goes pretty loud without distortion. The rest of the innards will remain a mystery to most users, since HP hasn't designed this box to be upgradable or even serviceable. The tightly packed triangular space is sealed up tight, so you can't even add memory later, at least not without a lot of fuss and an invalidated warranty. That's not something we welcome in a desktop PC, but if you think of it as a non-portable laptop, it's no different from a lot of PCs nowadays.
Power comes from an external mains transformer.
A space-saving PC-speaker hybrid, but you can't expand it
The i5-6400T processor is from last year's Intel range, and the 'T' means it's a low-energy version, drawing about half the power of a full-blown desktop i5 processor. Our Windows 10 performance tests confirmed that this put it closer to the capability of a laptop i5, so it's not ideal for intensive tasks, such as video editing or running lots of demanding apps at the same time. Nor will the integrated Intel HD Graphics 530 handle the latest 3D games, but older ones will run smoothly if you turn down resolution and quality settings.
To keep things zipping along HP has shoehorned in a 128GB SSD as well as a 1TB hard drive. This means the Wave boots up quickly and you won't be kept waiting when opening or switching between programs. You'll just need to consider what to keep on the SSD and what to relegate to its mechanical counterpart. With all this going on in a very small space, the Wave needs to constantly cool itself, and despite a clever copper piping system that directs all the heat out of the top, we found it was never silent except when fully asleep.
There's just one USB 3.0 port at the front and two at the back, on a vertical connector strip, plus a fast USB 3.1 Type-C port that you could use for external storage. Speaking of which, an SD card slot is also provided.
You can connect monitors to both the HDMI and DisplayPort outputs if you want a dual setup, but only one 4K screen can be used at a time. Fast 802.11ac Wi-Fi is built in, and a wireless keyboard and mouse are included. We found the full-sized keyboard fine once we got used to its small Return key, although the mouse wasn't great.
At a regular price, the Wave is pricier than a comparable desktop PC but not outrageously so, and at a current discount it's quite tempting. If you can cope with even more basic performance, it's also available with an i3 processor for less.
VERDICT:
There's no functional benefit to making a PC this small, but the Wave is perfectly practical while being easy on the eye and ear ★★★★☆
ALTERNATIVE:
Acer Revo One RL85
This discontinued micro-tower can still be found and is beautifully compact, but its Celeron processor is very slow