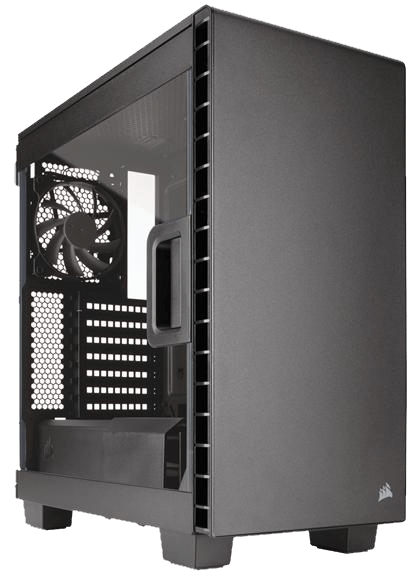 Corsair delivers elegant styling and desirable features in the highly affordable Carbide 400c
Corsair's Carbide 600C case that I reviewed recently suffered from being rather big and having a slightly weird inverted layout. Neither of those points are an issue with the 400 Series design. It's more modestly scaled and also presents a conventional internal ATX organisation.
Like the 600 series before, this Carbide case design comes in two flavours; the audio supressed 400Q 'Quiet' and the 'Clear' side panel 400C covered here.
Unpacking this case for the first time, I was struck by both the fine finish that Corsair had put on it, but also how compact it is for a case that can take a full-sized ATX motherboard.
While the 215mm width isn't exceptional, a case that's only 425mm deep isn't one that a full ATX motherboard would typically fit. How does that work?
The answer was revealed when I tried to open the front fascia, and discovered that there wasn't a door, which then led me to the realisation that this case has no 5.25? external bays. No… not one.
This isn't a totally unique direction, as I think other case makers have already been there before, but this is the first time I've seen it in what I'd consider to be a mainstream targeted case design.
Once I'd got over that shock, I did begin to realise that by making such a radical choice, it allowed for some really interesting design choices elsewhere in the 400C.
Without bays, behind the fascia is free for fans or a water cooling radiator up to 360mm, if you first remove the 140mm fan included with the 400C.
The case also features a vented roof, so you can also mount up to a 240mm radiator. However, with the motherboard edge being rather close, you'd need to mount the fans on the outside, somewhat inelegantly. Or you could just rely on rising warm air to take more heat with it.
Alternatively, you could use two 120mm/140mm radiator assemblies behind the fascia and place roof fans to rapidly vent the heated air in the case.
Doing that would enable water cooling for both CPU and GPU(s) independently, providing an impressive option in such a relatively small enclosure.
With fans behind the fascia, there's a decent 370mm of clearance for a video card – plenty for most of the biggest designs.
One potential space restriction is that made available for the PSU, because it's enclosed in plastic shielding designed to make the interior much less cable cluttered. You're not forced to use this part, and you can even remove the associated dual 3.5" drive bay and plastic cover if you have a massive shoebox-sized PSU to install.
There are three 2.5" trays that are on the other side of the motherboard shelf for SSD storage options, should you travel that path.
As I delved deeper into the 400C, the inescapable conclusion I came to was that this case is entirely about rapid air exchange and creating the best scenario for achieving that objective.
With the supplier complement of 140mm 'in' and 120mm 'out' fans, the case has a natural positive pressure. The obvious path out for air is through the roof vent, and you can obviously accelerate that by adding dual 120mm or 140mm fans there.
Both the floor and the entire front under the fascia has air filters, so drawing in plenty of cool external air and blowing it out the top will work well.
There's only one snag: there's no fan controller and, with no 5.25" bays, no obvious place to mount one. What Corsair really needs to do is make one that fits in a 2.5" or 3.5" bay, which you can control via a spare USB header.
Other than that one point, and the culture shock of not having anywhere to put my optical drive, the 400C is a classy act throughout.
The side panel window provides both easy access and a great view of the internals, for anyone looking to show off their PC hardware. With lots of hidden cabling paths, a system can be shown in all its majestic technical elegance, rather than appearing like something the Clangers constructed on an off-day.
And at £40 less than the 600C, the 400C and 400Q come at a price that most system builders can take. The Carbide 400C is a very timely reminder that the era of 'half height' bays is done and dusted, and we should take a new system build as the welcome opportunity to move on.
Personally, for many PC scenarios, I'm sold. Mark Pickavance
Specifications
• Dimensions (L x W x H): 425 x 215 x 464 mm• Maximum GPU length: 370 mm• Maximum CPU cooler height: 170mm• Maximum PSU length: 190mm• Expansion slots: 7• 5.25? drive bays: 0• 3.5? hard drive bays: 2• 2.5? drive bays: 3• Cooling layout: Front: 3 x 120mm or 2 x 140mm (1 x 140mm included), top: 2 x 140/120mm, rear: 1 x 120mm (included)• Radiator compatibility: 360mm: Front only, 280mm: Front only, 240mm: Front or top, 120mm: front, top, or rear• Dust filters on all intakes• Front I/O panel includes: USB 3.0 port (2), headphone and microphone jacks, power on and reset buttons• Two-year warranty.