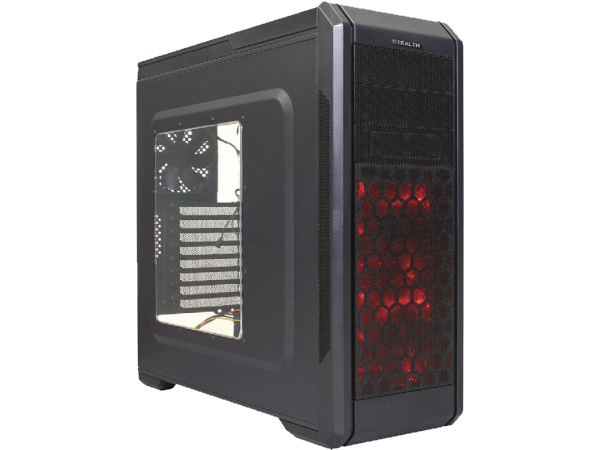 One thing that we know from spending lots of time at LAN parties and talking to modders and DIY PC builders everywhere: Where PC cases are concerned, one size does not fit all. Certainly there are popular trends in case design, just like in any other product market, and the other Rosewill case we review in this issue (the Gungnir) is a great example of how to build a budget case and still include many of the hottest features available today.
The Rosewill Stealth, on the other hand, is a little bit of a throwback, especially where its storage capabilities are concerned. As we have seen in lots of cases lately, the move to clear all the internal drive bays out of the main space in a case's interior (which we heartily approve of, by the way), often does so at the expense of having lots of bays, as there's considerably less room behind the motherboard tray for stacking large numbers of hard drives and/or SSDs than there is just inside the left-side panel.
Rosewill knows this, and also knows that there are still builders out there who want to really beef up their PCs' storage capabilities. To that end, the Stealth doesn't push its drive bays out of sight—in fact, it doubles down on them. The Stealth has three 5.25-inch external drive bays, one of which you can easily convert to a 3.5-inch bay, and no less than eight internal 3.5-/2.5-inch drive bays stacked below them. The hard drive/SSD bays are all equipped with plastic slide-out trays that are easy to move in and out once your drives are attached to them with standard mounting screws, and the 5.25-inch bays above use spring-loaded locking clips for completely tool-lessinstallation and removal.
The Stealth also has a recessed external hard drive dock near the front of the top panel in between its two fan speed control buttons; yes, this case can handle your storage needs.
Other amenities onboard the Stealth include no fewer than four removable dust filters, generous rubber-grommeted cable management holes in the motherboard tray with corresponding tie-down anchor spots, a spacious PSU bay with insulation pads to minimize vibration, four pre-installed fans and mounts for two more, a windowed side panel, and thumbscrew-equipped expansion slot covers. There's also a motherboard tray cutout for mounting a CPU cooler, wide plastic feet with rubber insulation pads, and the aforementioned fan conrol speed buttons.
You get all of this stuff for less than $70, so if you need an affordable case that accommodates lots of storage, has good ventilation, and is easy to build in, the Stealth might just be your huckleberry.
SpecsDimensions: 19.7 x 8.3 x 19.7 inches (HxWxD); Materials: SECC steel, plastic; Motherboard support: Mini-ITX, mATX, ATX; Drive bays: 3 x 5.25-inch external (one can convert to 3.5-inch), 8 x 3.5-/2.5-inch internal; Fans (included): 2 x 120mm LED front, 1 x 120mm top, 1 x 120mm LED rear; Fans (optional): 1 x 120mm top, 1 x 120mm bottom; Ports: 2 x USB 3.0, 2 x 1 x USB 2.0, audio I/O.