Four years after the CXA60, Cambridge Audio launches its smarter successor and it's been worth the wait, says David Vivian. Read our Cambridge Audio CXA61 review.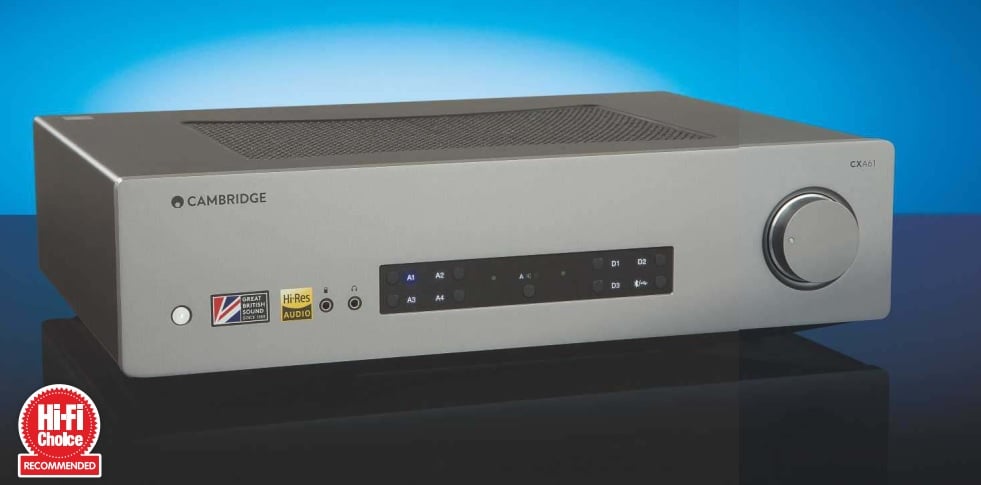 Unlike the fabled goes-to-11 guitar amp of Spinal Tap's Nigel Tufnel, Cambridge Audio's CXA61 integrated amp probably isn't 'one louder' than the CXA60 it replaces. As the '60′ in the superseded model's name references its 60W-per-channel output, a +1 on the spec sheet to match the new name could have been a playful nod to fans of the famous rockumentary. But no, the nice round figure stays. Sorry Nigel.
The company's marketing material boasts of "limitless reserves of power, ready to maximise the dynamic potential of any loudspeakers and able to play at any volume level without stress or distortion". Maybe it's the hyperbole that's been turned up to 11. But there's no denying the CXA60
DETAILS
PRODUCT Cambridge Audio CXA61
ORIGIN UK/China
TYPE Integrated amplifier
WEIGHT 8.3kg
DIMENSIONS (WxHxD) 430 x 115 x 341mm
FEATURES
• Quoted power output: 2x 60W (8ohm)
• 32-bit/384kHz PCM and DSD256- capable DAC
• Inputs: 4x stereo analogue RCAs; 2x digital optical; 1x digital coaxial; 1x USB-B port
• Bluetooth aptX HD
DISTRIBUTOR Audio Partnership PLC
TELEPHONE 0207 9402200
WEBSITE cambridgeaudio.com
was a solidly built and featured budget amp with an engagingly energetic and entertaining sound and ripe for a spot of judicious evolving. If the claimed 60W a side isn't quite your idea of limitless, there's always the 80W-per-channel CXA81 – which builds on the estimable talents of its CXA80 predecessor.
As well as losing the CXA60's far from redundant balance and tone controls and having no more power under the lid, the new model's £ price initially looks a little steep, but factor in the integral Bluetooth aptX HD (previously a BT100 add-on dongle, and not 24-bit/48kHz HD), the raft of upgraded internal components to soup up the sound – including a higher quality on-board DAC – and the new ticket starts to look a lot more reasonable. The amp feels substantial and very well finished and, somehow, the circuit symmetry suggested by the dead-centre siting of its large, smartly dressed toroidal transformer seems more satisfyingly upmarket than the usual offset arrangement.
Harder to see without unscrewing the cover is the ESS Sabre ES9010 K2M DAC chipset, which replaces the CXA60's Wolfson 8740 and is compatible with 32-bit/384kHz PCM files and up to DSD256 data streams. To go alongside the coaxial and digital optical inputs on the rear, the CXA61 also gets a USB-B port – accepting up to 32-bit/384kHz and DSD256 digital files from Mac or PC. As before, general connectivity includes four line-level RCA inputs and a 3.5mm jack on the front. There's no phono stage, though.
Cambridge says its goal with the CXA61 was to further put the squeeze on distortion and colouration. To this end the analogue boards have had a going over with optimised op-amps and capacitor values, while the volume pot has been revised to minimise crosstalk.
Sound quality
If you liked the way the CXA60 sounded you'll love the CXA61. The ebullient, front-foot enthusiasm of the older amp hasn't changed, but is now delivered with even greater clarity, speed and rhythmic snap. So much so that more care and experimentation are needed with partnering kit. My initial setup comprises an Audiolab 6000CDT CD transport (HFC 447) feeding the CXA61's internal digital converter and an external Chord Electronics Hugo 2 DAC (HFC 428), with the amp's speaker terminals running short lengths of Nordost Red Dawn speaker cable to a pair of Russell K Red 50 standmounts (HFC 422) placed on Slate Audio stands.
With the Chord DAC in the loop and the ensemble pulling hard in the same direction, the upshot – while often breathtakingly insightful and detailed – is so mercilessly 'on it' the flood of analysis seems relentless, especially playing recordings endowed with supercharged production values such as Caravan Palace's Leena or the meticulous jazz fusion of Mike Stern and Jeff Lorber throughout the album Eleven.
CONNECTIONS

1 Digital coaxial input
2 2x digital optical inputs
3 4x RCA stereo inputs
4 RCA stereo preamp output
5 Subwoofer output
HOW IT COMPARES
The CXA61's closest price rival is the Cyrus ONE (HFC 420), which retails at £ but is widely available for around £  less than that, lumping it with the most obvious lower priced rivals such as the Rega Brio (HFC 446) and Audiolab 6000A (HFC 446). The Cyrus is far less impressive looking than the Cambridge, but packs a lot into its slim chassis, including a decent phono stage and an impressive 100W per channel of Class D power. Its sound quality is shaded by both the Rega and Audiolab, which struggle to live with the CXA61.
Changing the crisp and lively Audiolab transport for Cambridge Audio's softer and warmer sounding CXC and standing down the Chord DAC for the CXA61's internal ESS Sabre brings an almost magical transformation, dialling down the detail retrieval and dimensionality of the soundstage to a noticeable degree but making the sound less starkly
Warm and rich tonal balance is anchored by impressively deep, taut and tuneful bass
resolute and a little more cuddly in the process. There seems little doubt the amp's remarkable transparency and forward presentation dovetails very well with in-house ancillaries, injecting some welcome life and sparkle into the performance of the laid back Alva TT turntable (HFC 453) with its optimised built-in phono stage/custom-made MC cartridge. The way weight, energy and the live venue atmosphere come together playing Marcus Miller's uber-funky Trip Trap is an all-but tangible treat with the fine synergy really bringing out the best in both turntable and amp.
That said, the CXA61 is also good enough in the right setting to show what the brilliant Hugo 2 DAC is capable of and gutsy enough to control a serious pair of floorstanders. My final setup, reinstating the Chord and replacing the heroic Red 50 with Focal's three-way Chora 826 floorstander (HFC 457) procures an appealingly warm and rich tonal balance and genuine sense of scale anchored by deep, taut and tuneful bass. Sara Bareilles singing Michael McDonald's I Can Let Go Now with her slow-burning intensity is an almost palpable presence in the listening room. Yet, with superstar jazz drummer Dave Weckl setting a fierce pace on Ha Ha Hotel from Mike Stern and Jeff Lorber's aforementioned Eleven, there's scant shortfall in the tremendous clarity, speed, solidity and noisefloor­sweeping low-level detail the amp also exhibited with the Russell K standmount. The CXA61 might not be the smoothest or most romantic sounding sub-£ integrated amp on the market, but it never fails to engage and its repertoire is outstanding.
Conclusion
If the old CXA60 was a close-but-no- cigar integrated, its successor might well have hit the jackpot at its price point. It isn't perfect and needs care with partnering equipment if its inherent enthusiasm and eagerness to entertain is to be sympathetically framed. But, if not quite limitless, the CXA61 is potent beyond its 60W and, given suitably talented support, a terrific amplifier, full stop
OUR VERDICT
Editor choice
Cambridge Audio CXA61 review
There are alternatives that undercut the CXA61, but few can match its all-round ability
PROS
Open, energetic and entertaining sonics
DAC
build
CONS
Needs care partnering
no built-in phono stage
Add your review
Best Cambridge Audio CXA61 prices ?

$

1,099.00
6 new from $1,099.00
in stock


£

899.00
1 new from £899.00
in stock

MORE DEALS