Known for its potent AV components, Chris Ward gets to grips with this rather muscular stereo integrated from Anthem. Read our Anthem Str review.
Canada is mining a rich seam of hi-fi lately. Like fellow brand Paradigm, Anthem may be best known for its pedigree multi-channel components in home theatre circles, but increasingly two-channel hi-fi purists are singing its praises. The STR can best be described as a generous integrated amplifier. Notably tall and deep, it is the very epitome of no-nonsense styling, but while the plain casework doesn't exactly shout high-end stereo amplifier, it is reassuringly beefy.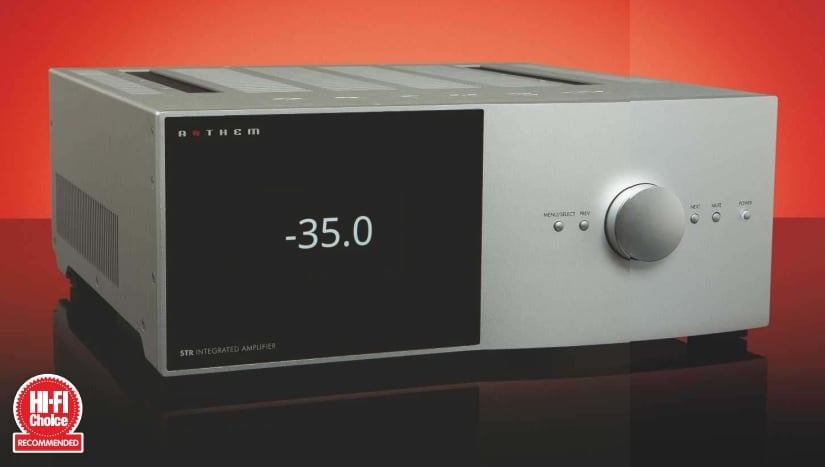 Details
PRODUCT Anthem STR Integrated Amplifier
ORIGIN Canada
TYPE Integrated amplifier/DAC
WEIGHT 18kg
DIMENSIONS (WxHxD) 432 x 172 x 445mm
FEATURES
•   Quoted power output: 2x200W (8ohm)
•    32-bit/384kHz PCM and DSD128- capable DAC
•    Inputs: 4x stereo RCAs; 1x balanced XLRs; 2x optical digital; 2x coaxial digital; 1x AES/ESU; 1x USB-B
•   MM and MC phono stage inputs
•    Room correction
DISTRIBUTOR Pulse Cinemas
TELEPHONE 01279 647039
WEBSITE anthemav.com
Build quality is very good and great care has been devoted to component selection with a huge, shielded transformer and oversized output capacitors visible through the top. The front hosts a large, clear display that shows off the volume and can be adjusted to reveal other information or turned off. A large rotary control changes volume, menu options and user preferences while small push buttons provide select, next, previous, mute and power on/off.
The complexity of the rear panel is in stark contrast to the simplicity of the front. Connectivity is generous with analogue inputs running to four unbalanced RCAs and a single balanced stereo via XLRs, plus dedicated MM and MC phono inputs with a grounding post. Digital input options include a USB-B port, two optical, two coaxial and an AES/EBU along with further digital choices for updates and software control. There are fixed and variable line-level outputs plus dedicated left and right preamp outputs for subwoofers, while the sturdy speaker terminals accept all common connectors and power output is rated at 2x 200W into 8ohm. A nicely honed metal handset enables all key controls to be operated from a distance. The only notable absence is that there's no headphone output.
Its utilitarian looks belie the STR's onboard sophistication, as Anthem invites owners to appreciate the relationship between amplifier and speakers and the importance the listening room has on the overall sound. This approach is refreshing, and the company isn't just paying lip service to room measurement. Opening up the accessories box feels a bit like Christmas all over again as I remove a quality microphone, stand and USB cabling that along with downloadable Anthem Room Correction (ARC) software for Mac, Microsoft or Android devices, enables acoustic analysis of any listening space.
After the software installation, I connect my MacBook Pro to the mic via USB and plumb the STR with a network connection from my router. Aided by onscreen prompts, the ARC process is simple with clear guidance on microphone placement for at least five room acoustic sampling positions. Each movement of the mic initiates a new set of full-range test sweeps for each speaker, with results clearly plotted on graphs that can be saved as PDFs for future reference. The software then invites users to upload the test data to their STR to enable it to adjust its output to avoid aggravating any overblown bass modes or subtly compensating for any frequency deficiencies. All adjustments are made in the digital domain and any analogue signal feeds are automatically converted to a 32-bit/192kHz digital signal, although this can be bypassed and the correction won't be applied. My listening room is pretty well behaved, but I'm impressed at the lengths Anthem has gone to help tame bass boom or compensate for excessively bright or dull surroundings.
Sound quality
With the STR Integrated Amplifier connected to my Cadence Arca speaker via Black Rhodium Foxtrot speaker cable (HFC 412), playing Norman F***ing Rockwell by Lana Del Rey from my Shanling CD-T100 HDCD player with Chord Company Epic interconnect, is a delight. The opening bars of piano have real solidity. Mellifluous and warm, yet rich in complex overtones, the instrument has proper body. Pianos are notoriously tricky to reproduce yet the Anthem has both the power and control to give the instrument truly believable gravity, complete with enough finesse to perfectly capture subtle pedal muting and sustain. Similarly, Del Rey's voice is warm yet vivid, crisp and precise. Already it's apparent that this is one of those rare beasts that combines power with neutrality, not overtly drawing attention to anything but the recording. Imaging is strong as the amplifier excels in pressing sumptuous midband detail forward into a highly compelling soundscape. Bass is fulsome and wonderfully textured and treble is sweet and unfatiguing.
Changing mood somewhat, I swap to vinyl via a Garrard 401 turntable equipped with two Linn tonearms to test both moving-magnet and moving-coil phono stage inputs, and spin Fistful Of Steel by Rage Against The Machine. Experimenting with both MM and MC inputs is insightful. Sometimes the extra gain and finicky loading requirements for MC inputs can show weaknesses on integrated amplifiers, but both phono inputs are notably quiet, extremely even handed and stable. The power of bass is just
Bass is powerful, supple and lithe with real solidity without straying into excess
shy of my reference Timestep T-01MC phono stage (HFC 371), but the dense wall of distorted guitars, pile-driving bass and shimmering cymbals is very well resolved and extremely dynamic. Zack de la Rocha's vocals have real attack but superb presence and plenty of human warmth, never getting lost in the complex mix. Treble is well extended yet smooth, providing lavish detail but never sounding glassy. The STR has impressive power reserves that aren't so much about brute force, more complete composure when things get highly dynamic and challenging.
With sophisticated DSP tech built-in, the STR automatically converts the analogue phono input stage into a
CONNECTIONS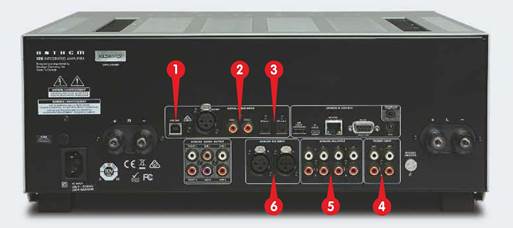 1 USB-B port
2 2x digital coaxial inputs
3 2x digital optical inputs
4 MM and MC phono stage inputs
5 4x unbalanced RCA stereo inputs
6 Balanced XLR stereo inputs
Simplicity is the order of the day when it comes to controls here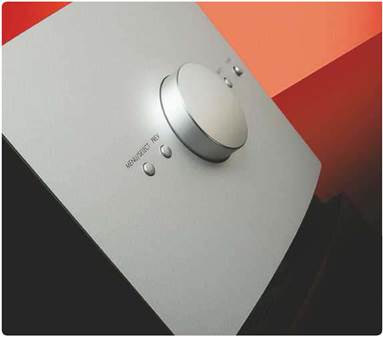 32-bit/192kHz digital feed. In this mode I can apply the room correction curve, adjust rumble filters or tweak EQ and bass levels – yet as much as this improves the 'in-room' performance, the sonic image appears to be flattened a little and in my listening room I prefer the direct analogue feed instead.
Connecting a MacBook Pro to the DAC USB-B port, I can instantly select the STR as my output device. Playing Comme Un Tango by Vincent Belanger via a Hi-Fi quality stream from Qobuz is a treat. Belanger's playing style celebrates the full visceral impact of the cello and the Anthem does a superb job of conveying the body and heft of the opening motif. Bass is powerful, supple and lithe with real solidity, but never strays into excess. The playful notes from the bow bounced on the strings are rich in harmonic detail that perfectly captures the technique and recording space.
This DAC is very confident without overstepping the mark. The pure tone of the cello notes is beguiling, overflowing with dark texture, complete with tiny buzzes and slaps from the potent playing style. As an experiment I play the track with and without the ARC room correction applied. What's most heartening is the subtlety of the effect. The deepest bass notes are ever so slightly restrained, but only to the point of not provoking the deepest bass modes of my listening space.
My room is extremely benign, but those with more awkward spaces may have had their prayers answered. Any intervention on the precious music is extremely respectful and this infectious cello track is in no way compromised.
Conclusion
Anthem's STR Integrated Amplifier is generous yet refreshingly understated. It does exactly what you want, combining plenty of power and connectivity with a completely even-handed and neutral performance. Phono inputs are excellent and the DAC is extremely natural. Straight out of the box it sounds like a pedigree performer, but dive into the advanced Anthem Room Correction measurement and adjustment and you can fine tune the sound qualities to exactly fit your listening space. Anthem's deft touch on improving real-world listening is seriously impressive and although I thoroughly enjoy playing with the DSP sophistication, make no mistake, the beating heart of this amp is its superb analogue signal handling
Verdict
Editor choice
Anthem Str review
No frills on the outside, but plenty of tricks on the inside make the STR a really compelling choice
PROS
Generous power and connectivity
phono inputs
highly neutral
ARC correction
CONS
Absence of a headphone output
Add your review
MORE DEALS

HOW IT COMPARES
Hegel's H390 is a clear competitor priced around £ and rated at 2x 250W into 8ohm. Both amplifiers have all the power you're ever likely to need with a refreshingly neutral tone and generous but different connection options.
The H390 has an excellent onboard DAC that also facilitates AirPlay, UPnP streaming and Roon, but has no phono stage. The STR is wary of the fast-changing nature of streaming, but instead provides a full gamut of analogue and digital connections plus excellent MM and MC phono stages. Also check out the excellent Norma Audio Revo IPA- 70B (HFC 455) around £ with DAC or phono stage options.
Q&A
Blake Alty
Product manager, Anthem

CW: What are the benefits of ARC room correction?
BA: An audio system's performance is always affected by a room's unique characteristics. The size and shape, its construction, the furnishings and other factors cause standing waves, resonances and reflections that can colour the sound from loudspeakers. Using a cutting-edge fusion of digital signal processing software and a specially engineered calibration microphone, Anthem Room Correction Genesis measures a room's unique audio characteristics and, with incredible accuracy, optimises performance in response to that information. ARC Genesis creates custom correction curves that retain the favourable acoustic signature of speakers and removes negative room contributions.
What's special about the STR's power and control?
The STR amplifier was designed to add no sound signature of its own.
A wire with gain. In doing so, substantial power reserves are required so that the amplifier output is free to follow the input signal and is never choked. Our high-current, high-output amplifier section produces 550W per channel continuously into 2ohm. This allied with a higher damping factor and lower output impedance, means the amplifier is close to an ideal voltage source, so its output is not affected by the speaker's reactive load.
What care has gone into circuit design and the components used?
Anthem STR electronics are designed with complete attention to detail, maintaining flawless signal integrity and the shortest possible signal paths, and differential analogue-to- digital circuitry to cancel artefacts and keep noise to a minimum. Clarity is maintained using carefully selected components, many of them engineered exclusively inhouse at Anthem. The STR Integrated Amplifier uses massive, precision- wound toroidal transformers and matching oversized filter capacitors.