Ambitious music production on a budget
Considering the number of people that play a musical instrument, it's surprising there isn't more music-production software aimed at home users. Then again, it's no easy matter creating software that combines recording, editing and mixing of live and MIDI performances, complete with effects and virtual instruments.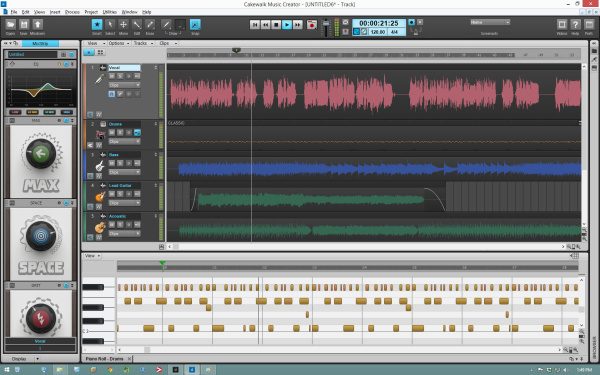 Music Creator is made by the same company that make Sonar (a powerful recording application), so it has plenty of technical expertise to draw on. Music Creator has many similarities, but it dispenses with most of Sonar's advanced features and comes with an interface that's geared more towards home users.
We really like the software's interface, which strikes an excellent balance between keeping useful features close to hand without bombarding you with loads of cryptic controls. There are playback controls and a toolbar along the top – most edits can be performed using the Smart tool that automatically adapts to the particular task in hand. The panel on the left shows mixer settings for the selected track. MIDI and audio-editing options for the selected track appear at the bottom, while libraries of sounds, effects and instruments are on the right. It's not easy fitting an entire recording studio into a single computer screen, but this is one of the best efforts we've seen.
There's work to do before you can start recording, though. Music Creator uses the same sound card-configuration options as Sonar. They're great if you're an expert on audio driver types, latency settings and routing options, but a complete minefield for anyone else. The software is crying out for a tutorial to guide new users through the configuration process.If you can overcome this hurdle then there are some great features waiting. Audio editing is fast and precise, with superb options for keeping multiple tracks in sync. A feature called Take Lanes makes it easy to record multiple takes and splice the best bits together – a massively useful feature that's normally reserved for much pricier software. MIDI editing is just as accomplished, with several ways of manipulating your MIDI recordings (grid, list and notation-based options).
There's a generous library of audio loops, which can be played in the Media panel on the right and dragged directly into your project. However, the process used to stretch these loops to fit the track's tempo is crude and often results in garbled chattering noises. If you own a MIDI keyboard you'll be more  interested in the high-quality virtual instruments – a drum kit, bass guitar, electric piano and string section. There's also a general purpose synthesizer module, and you can add more using plug-ins. There's a decent collection of bundled effects, too, including refreshingly simple reverb, distortion and compression effects with each controlled by a single knob.There are oversights, though. It's not clear how to record a mono audio input – stereo is the default, so connecting a mic means it records on the left channel only. Some advanced options, such as bus channels, are available, which is great for experienced musicians but confusing for everyone else. Even something as simple as starting and stopping playback is a little clumsy. The spacebar acts as a shortcut, but the playback position returns to where it started when you press stop, which is counter-intuitive.
Music Creator has lots of impressive features, all the more so given its low price, but there are quite a few areas where it feels unnecessarily complex or just a bit clumsy. Even so, it's a great program if you're a budding musician and willing to devote enough time to learn how to use it.
Lots of sophisticated features, but the learning curve is a little too steep for home-oriented software.