Magix Video Pro X8 Review – VideoPro X8 is the latest version of Magix professional video editing suite. Admittedly it's a product with a fairly hefty price, yet as our American cousins would say, it provides a lot of bang for your buck.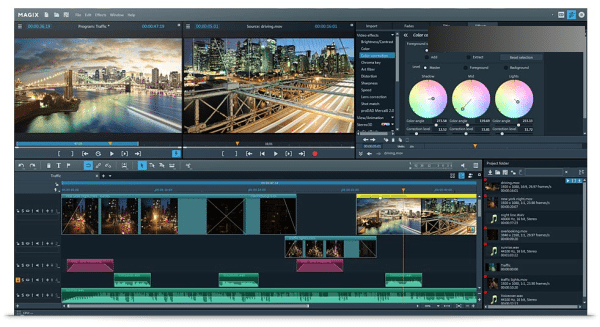 And for those that simply dabble with video editing or only throw together the odd celebratory slideshow, Magix offers a comprehensive range of more affordable alternatives. But make no mistake: Pro X offers as much as, if not more than, many professional editing suites, which could cost you five times as much.Since I reviewed the last version of Video Pro X, Magix has added a 365 logo to the box, which I initially thought indicated that you could only use it for 12 months. As it happens, it simply means you have free updates for 365 days.The interface consists of four areas, with dual monitors for the project preview and any live or pre-recorded input. There's also an arranger (which is basically a time line), where the actual editing takes place, and finally a media pool and current project folder. However, the orientation of these areas is not set in stone; you can close, resize and organise them to suit your application. You can also save your favourite arrangements or press 'reset to standard' if you get them in a pickle.
New to this release is Shot Match, a really useful feature that analyses two video clips for their video characteristics and will apply one to the other. This means that shots taken in different circumstances, like weather conditions and lighting, can be better matched for their tonal qualities, naturally giving the video a better flow.
Magix has also added support for 360º (panoramic) video cameras as part of the effects menu in the media pool. It can handle different types of panoramas, both spherical and cylindrical; not many products have the facility to edit these formats. Incidentally if you don't have a panoramic camera, you can create this effect with a still camera, using key frames and a series of images, but this doesn't create a truly spherical panorama.
Other features include a range of colour, gradient and spotlight effects from the 'NewBlue Looks' collection, and you also have the ability to use OpenFX standard plug-ins directly from the Mediapool. Import options already catered for dozens of different formats, but this version now supports Intel HEVC/H.265 decoding, which is a highly efficient video compression standard. The caveat is that it takes much more processing power to use. The good news is that all the latest generation of Intel processors have hardwareaccelerated HEVC encoding and decoding built in.
The wide range of features included with Pro X is not indicative of its usability, because it's not the least bit complex to use. For example, you can import your video clips directly from your camera or from files you've previously saved to your hard drive. It automatically recognises scenes and splits them into clips for you. Clicking on one of your clips will display it in the righthand monitor; here you can set the start and end points and drag the edited portion directly into the timeline. You continue in this way, assembling the clips that will eventually make up your finished video.
HD video files can be pretty big and can easily bring a powerful PC to its knees, Pro X gets around this problem by using 'proxy files', which are basically low resolution versions of your original footage. These are created automatically and allow easier and more fluid editing. It's only when you've completed your editing that the changes are applied to the fullresolution video.
Magix is never stingy when it comes to content, and this version is no different. The added content is over 6GB, with transitions, intros/outros, movie themes and other genuinely useful elements. What more could you possibly ask for? Joe Lavery.