If the Seagate Personal Cloud seems like good value for 3TB of network-attached storage then the Buffalo LinkStation 210 is even cheaper, retailing for just over despite including a 3TB hard disk in the equation too.
It's around the same size as the Personal Cloud, and only a little bigger than the hard disk inside. However, Buffalo has at least thought of cooling, with large vents in the base and roof, along with rubber feet to dampen vibrations from the hard drive.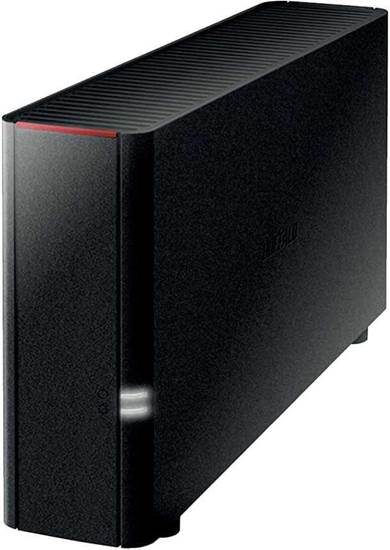 It isn't as quiet as the QNAP and Synology enclosures on test, though, and you can hear a little hard disk noise, especially when under load.
Amazingly, despite the chassis costing barely any more than the 3TB hard disk inside it, Buffalo has also managed to include a USB port, but sadly, it only supports USB 2, and there's no Wifi dongle or support for a USB sound device, unlike the QNAP and Synology enclosures on test.
Meanwhile, the Buffalo's operating system is very basic, but you do get some extras over the Seagate Personal Cloud, such as a download manager and BitTorrent client. As you'd expect, there's also DLNA support, so your smart TV or console will be able to stream content from the LinkStation 210, and while the USB port might lack the speed needed to deal with large amounts of data, you can use it to share a printer over your network.
The biggest omissions are media servers, although you wouldn't realty expect them at this price anyway There's no Plex support or dedicated photo, video or file servers, as you'll find on the QNAP and Synology, and many of these features are included in the slightly more expensive Seagate Personal Cloud too.
Thankfully, you get iTunes server support, and shared folders can also be used to dish out content over your network.
Remote access is possible too, but setting it up is a pain and access is rather limited, with none of the in-browser or in-app playback for content you can perform with the other devices we've tested this month. Thankfully, though, white the Buffalo misses out on some features, it proved to be quicker than the more expensive Seagate Personal cloud, being twice as fast in the directory read test and much faster in the directory write test too.
It also wasn't much slower than the QNAP and Synology enclosures in the fite read and video playback tests, but was noticeably slower when writing fites, managing only 71MB/sec compared to 121MB/sec for the top-scoring Synology DS116.
Its peak speed was 100MB/ sec in the video playback test, but it only managed to get above 71MB/sec in this one test – elsewhere, it was usually a long way from pushing our Gigabit network connection.

Buffalo LinkStation 210 Conclusion
If you just want a cheap and easy way to share your data across a tomcat network then it doesn't come much more affordable than the Buffalo LinkStation 210, and the download manager and USB port witt likely come in handy too. Just don't expect your data to be dished out at anywhere near Gigabit speeds, and you don't get much in the way of media server features either.
Buffalo LinkStation 210 VERDICT
Buffalo LinkStation 210 3TB
A simple and affordable way to add network storage, but it was fairly slow in most of our tests and the competition offers more in the way of media servers.
Add your review
|
Read reviews and comments
Best Buffalo LinkStation 210 3TB prices ?
MORE DEALS